Denton Variety Club – 2011
This year's adult production was "Hansel and Gretel Uncut" performed on the 24th, 25th and 26th February.
The Programme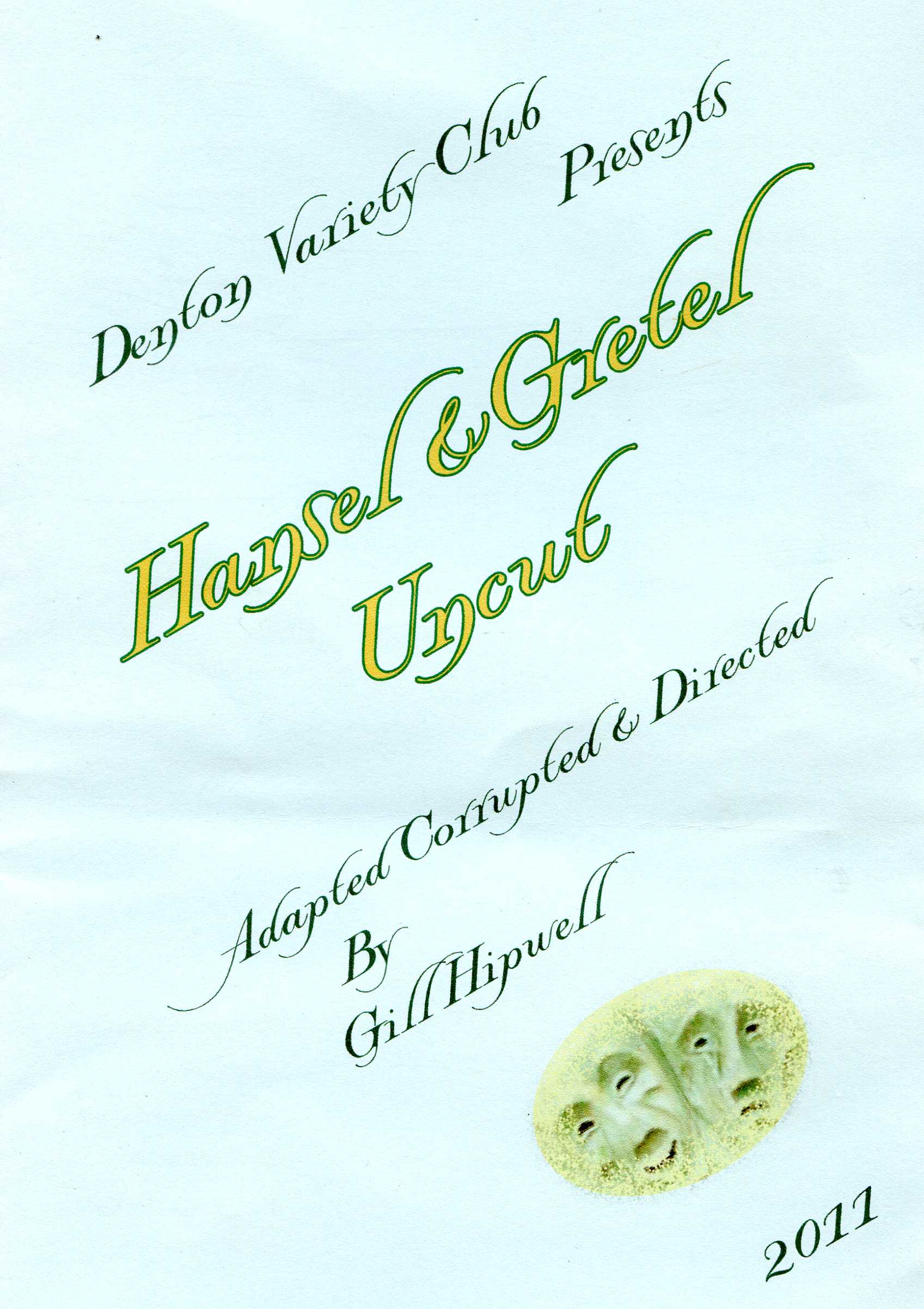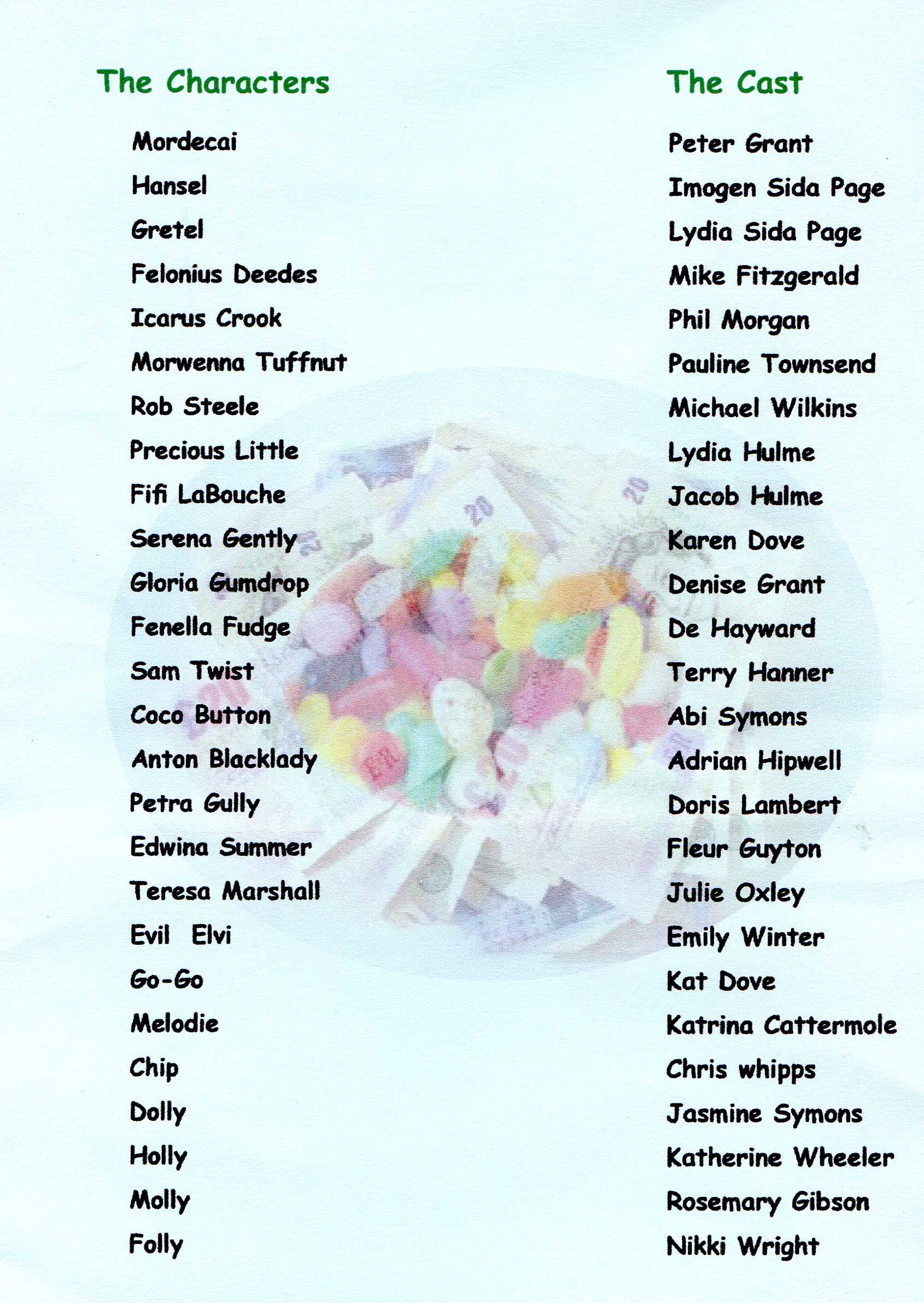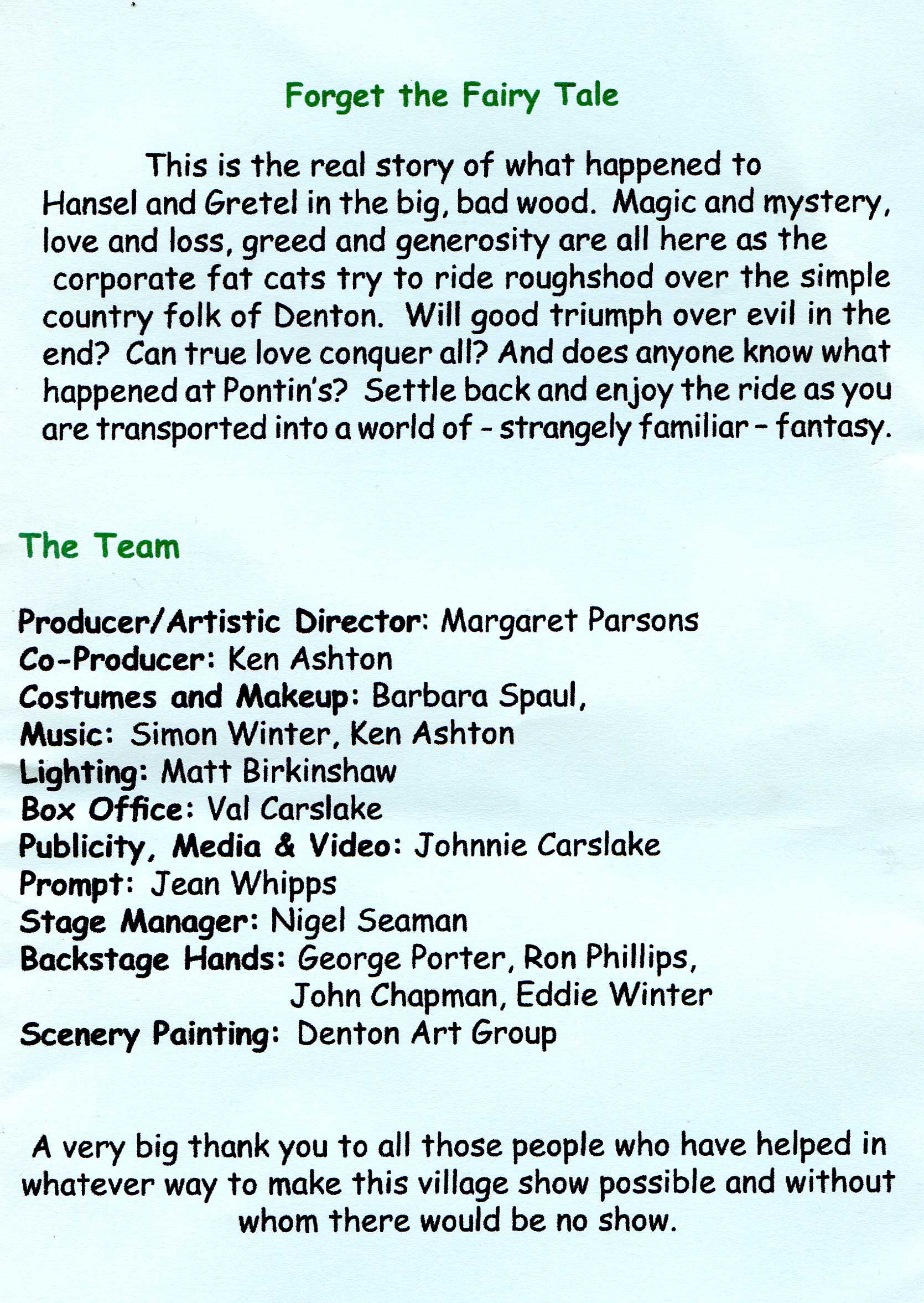 A Review
A review by our theatre correspondent – Oldstager.
Again I have been requested to submit a review of Denton Variety Club's annual pantomime for 2011. This year it was "Hansel and Gretel Uncut", written and directed by Gill Hipwell.
What are the necessary ingredients for a successful English Panto? We, the audience, want to be entertained by heroes and heroines, goodies and baddies, comics and clowns, and all taking part within a story involving a struggle between Good and Evil. Not only do we expect to view the unfolding story but we should feel that we, too, can influence its outcome, and so we hiss and boo and cheer when appropriate to drive the story to its satisfactory end.
The Brothers Grimm's story of Hansel and Gretel is a dark fairy tale of black witchcraft, temptation, incarceration, and cannibalism – weighty subjects out of which to create a light-hearted panto – and so the ever-inventive Gill decided to turn to the "original uncut" version of the story… "Ohhh yes she did !!"
It was a triumph of invention, all the more appreciated by the residents who came to view and learn how the power of mis-managed authority might have its evil way in the otherwise peaceful and idyllic setting of the village of Denton and its Millenium Wood.
The "baddies" were instantly recognisable by their DARK clothing and money-grabbing ways; a Planning Committee intent on land-grabbing, and with their leader even ready to lead astray the committee's one naive and innocent member. Fortunately we never saw him succeed.
The "goodies" made their various appearances, and here again was instant recognition because they all wore clothes that said "Look at me, I love colour; I am the rainbow in your life !" These were our friends: the 'protect-our-land-protestors', the villagers (the five marketeers!), even a travelling troupe of entertainers somewhat down on their luck ("resting" - aahh !!). And, caught up in the eternal struggle between Good and Bad, a shy romance between the worthy woodcutter and his loving, and softly feminine, admirer.
In this uncut version both Hansel and Gretel had to have their side of the story included, and so it was that we were introduced to the "wicked" witch, EVIL, and her servant Go-Go (a transformed frog). Much comedy, and audience participation, emanated from these characters, part of which was due to the witch's dyslexia (a condition not necessarily funny for those who suffer from it, but here treated with friendly good humour). Of course, in true panto style, we had to have a Good Fairy and she came to us in the form of a Good Witch.
I attended at the Friday performance and I could almost swear that the Brothers Grimm were contributing from the back row every now and again to bring their story back on track with comments such as "Oh, no you're not !" and "Look out, he's escaping !" etc. All of which added to a lively performance, and I feel sure, was enjoyed by all, both cast and audience. It was a wondrously enjoyable evening and, without mentioning individuals whereby this review would be even longer than it is, I heartily congratulate ALL who contributed to this successful entertainment. Bravo!
Rising Stars
Unfortunately, due to a shortage of young people available to take part, this year's Rising Stars production had to be cancelled.