Denton Variety Club – 2007
This was a special year for the Club as it marked their 25th adult production. A special souvenir anniversary programme was printed to mark the occasion. The show was "The Sorcerer's Apprentice".
The Programme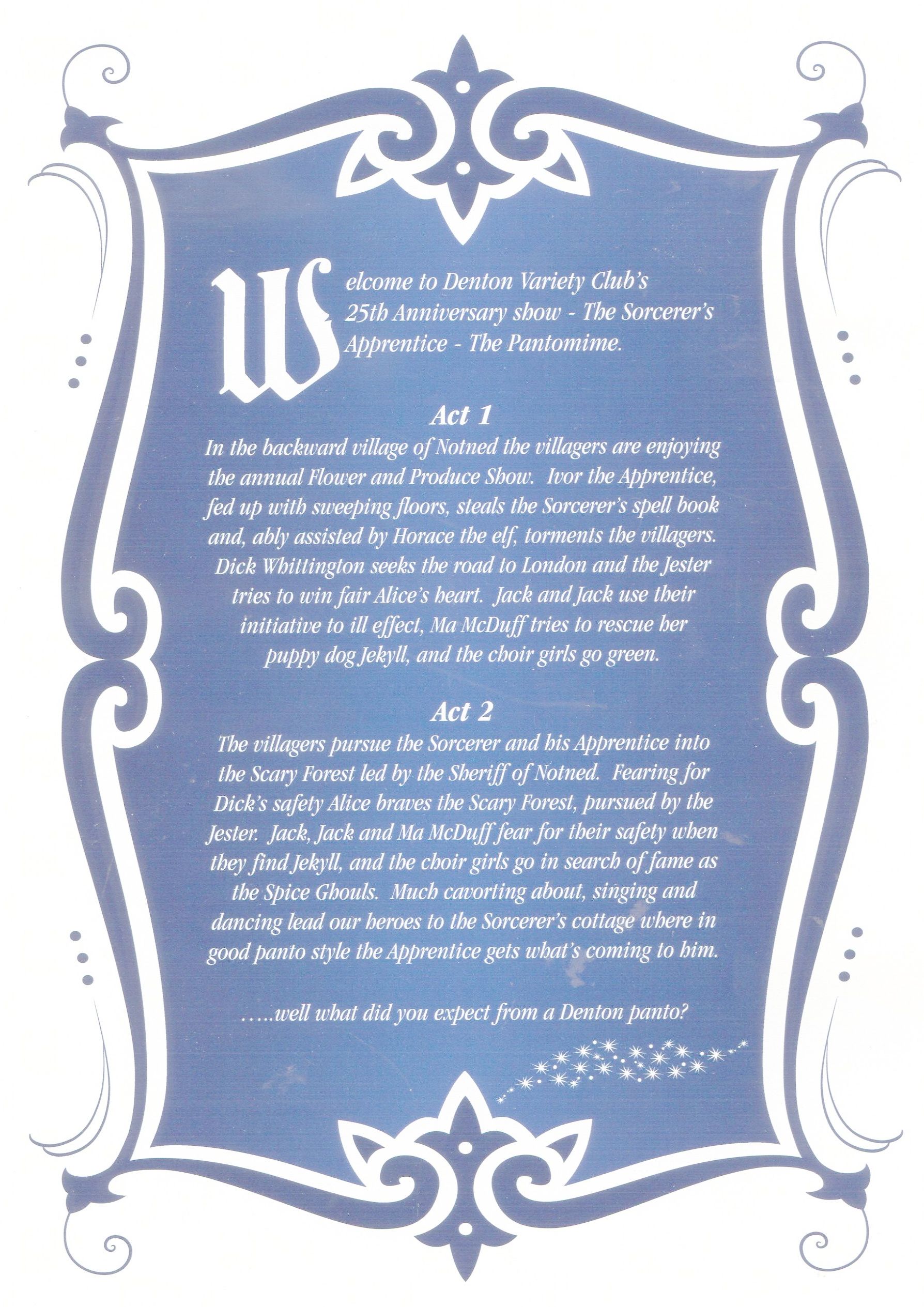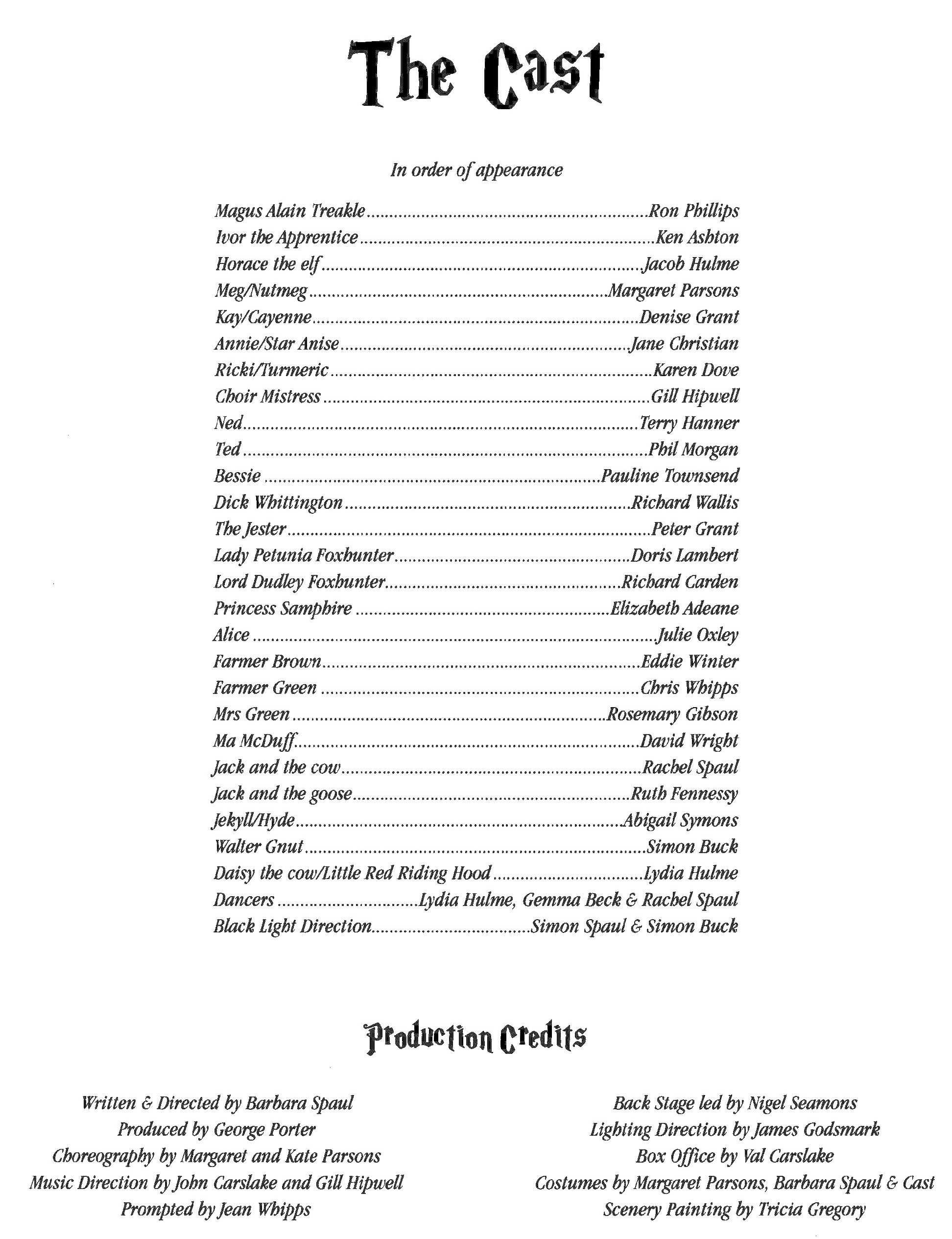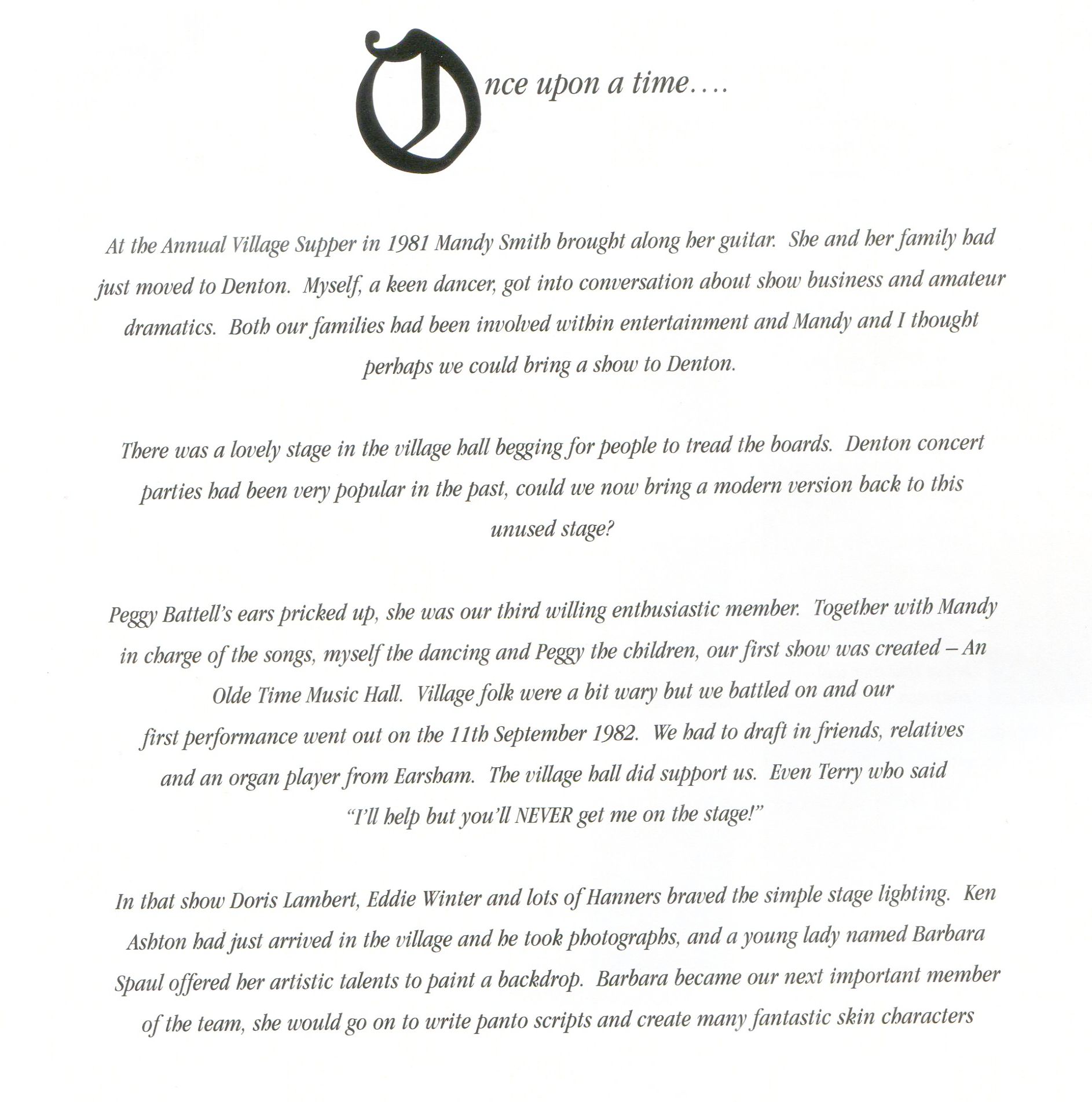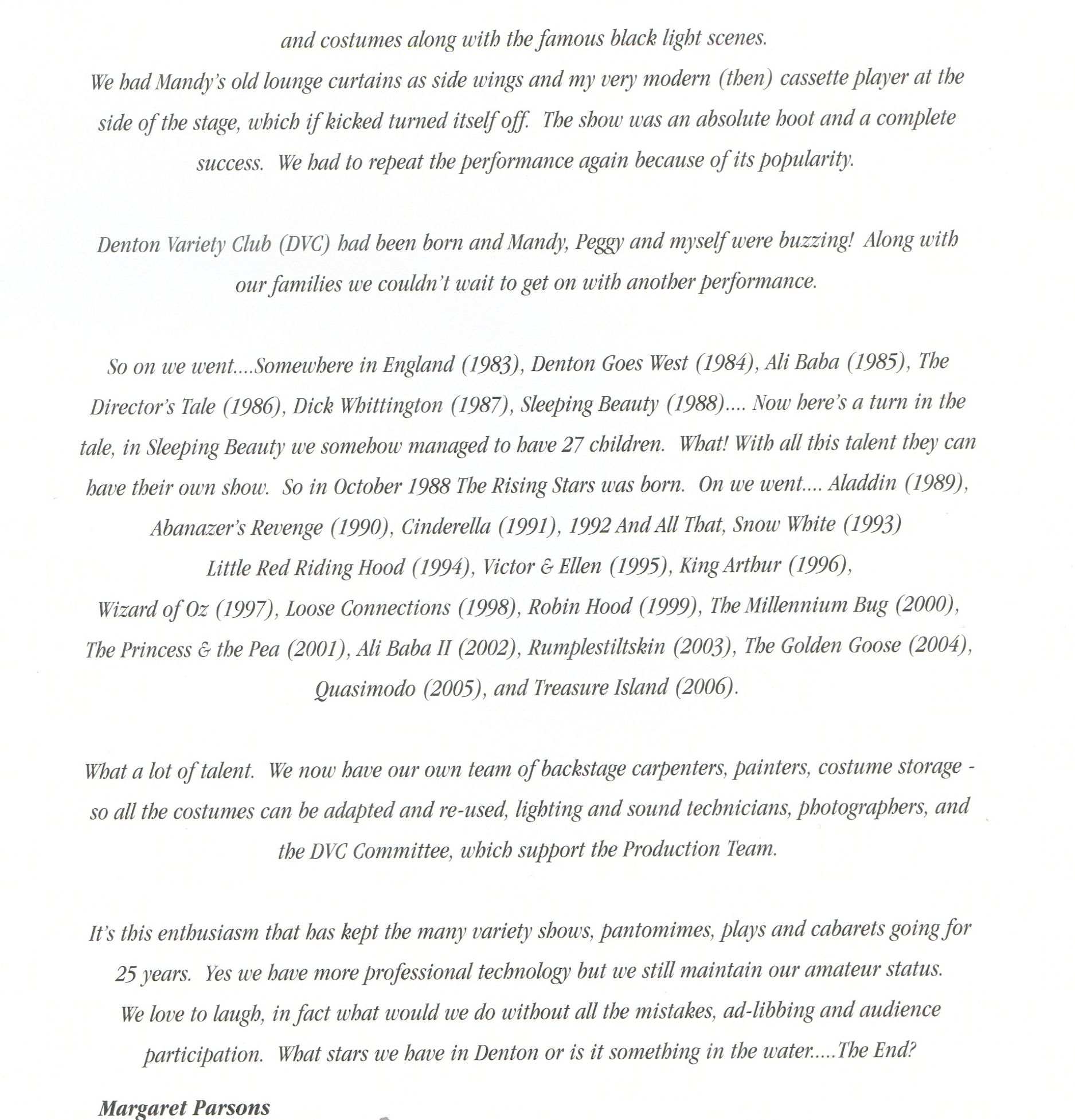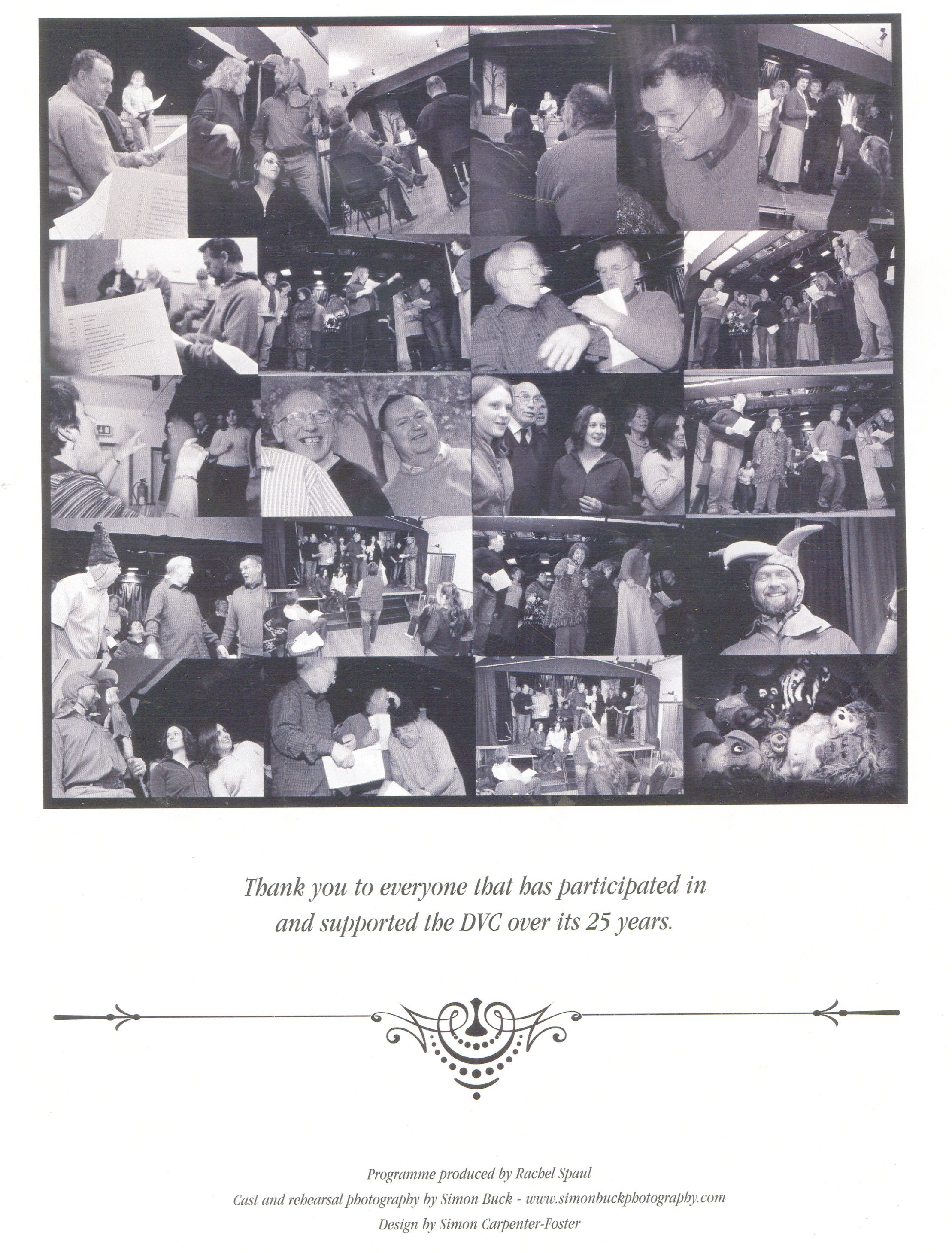 A Review
Magical panto marks 25 years of stardom

If - by magic, of course - French composer Paul Dukas or Hollywood's Walt Disney had been among the capacity audiences at Denton Village Hall on three nights in February to see The Sorcerer's Apprentice, I'm sure they would have been suitably impressed! Denton Variety Club celebrated its 25th anniversary with a lavish production of this enchanting tale of a powerful magician and his wayward assistant, but whereas in Disney's Fantasia there was water, water everywhere, the Village Hall remained dry, except for the bar. Instead, the chaos came in various forms to the "backward village of Notned'' after Ivor the Apprentice (Ken Ashton) stole the spell book from the Sorcerer (Ron Phillips) assisted by Horace the Elf (Jacob Hulme). There were inflated and exploding marrows at the produce show, Jekyll the dog became Hyde the werewolf and the choirgirls were tricked into going green to become the Spice Ghouls. Crisis followed crisis until Ned (Terry Hanner) was made Sheriff of Notned and led a posse into the Scary Forest to restore order. The enthusiasm and enjoyment of this 31 -strong all-singing, all-dancing cast was infectious. A highlight was the atmospheric black light direction by Simon Spaul and Simon Buck, where two broomsticks danced to Dukas's symphonic scherzo, L'Apprenti Sorcier. This indeed was a worthy production to mark this important anniversary and with such a dedicated and multi-talented team, both on and offstage, it's not surprising that some of those appearing this year were also in DVC'S first show, An Olde Time Music Hall, in 1982. Script and direction were by Barbara Spaul, producer was George Porter, choreography by Margaret and Kate Parsons and music direction by John Carslake and Gill Hipwell. Would that there were space to credit everyone involved in this splendid celebration. Suffice to say: Congratulations to all! Robin Limmer
Rising Stars
This year's Rising Stars production was "Everybody Loves Christmas".