Denton Variety Club – 2010
This year's adult production was "Sleeping Beauties" performed on the 18th, 19th and 20th February.
The Programme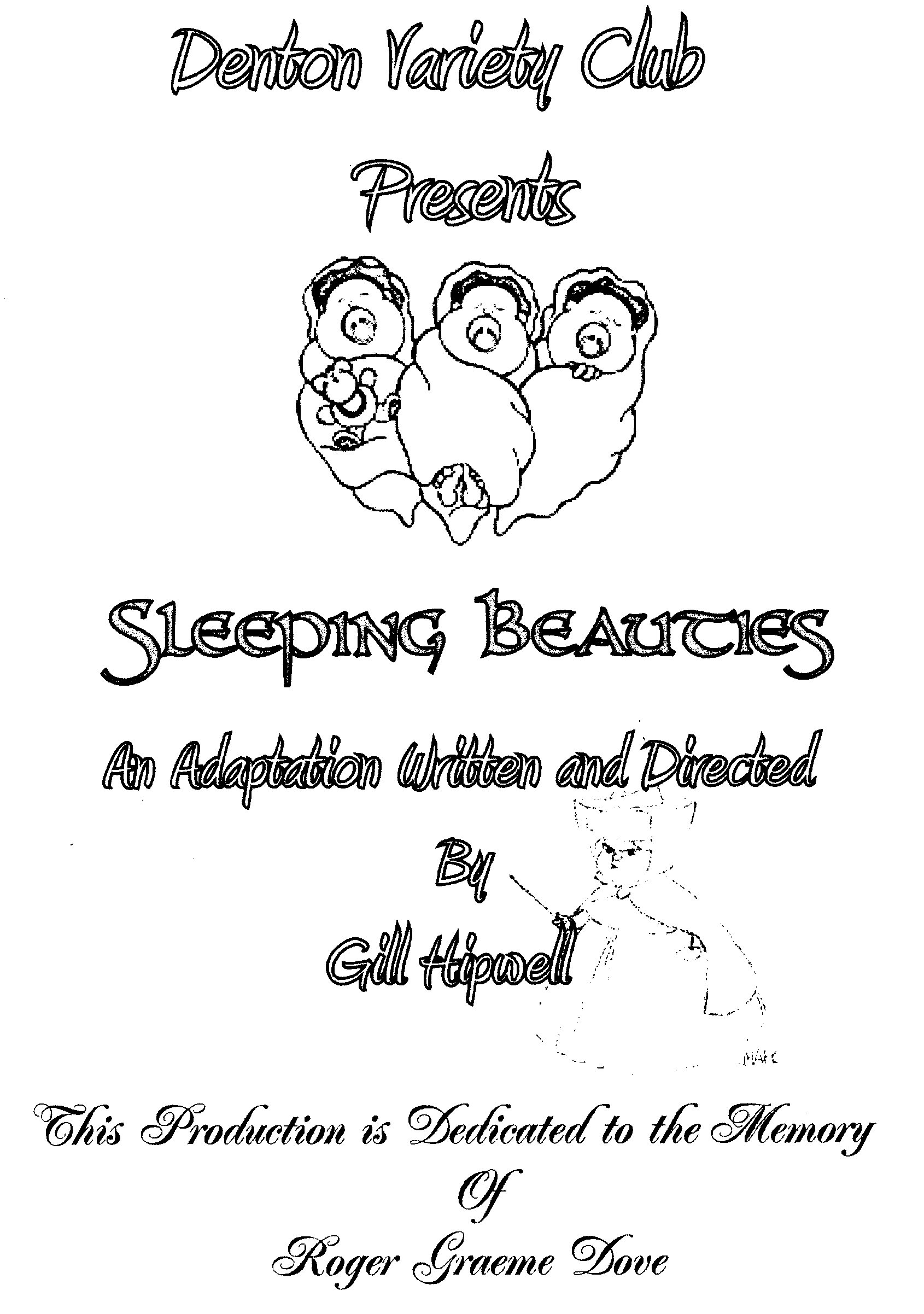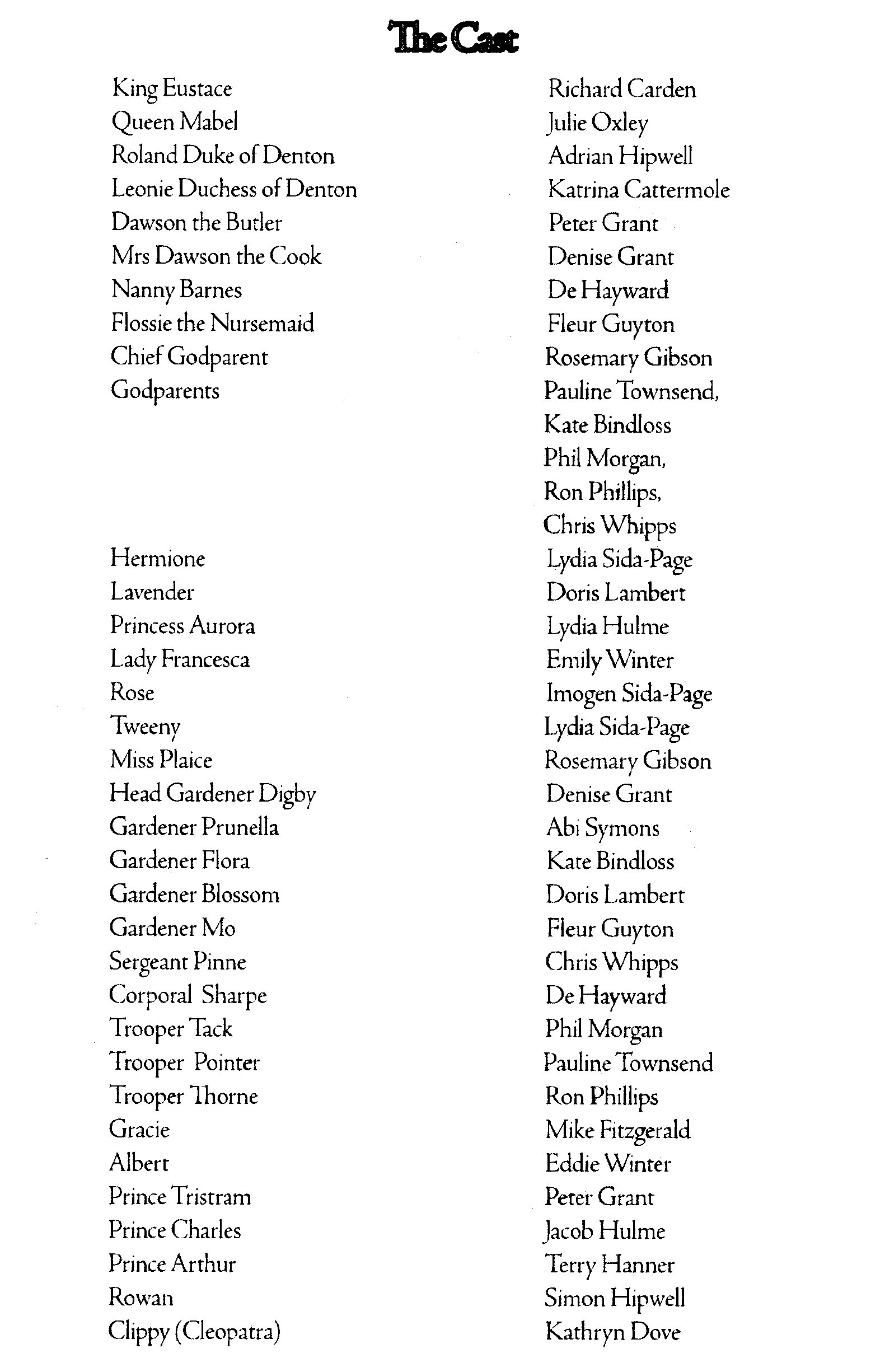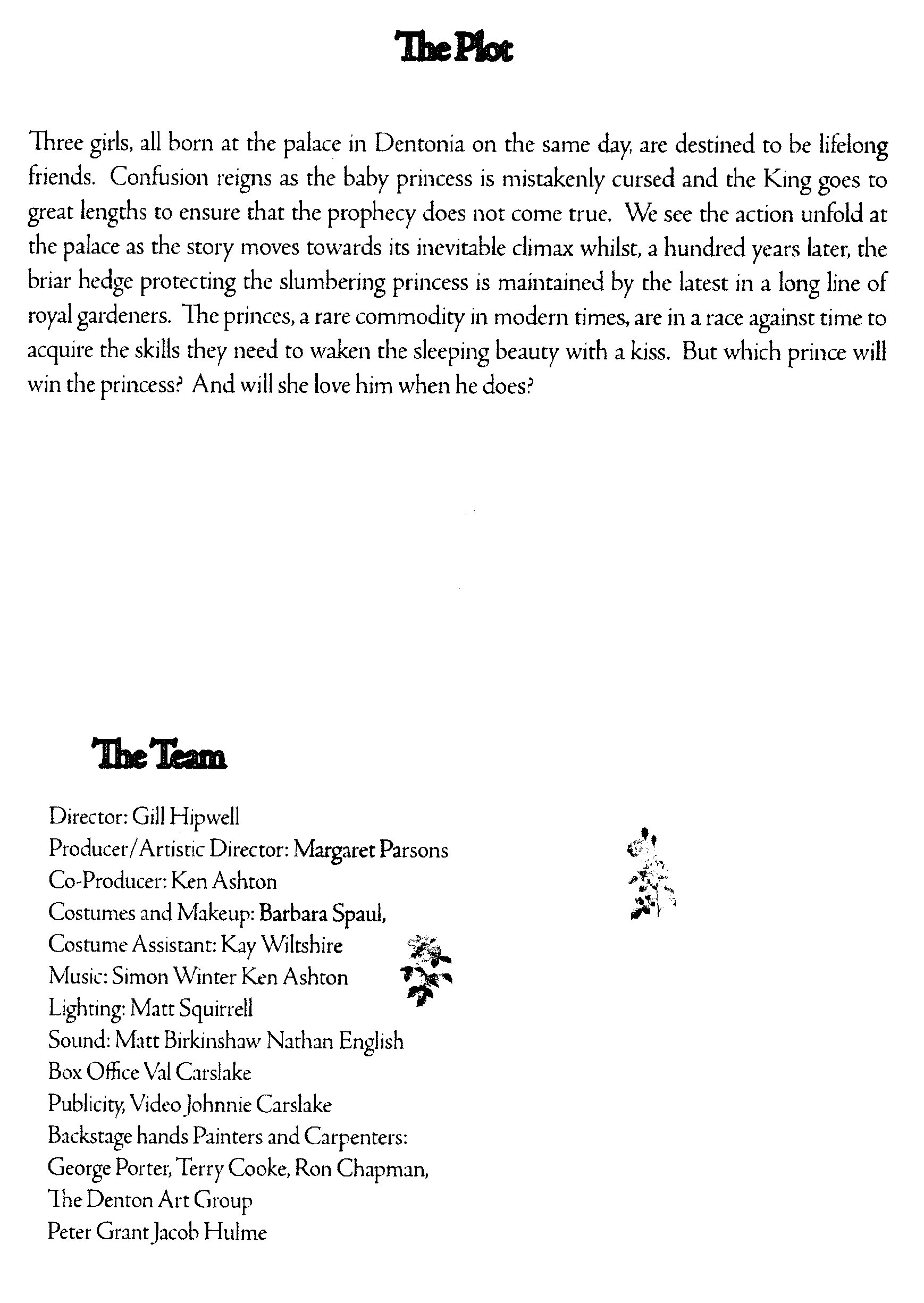 Two Reviews
First from the Parish Magazine - April 2010.
(Dedicated to the memory of Roger Dove)
I attended the performance given on 19th February and I had been looking forward to this evening's entertainment for a long time, having been deprived of my Denton Panto Fix last year because I had duties elsewhere at the time. I was not disappointed. The standard I had come to expect was still there. The show was full of colour, both from the varied settings (well done all the painters) and from the costumes, over which a lot of time, effort, and loving care had obviously been spent. Words of praise too: for the lighting which gave us clarity; and the music which gave us harmony.
The story was cleverly fleshed out by the additions of several Panto-style comedians and comediennes, and was brought into our modern-day world with flash-forward scenes, which showed us the importance of careful hedge maintenance, and even the benefits of a charm-school for Princes!
I have said it before and I will say it again – the success of the Denton Panto is because a group of village people, young and old, stand up in front of us villagers and entertain us with enjoyment in their hearts, and thereby transfer to us that enjoyment. That sounds a simple thing to do but it takes a certain courage to stand up before your friends and fellows and release your inhibitions sufficiently to "spread a little happiness" as the song says.
I applaud you all. Well done, DVC.
B.H.
Next a review by our theatre correspondent – Oldstager.
The annual Denton panto is, for me, one of the year's highlights of entertainment. It invariably succeeds because, I think, it embraces the word "amateur" in its purest meaning. Latin experts may correct me, but I take the meaning of the word "amateur" to be "one who loves". Our village panto is always written, constructed, performed and supported by people who seem to "love" what they are doing. Long may it remain so, for we, the villagers would be the poorer without this home-grown treasure.
The traditional fairy–tale of The Sleeping Beauty is well enough known for me not to repeat it, but in Dentonia, the kingdom in which it was set, we were offered extra layers and depths of story that kept us all intrigued. Not one, but three beauties; flash-forwards and flash-backs in time; even a revelation at the end that one of the characters was a princely descendant. Maybe he should have logged on to the Ancestry site a bit earlier !!
It was good to see some of the dependable characteristics of the performers being integrated into the show to enrich our delight, but I wouldn't mind betting that some of the cast (the young ones in particular) have more to offer and to give, and I hope that some of them might want to build on this year's achievements in next year's panto. Learn the lines early, be comfortable about who you are, what your character is all about (indeed – what the scene is all about) and then you will be able not only to contribute to the work but to help build it.
A few words of praise. First of all, to you ALL, for having the will and the courage to stand up before us and to perform, to present to us an entertainment which lightens and enlightens our lives. It is an act of giving and we, the audience, applaud you for it and are thankful to receive it.
Next, to Gill who appears to have dreamed–up so much and to have fleshed–out the story; to all who created the colour behind the curtains – the sets and the costumes and the lights, which transported us to a new world, Dentonia behind the curtain of Denton. A special word of praise to, not one, but TWO musicians, Simon and Ken, who provided the bedrock of music for all the cast to build upon and sing so lustily.
In Repertory companies it used to be a nightly occurence for an audience to applaud the first entrance of their favourite actor within the regular company, and this, too, could happen in the West End with some stars, so it was with great pleasure that I noted on the Friday night (when I attended) that Terry received a similar accolade.
Mike Fitzgerald showed us a side to his character, which included at the curtain call a glimpse of long knickers (passion-killers I would have thought, Mike) and which proved highly entertaining, but be careful, Mike – it could be habit-forming and you might have to go into detox.
I must mention that the front of the programme stated that the production was dedicated to the memory of Roger Dove. A laudable sentiment in itself, but also highly laudable was the firm, assured and entertaining performance by Kathryn Dove as Clippy. Well done, Kathryn.
Well done, DVC.
Rising Stars
This year's Rising Stars production was "Hansel and Gretel" performed on the 29th and 30th November.
The Programme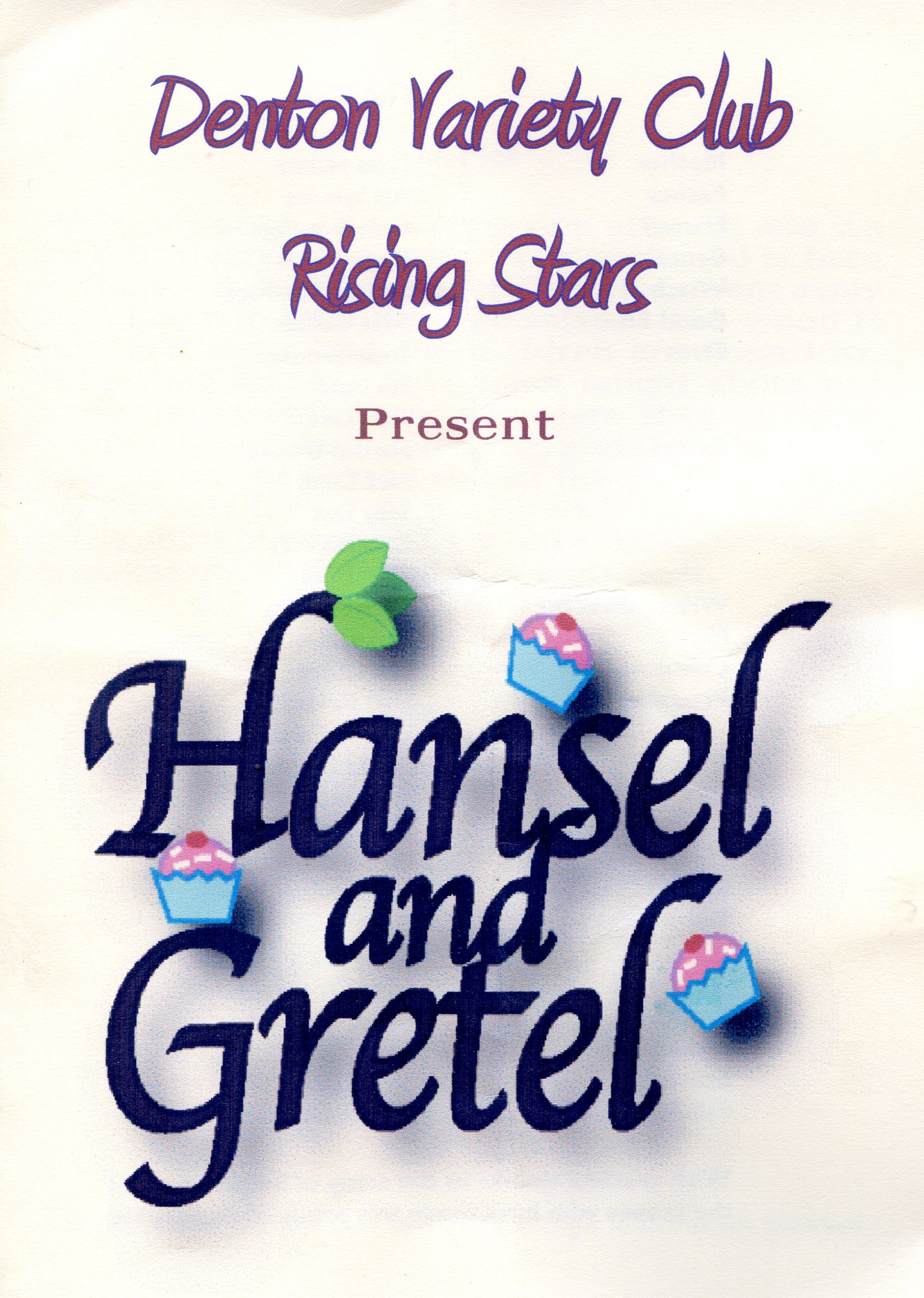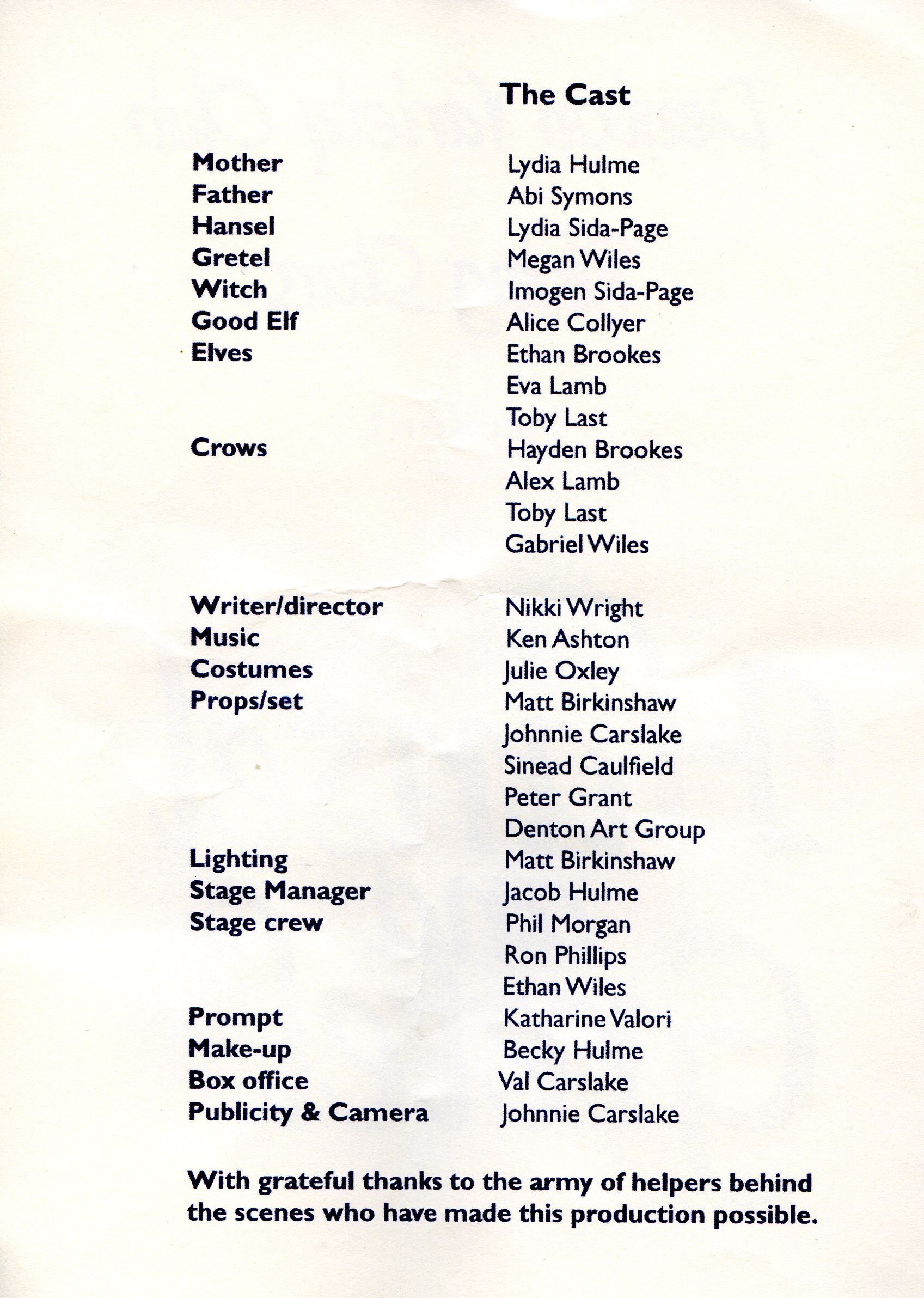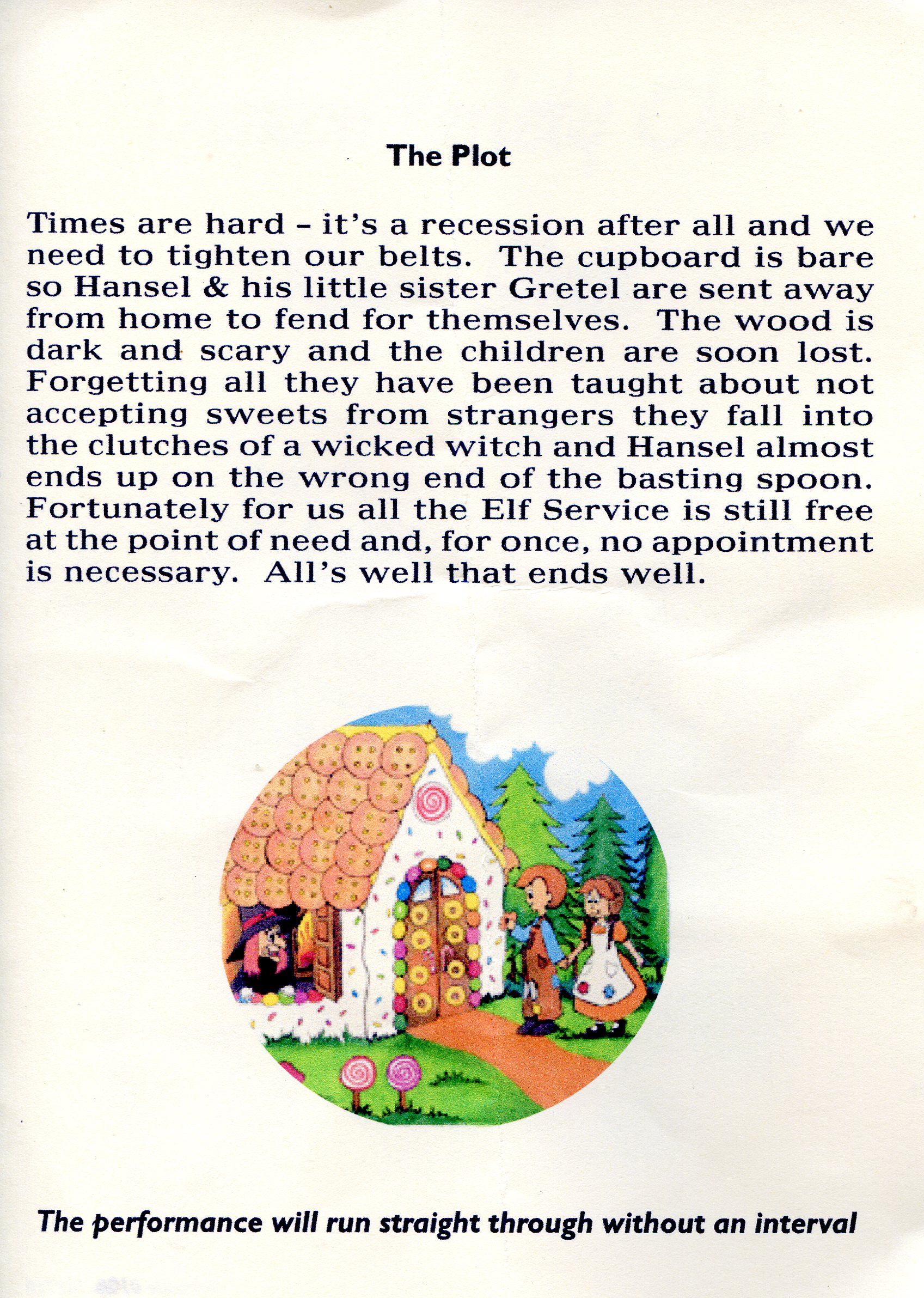 A Review by Johnnie
It seemed doubtful that such a small cast of children could deliver a worthy performance of Hansel and Gretel. However those who came to see the Denton Variety Club Rising Stars presentation would argue the point, as they saw a confident, assured show which was very entertaining.
From the tiny tots to the more mature members of the cast the short story soon captured the imagination of the audience who quickly became involved. It was apparent that it was great fun to be on stage and at times quite hilarious. This is what it is all about. Well done you Rising Stars.
Just think what scope there would be with more children making a larger cast. So come on mums, dads, grandparents, see who you can persuade to take to the boards next year.