The Postlethwaite Family
Much of the information in this section has been derived from Nigel Surry's excellent book 'Your affectionate and loving sister' (published by the Larks Press in 2000). This work is based on the collection of family letters held in the library of Corpus Christi College, Cambridge. Thanks must go to Nigel for allowing us to take advantage of his research.
Mathew Postlethwaite M.A.
Born in 1679, he was the son of George and Elizabeth Postlethwaite of Millum, Cumberland. He was educated at St Paul's School in London and then at Corpus Christi and St John's Colleges in Cambridge. He became Rector of Denton in 1715.
John Postlethwaite, his uncle, who was High Master of St Paul's School and a fellow of Merton College, Oxford, was also patron of the parish which presumably accounted for his nephew's appointment. By will John later gave the patronage of Denton to the Archbishops of Canterbury for ever.
In 1704 Mathew had married his first wife Elizabeth Rogerson (1667-1730) who was the daughter of his predecessor as Rector – Robert Rogerson. They had three children:
Barbara
Elizabeth and finally
John who eventually succeeded his father as Rector of Denton.
In 1708 he was appointed Vicar of Shotesham All Saints and Shotesham St Mary, Norfolk.
On his appointment as Rector of Denton in 1715 the family moved into the Rectory but found it to be in a poor state. Four years later, in 1718, it was rebuilt "in brick and tile" in some style. It appears in a magnificent painting by the well-known artist Francis Cufaude which was commissioned by the Rector and painted c. 1745. This appears on the cover of Nigel Surry's book but, unfortunately, attempts to obtain permission to use it on this site have, so far, been unsuccessful. However, courtesy of Agnew's Gallery, another picture is available.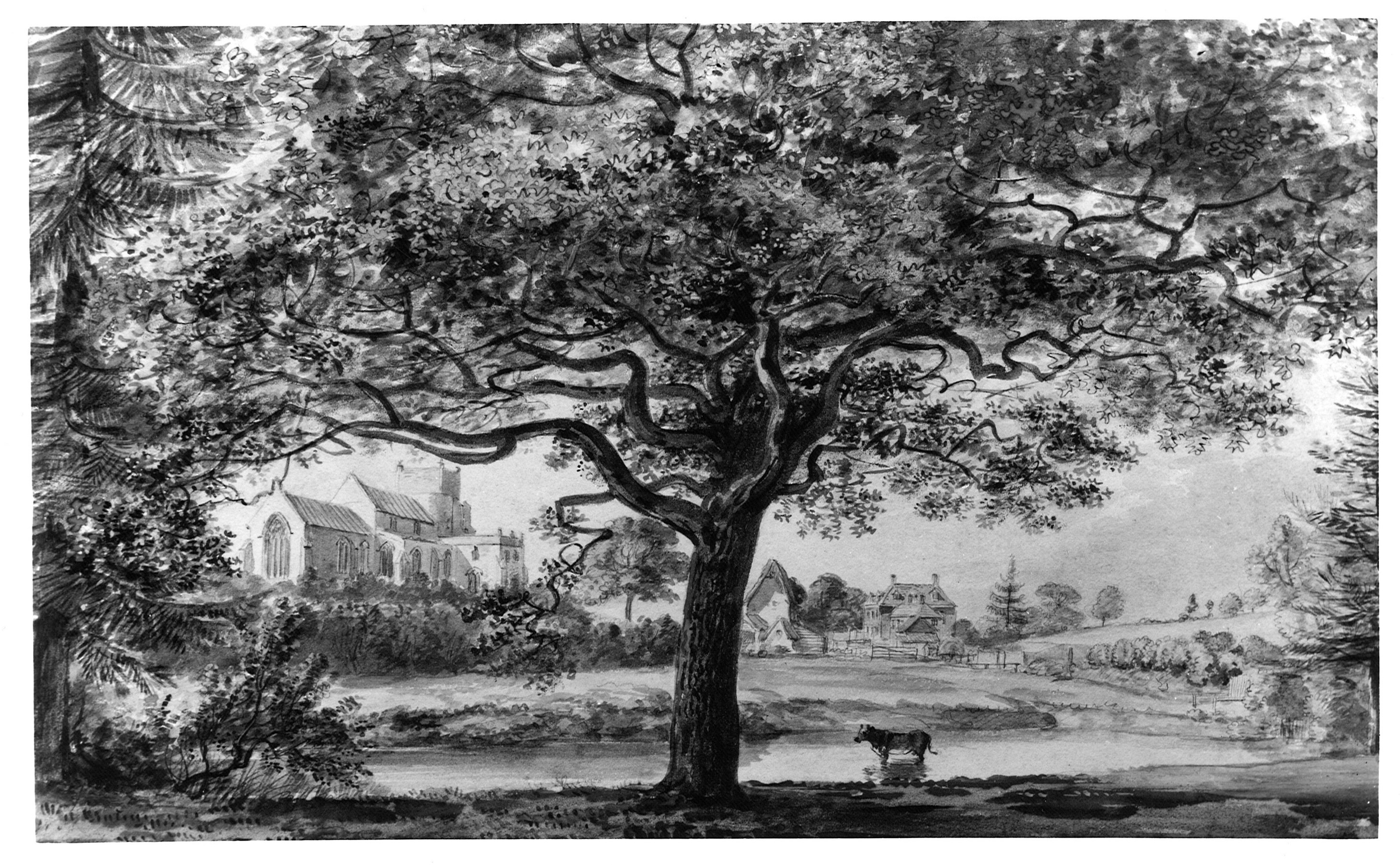 "Denton Church and Rectory" pencil and watercolour by Paul Sandby RA (1731-1809). Private collection courtesy of Agnew's.
In 1719, he published a sermon in quarto, on Acts xxvi. 9, preached at Norwich Cathedral, November 5, 1718. It was entitled "The moral impossibility of Protestant subjects, preserving their religious or civil liberties under Popish Princes Etc.". This was of course a time of strong anti-Catholic feeling; soon after the 1715 Jacobite uprising in Scotland.
In 1730, on 29th March, Elizabeth, Mathew's first wife, died. A little more than a year later he was married again, to Matilda, sister of Thomas Gooch who became Bishop of Norwich in 1738.
Between 1742 and 1744 Mathew, served as Archdeacon of Norwich. In 1743, he also became Rector of Redenhall (the parish included Harleston as it does today). Family links clearly had a lot to do with church appointments in those days. He remained as Rector of both parishes until his death.
On 26th December 1745 Mathew died, intestate, and his widow moved to Norwich.
Your affectionate and loving sister
Elizabeth and Barbara were regular correspondents after the latter's marriage in 1732. Much of their correspondence has survived, now held in the Parker Library of Corpus Christi College, and a book 'Your affectionate and loving sister': has been published based on their letters. Edited by Nigel Surry it was published by the Larks Press in 2000. The letters, covering the period 1733 to 1751, provide a fascinating record of life in mid-eighteenth century Norfolk.

The book contains lots of interesting information about life in Denton and elsewhere at that time. The letters include details of comings and goings, births and deaths, etc. within the sisters' respective families and of various aspects of the local social scene. Events in Harleston, many centered on the Assembly Rooms and the Swan Inn, were clearly important to the Postlethwaites.

Two notable events that are recorded were the threat of Bonnie Prince Charlie's invasion in 1745 (he reached Swarkestone in Derbyshire before retreating to Scotland and was later defeated at the battle of Culloden) and the minor earthquake which hit Norfolk in 1750. Another, recurring, threat was the scourge of smallpox, then a fatal disease.
Barbara Postlethwaite
Born 19th May 1707 at Shotesham, Norfolk, she married, in 1732, Samuel Kerrich, Vicar of Dersingham, Norfolk. He had been born in 1696 and was thus 11 years her senior, but was an old friend of the family, and their marriage appears to be a happy one.
Samuel, who was born in 1696 and came from a local Harleston family, had also been educated at St Paul's and Corpus Christi College Cambridge where he had been a fellow from 1719 to 1729. He was Rector of West Newton, Norfolk from 1729 to 1731 and became a Doctor of Divinity in 1735. He had first married Jane Kitchingman in 1729 but she had died 22 August 1731. He was also Rector of Wolferton.
Dersingham was fifty miles away on the other side of Norfolk and thus Barbara was separated from her family in Denton with only infrequent meetings. They normally met up once a year in the summer but one gap extended from 1741 to 1744. This separation resulted in the regular correspondence between Barbara and her sister Elizabeth.
Barbara suffered several miscarriages and the misery of a stillbirth but produced two children:
Matilda "Tilly", born October 31 1742. In 1767, she married her half cousin, John Kerrich and another clergyman; they had no children. She died October 22nd 1823.
Thomas, born February 4th 1748. He had a distinguished career as a scholar and antiquary - Principal Librarian of Cambridge University and made a Fellow of the Society of Antiquities in 1797. He served as the Vicar of Dersingham, his father's old parish, from 1784 until his death on 10th May 1828.

He married, in September 1798, Sophia Hayes (nicknamed Miranda) and they produced three children.

Thomas was also a talented draughtsman who had his childhood drawings approved by William Hogarth. Kerrich won a travelling scholarship to Italy where he drew, perhaps under the influence of Fuseli or artists in his circle. Later in life he wrote on gothic architecture, produced illustrations for Gough's Sepulchral Monuments and became one of the earliest lithographers. He left his fine collection of early royal portraits to the Society of Antiquaries and his other collections passed to the British Museum and the Fitzwilliam Museum at Cambridge University.

One of his drawings, of his aunt Elizabeth Postlethwaite (see below), is held by the Whitworth Gallery in Manchester. The Tate Gallery in London holds eleven of his paintings, the National Portrait Gallery nine including an interesting Self Portrait.
Barbara died August 22nd 1762 but Samuel lived on until March 8th 1768.
Elizabeth Postlethwaite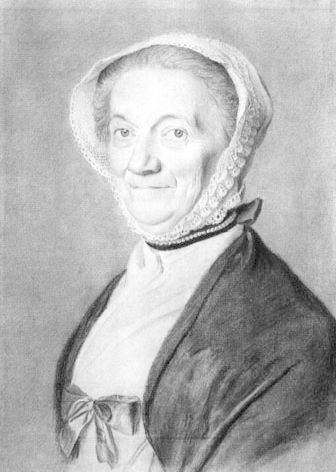 The Whitworth Art Gallery, The University of Manchester, Portrait of Elizabeth Postlethwaite, in 1774 when she was 62, by Rev. Thomas Kerrich (1748-1828).
Born 18th September 1708 at Shotesham, she never married. She seems to have had a good relationship with her stepmother.
When her father died in 1745 she stayed on at Denton Rectory and acted as housekeeper for her brother John. When he died in May 1750, intestate like his father (perhaps the family did not believe in making wills?), she had the task of sorting out his estate, though her brother-in-law Samuel Kerrich came over to assist her. Some of the better furniture was transferred to Dersingham. Official "appraisers" were appointed to organise probate, but Elizabeth stayed on to clear the Rectory.
In July 1750 she moved to temporary lodgings at Chapel Field House in Norwich before moving again to take up residence with her sister at Dersingham Rectory in June 1751.
The Kerrich family, now including Elizabeth, moved to Dersingham Hall in 1753. This was turned into a hotel (The Gamekeepers' Lodge Hotel) at the end of the 1980s but now has planning permission for conversion into apartments. When Barbara died in 1762 Elizabeth moved in with her neice, Tilly, at Burnham Market. She stayed there until her death October 9th 1794 at the age of 82. Fittingly, both she and her sister are buried, side by side, in the chancel of St Nicholas' church at Dersingham.
John Postlethwaite M.A.
Born 18th September 1711 at Shotesham, he was educated Merton College, Oxford. He was ordained deacon in 1735 but never moved on to the status of priest.
In 1737 he was appointed as Rector of Thelveton, a small parish near Diss; a position he retained until his death. In 1738 he served briefly as a naval Chaplain on HMS Worcester, a sixty gun fourth rate ship of the line. But it seems the naval life did not agree with him and he soon returned to Norfolk.
Perhaps rather the black sheep of the family, he relied on his father to pay off his debts and the two had a "difficult" relationship in the latter's later years. In spite of this he was appointed to take over as Rector of Denton at the age of 34 when his father died in 1745. At that time there almost no restrictions on the clergy holding several benefices at the same time.
However just five years later, on 10th May 1750, John died in a riding accident. The living remained vacant until November when George Sandby was appointed.