Odds & Ends
This page contains a variety of miscellaneous historical information which will be gradually expanded.
Ideas for new entries will be gratefully accepted!
Denton's Administrative History
Denton's parish boundaries were laid down in Saxon times by the church. They have probably not changed very much for more than a thousand years. The boundaries were originally defined by a number of physical features. These included significant trees and these were shown on the older OS maps. Locally they included an oak tree east of Middle Road and an ash tree near Denton Lodge. The part of the boundary formed by the river Waveney, the county boundary, will have moved as the river has changed its course but it is less than a mile in length.
Under the Saxon system Norfolk was divided into 33 hundreds (nominally the area occupied by 100 households) and Denton formed part of the Earsham hundred.
The hundred system was swept away by the creation of Rural District Councils in 1884. Denton became part of Depwade RDC. Four year's later the Local Government Act of 1888 created Norfolk County Council.
The Act of 1894 created civil parishes, separate from the ecclesiastical ones, and parish councils. It transferred the civil functions of the older parish authorities to the new institutions. As a result, the church was excluded from formal participation in local government. Denton Parish Council has existed since that date.
Another Local Government Act, of 1974, merged a group of small urban and rural district councils, including Depwade RD, to create the current South Norfolk District Council.
Great Green Windmill
In medieval times there would have been a parish watermill probably near the church on the Beck (it is mentioned in Domesday Book) to grind the village's corn but windpower was regarded as more reliable and in most areas watermills were eventually replaced by windmills.
Denton's windmill stood on what was originally Great Green, close to Darrow Green Road (marked as Windmill Road on old maps). It's age is not known but it was there in 1752. It is shown on Bryant's map of 1826 and the first Ordnance Survey one–inch map of 1838. It was a postmill, built on 5ft high piers and turned manually into the wind by a tail pole. It was demolished around 1899. The site can still be identified near Mill House, Mill Farm and Mill Cottage (Grid Ref: TM277898).
For a photograph and more information go to The Norfolk Windmills site.
It seems that there used to be another windmill in the south of the parish on Round House Hill on the site of Denton Cottage.
Denton Workhouse
In 1601, during the last years of Elizabeth 1st's reign, the Poor Law Act placed the duty of poor relief on the parish. This continued until Gilbert's Act of 1752 allowed parishes to join together in Unions to build poor houses or "Workhouses".
The Norfolk Museums Service's "Historical Atlas of Norfolk" records that in 1832 Denton's Parish Workhouse, location unknown, contained 26 paupers and made out-relief payments to 108 men women and children - a substantial portion of the village population. Its location is unknown.
The 1834 Poor Law Union Act established the new Union system with workhouses in each single or grouped hundred. The Depwade Union's new building at Pulham Market (on the A140) served Denton and the parish workhouse presumably closed. The 1881 census records that four of the inmates were born in Denton. The Pulham workhouse building closed as recently as 1929. It served as the offices of Depwade Rural District Council and later as a hotel before conversion to its present use as flats, Hillcrest Court.
Further information is available at The Workhouse website.
This includes a plan of the original octagonal shape of the building now changed with the removal of some of the perimeter sections.
A Snapshot from the Past
Before receiving any poor relief or placement in a workhouse, applicants had to undergo an "Examination" before a magistrate. These were recorded in writing and stored in parish chests. One such record, from the early 19th century, provides an interesting account of one Denton resident.
John Smith, a labourer living in Denton, reported that "In 1790 at Haddiscoe I let myself to James Elliott, Blacksmith, for one whole year. I continued for two further years, then went to Yarmouth and went apprentice to go to sea for three years. But after serving about 18 months I was pressed into HM's Service."
No details of how long he served in the Navy, but at that time, with constant wars against the French, he was probably lucky to survive. The use of Press Gangs to recruit seamen was a serious issue in ports like Great Yarmouth.
No record either of what "relief" he obtained.
Population Change
A national census has been held in the UK every ten years since 1801 (apart from 1941 because of the war). The figures for Denton appear below.
The highest figure recorded was 625 in 1841 and the lowest 325 in 1961. The latest census indicates that we are nearly down to that figure but the opening of the Affordable Housing scheme should reverse the decline, at least for the time being.
More detailed census information is becoming available on-line. Appropriate links to these sources will be added to the list below.
1801 451
1811 498
1821 601
1831 580
1841 625
1851 571
1861 518
1871 525
1881 484
1891 451
Further Details are now available.
1901 406
1911 376
1921 381
1931 337
1951 337
1961 325
1971 327
1981 382
1991 382
2001 352
2011 326
Further census information on Denton is available from the Vision of Britain website.
Our Trigpoint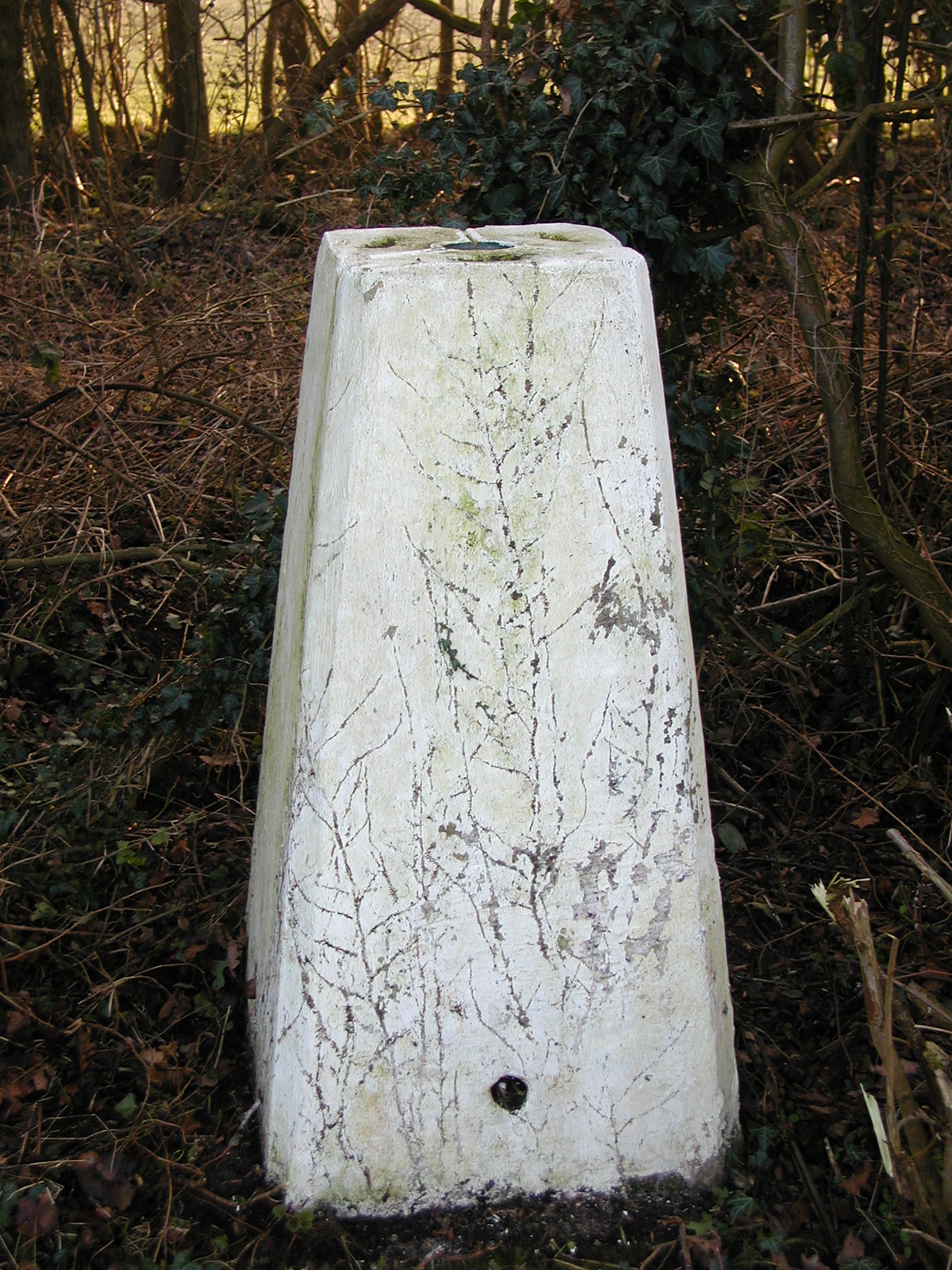 The Ordnance Survey Trigpoint - on the right -
(officially a "Triangulation Station") on the boundary with Topcroft (probably just in Topcroft but we will ignore that!) north of Darrow Green has a height of 52.6 metres (172.6 ft) above sea level.
Comparatively rare in Norfolk (because of the lack of hills most trig stations are on top of church towers, as at Topcroft), this was erected "on December 13th 1948 at a cost of £9 14s 2d" (£9.71). It is one of the 6,575 such points which originally covered the whole of Great Britain.
Some interesting information about the history of trigpoints can be found on the BBC website.
Officially this is called the Bush Wood TS, Ref. No. TG12/T10, it bears the flash number S4912. It's Grid Reference is TM26219019. It is one of the many trig points that the Ordinance Survey has now declared to be redundant; with modern satellite-based surveying methods far fewer fixed TPs are needed. It could reasonably be regarded as a modern "ancient monument".
The next nearest Trigpoints are: in Topcroft, 2.7 km away on the church tower; 7.2 km away south of Long Stratton just west of the water tower on the A140; 7.3 km away in Stony Lane at Pulham Market and 7.6 km away on the southern edge of Seething airfield.
Further information on Trigpoints is available from the Ordnance Survey and from TrigpointingUK.
Their reference No. is TP1814.
Misery Corner
The junction of Darrow Green Road and Manor Farm Road has been called "Misery Corner" for as long as people can remember. There are at least three versions of the origin of this name:
A nearby field contains Hangmans Hill and the passing condemned were obviously having a pretty miserable time.
It is claimed that many years ago a young servant girl working at Ivy Farm, one of the houses at the Corner, was so ashamed of becoming pregnant that she committed suicide by hanging herself.
Finally, during the Civil War some roundhead soldiers were billeted at Ivy Farm. One of them misbehaved (something to do with the servant girl perhaps?) and was duly executed by firing squad in a field by the Corner.
A Titanic Link?
Well, nearly. An item in the June 1998 issue of the Parish News recorded that, by coincidence, the following item had appeared in a Souvenir Edition of the Daily Mirror, April 1912, which commemorated the sinking of the Titanic.
The grave is in good order, situated on the right hand side up the steps from the car park.
"My sole wish is that my name shall be utterly forgotten' runs a clause in the will of Mrs Mary Anne Pemberton, of Denton, Norfolk, who left estate of £19,349 gross value. Mrs Pemberton further desired: 'To be buried in the parish in which I may die, but my name is not to appear on any memorial tablet in any church. No music or singing shall be heard at my funeral (which is to be conducted like a cottager's funeral), and no leaves or flowers shall be placed in or on my grave. My tombstone shall not cost more than £3, and shall bear the inscription M. A. P."
Born Mary Anne Holmes in Florence in 1841, she was the widow of Walter Hamilton Pemberton, JP of Denton House who died in 1894.
A Public Inquiry
In 1988 the new owners of Pockthorpe Cottage, concerned to find a public footpath outside their front door, challenged its status.
What follows is a report of the subsequent public inquiry which also considered a proposal that Sidge's Lane should be recognised as a full bridleway rather than a footpath. The report, written by the then Chairman of the Parish Council appeared in the Parish Magazine in December 1988.
"Denton Parish Council are most grateful for the public spirited response of so many parishioners who gave their time to attend the Public Inquiry into the status of Sidge's Lane and Pockthorpe Lane. Several people endured the whole two and a half days that the inquiry lasted; in fact many of us hadn't sat down for such a long period since we left school!
We are particularly indebted to Mr. Peter Hill, who conducted the appeal over the status of Sidge's Lane which we are endeavouring to return as a bridleway. The professional manner in which he correlated the evidence and presented the case was a great help and the fact that he was personally congratulated by the Inspectors on this presentation must stand us in good stead. Thank you, Peter, for giving your time and experience to help our cause.
Some of the evidence was very interesting. We heard how Mr. Joe Revell and other farmers along Middle Road brought their horses and farm tackle to the blacksmith's shop, run by Mr. Harry Fairhead (Geoffrey's grandfather), and how other farmers such as Jim Brooks and Billy Constance used the lane when carting corn and feeding-stuffs by horse & cart from Earsham Mill. Both old & young gave evidence of use on horseback over the past forty years, one lady welcoming the flooded and over-grown conditions of the lane to train her horses for ''eventing''.
Pockthorpe Lane witnesses found it a much more daunting experience when faced with cross examination techniques which seemed more suited to the Old Bailey. However, after initial nervousness some witnesses actually managed to bring some humour into the proceedings. We learnt quite a lot about Haggard's Farm, and the fact that the lane led to a field called "Common Field". This led to interesting observations on the title ''Common Way'' which erring clerks over the centuries had sometimes spelt with a capital "C" ' which would signify, after long Latin deliberations, ''Public Highway", but at other times they used a small ''c'' which could signify the use of the owners of a right to the common land.
Other interesting uses of the lane included nature rambles, bird nesting, short cuts to work and Sunday School, children delivering lunch packs to the farm workers, courting and sometimes nocturnal uses when a 'glint in the eye' speaks volumes!
As it was recently reported in the press that the Dickleborough by-pass inquiry was not published until eleven months after the decision was made, we are likely to need a lot of patience as we await the vital pronouncements on our two ''green'' lanes, but, whatever the outcome, everybody did their best and it was very much appreciated by your Parish Council.
E. Winter."
Some months later the Inspector's report came out in favour of the PC. Pockthorpe Lane continued as a footpath and Sidge's Lane became a bridleway.
The Village Shop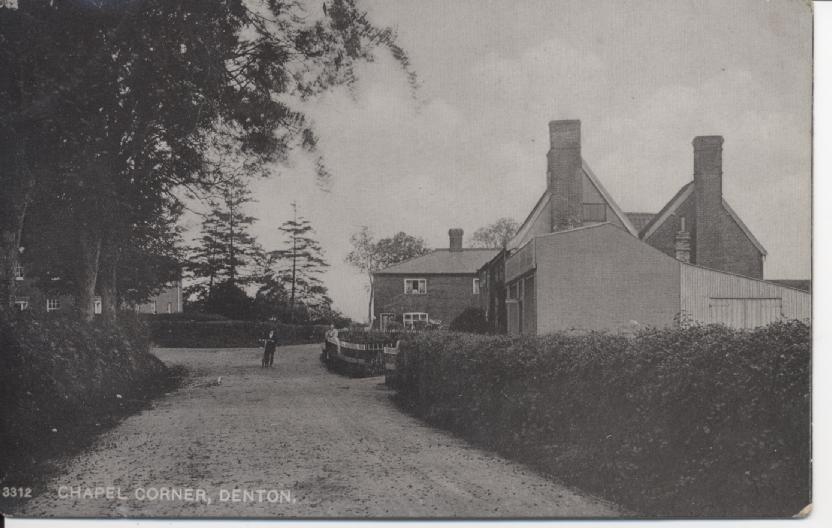 Located at Chapel Corner, the shop, on the right in the picture above, served the village for many years. Unfortunately, like most similar small enterprises, it was forced to close in 1991. The shop building has since been replaced by a granny-annex to the Old Post Office next door.
What follows is a report of its closure that appeared in the Parish Magazine in January 1992.
Fifty Years in the Village Shop
Saturday, 30th November was a sad day for Denton with the closure of the village shop which had served the community for at least eighty years.
However, the mood changed in the evening when Wendy and Angus McGill gave a surprise party in honour of "Bubbles" Gunton, who was born in the shop and served in it with her parents and then her late brother Alfred.
The village hall was packed to welcome her and to say their own thank you for the years of service she had given to the community. As Angus said in his tribute "Not only was she the continuous and guiding thread in the shop, but was also there to console or congratulate as the moment required."
She was presented with an engraved crystal vase and a cheque from the village by Mrs Ethel Hanner, who, it was said, had probably been served by Bubbles longer than anyone else present. Rose Woods and Julie Cooper who had also served in the shop were presented with bouquets by Wendy. Rose then presented Wendy and Angus with a token of appreciation from the village.
Following lovely refreshments made by Betty Wilby and others, a special cake made by Dawn Hicks was cut. A happy finale to a rather sad day.
Hilda Thomas
The Village Sign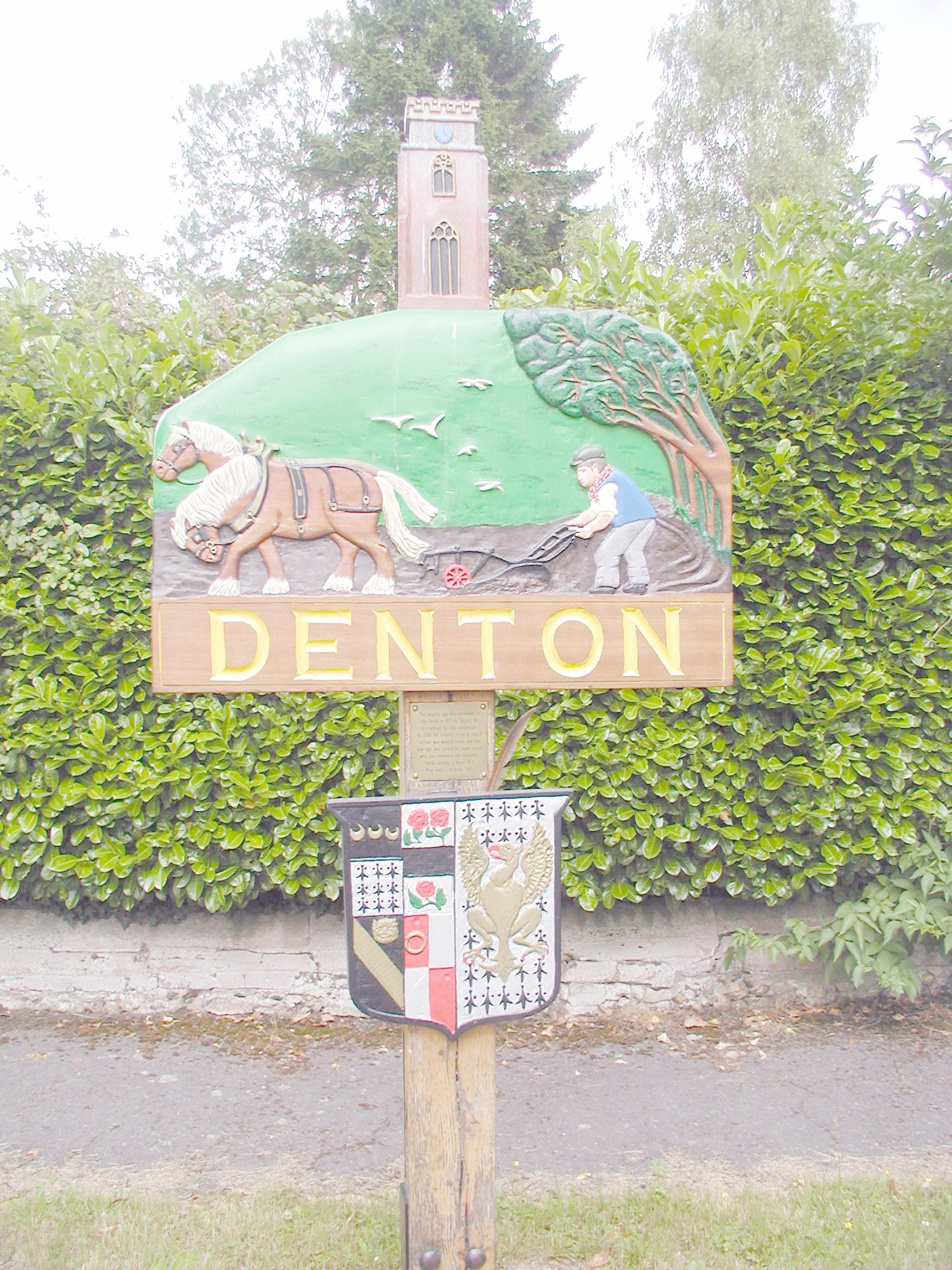 In October 1970 Denton WI, on the occasion of their Golden Jubilee, offered to pay the cost of erecting a Village Sign on land near the School. This offer was accepted, with thanks, by the Parish Council who agreed to take over responsibility for maintenance.