The Village Shop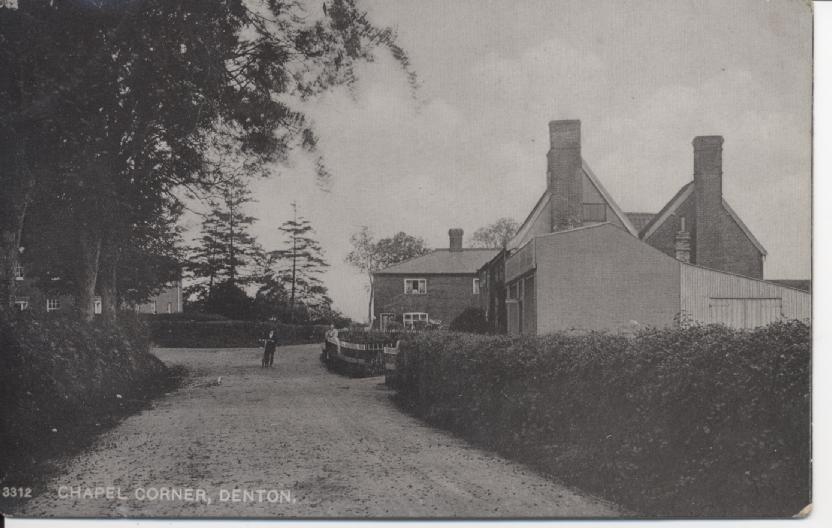 Located at Chapel Corner, the shop, on the right in the picture above, served the village for many years. Unfortunately, like most similar small enterprises, it was forced to close in 1991. The shop building has since been replaced by a granny-annex to the Old Post Office next door.
Fifty Years in the Village Shop
This is the report of the closure that appeared in the Parish Magazine in January 1992.
Saturday, 30th November was a sad day for Denton with the closure of the village shop which had served the community for at least eighty years.
However, the mood changed in the evening when Wendy and Angus McGill gave a surprise party in honour of "Bubbles" Gunton, who was born in the shop and served in it with her parents and then her late brother Alfred.
The village hall was packed to welcome her and to say their own thank you for the years of service she had given to the community. As Angus said in his tribute "Not only was she the continuous and guiding thread in the shop, but was also there to console or congratulate as the moment required."
She was presented with an engraved crystal vase and a cheque from the village by Mrs Ethel Hanner, who, it was said, had probably been served by Bubbles longer than anyone else present. Rose Woods and Julie Cooper who had also served in the shop were presented with bouquets by Wendy. Rose then presented Wendy and Angus with a token of appreciation from the village.
Following lovely refreshments made by Betty Wilby and others, a special cake made by Dawn Hicks was cut. A happy finale to a rather sad day.
Hilda Thomas
More Information
As with other subjects featured on this website, some more details about the history of the shop have emerged.
Following the long and distinguished service of the Battells, the shop was taken over by the Hooker family. They were then succeeded, in 1975 by Bruce and Val Tanner to be followed by the Ziman family, husband Robert and wife Denise, accompanied by their three children, Harry, Tim and Ruth. Eventually they then handed over to the last owners, the McGills, in 1984.
The picture of the shop and house below, constructed from coloured felt, was put together by Ruth Ziman when aged 11.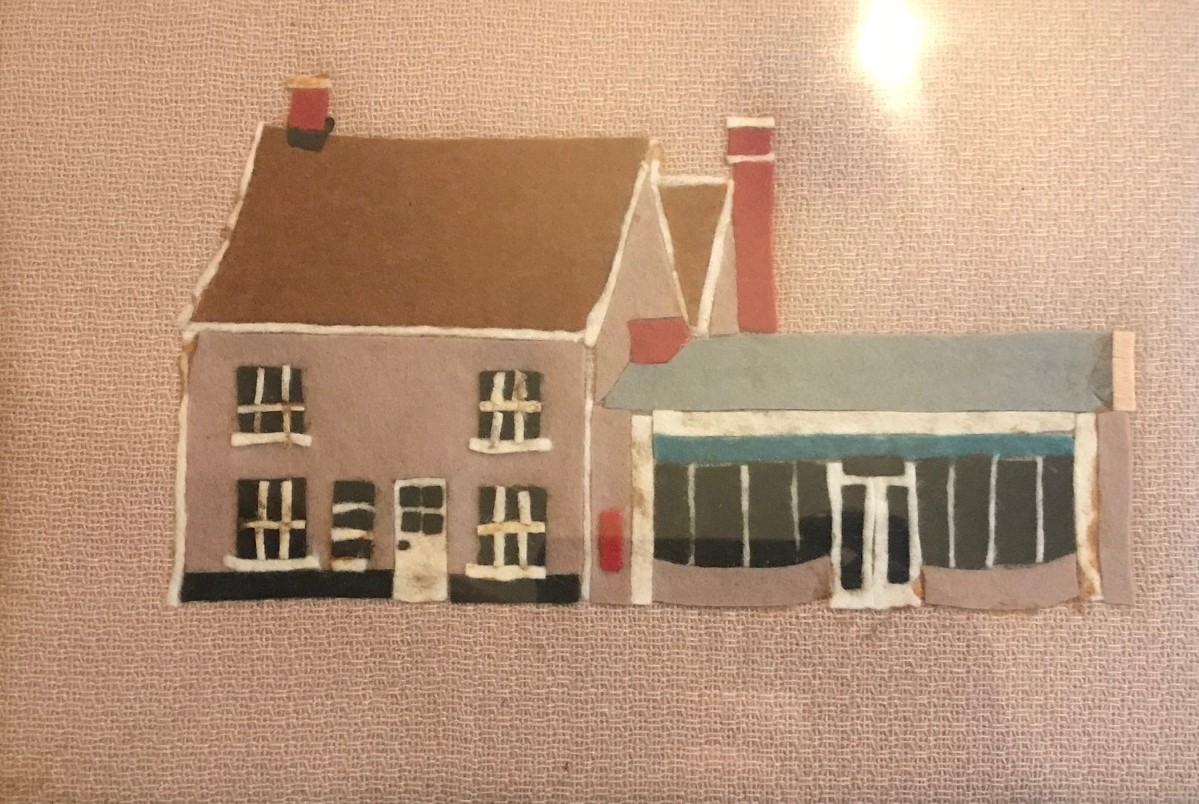 Most of what follows has been kindly provided by Dr Harry Ziman, see above.
I lived in Denton as a child from 1977 until about 1984. My parents, Robert and Denise Ziman, ran the post office and stores. Sadly my father died in 2015 aged 80 and my mother recently aged 91. Looking at the obituaries on the website, I recognise some of the people we used to deliver newspapers to, and also Bubbles Gunton who was a stalwart in the shop.
Notes from the Past
In 1977 my father decided to cease being an urban London commuter and bought the post office stores in Denton to become a shop keeper and sub-postmaster. The house was tired and run down, and the ground out the back neglected with ageing fruit trees, an abandoned van in the field and an oil spillage.
The remedial work on the house was so severe that we had to move into the shed behind for several weeks. New tops were cast to some of the chimneys, which are still there. The new roof lasted 48 hours before being removed in a Christmas Eve storm. Old timbers were uncovered.
Once, the act of putting a nail into an interior wall was accompanied by breaking glass as a pane buried within a partition wall shattered. A wood burner was the only source of heat once the old French paraffin cooker was removed.
Over time, the shop became busy and there was a thriving newspaper round to be done six days a week. Fresh bread was collected, still warm, from a new baker in Harleston and routine deliveries made in neighbouring Alburgh.
My sister acquired a horse who was kept, with some others, on the land behind the shop.
Two cats, Merry and Pippin, completed the family. It was a busy time which lasted until 1984 when they moved to Old Buckenham. By then I was at University.
Robert died on 1st July 2015 and his beloved Denise on 4th August 2021.
Denise's Story
This fascinating account was written by Harry's mother, Denise Ziman.
It was in 1976 that my husband came home one evening saying his firm was planning to relocate to the south coast. We were dismayed. Where? When? What about my job which paid our mortgage? What about education? Our eldest would soon be ready for secondary school, a decisive and important step for him. We had struggled for years to establish ourselves, had put off starting our family until Robert had qualified and settled into an appropriate job. We had adjusted to his long journey to work and had three children in five years. The idea of unsettling us all was appalling. Which was worst, relocation or find another job? Possibly both. If only we could be independent, work for ourselves! Nothing was ever perfect but at least then we'd have control over our lives.
Tired of fretting over things we could do nothing about we escaped to our old caravan for a relaxing weekend. We found the familiar site complete with its house and out-buildings was up for sale! For two days we played with the idea of owning it, living there, running it and making it pay year round by hosting study groups, painting holidays, providing workshops for craftsmen, a locality for film-making.... Life would be ideal for the children, living in the country, with both of us at home for them. Robert could manage the site, I could do the admin. We could offer meals, sell home made jams, pickles, cakes..... We went home totally in love with the prospect of working for ourselves.
A couple of phone calls on Monday shattered our dreams. The price was far too high. The caravan site lettings would be our only immediate source of income and we would need a big mortgage. We would need capital to develop other aspects of the business. It would take time, a couple of years at least. The whole venture was far too risky. We had to wait for Robert's firm to determine our future.
But we could not quite give up the dream. Since upheaval was inevitable why not look for a more realistic alternative? There was that little village shop the caravaners depended on. It had been on the market, so what about running that? It had a post office, the only one for miles around, which would provide a basic salary. Neither of us had any knowledge of running a shop but so what? We knew from experience what shoppers wanted, it couldn't be that difficult. And the Post Office would train Robert to run that side of the business. The lure of independence was too strong. The shop was still for sale, we could just afford it without a mortgage. We went for it.
Some hectic four months later, one Saturday in June, we moved to start our new life. The shop was attached to the house and there were shacks out the back for storage, and two small fields. We made plans for a garden, maybe a pony for the children. We would put off rebuilding the greenhouse until the Spring. There were more urgent things to do, like getting to grips with the business. Our predecessors' part-time assistant had agreed to 'see us in' by working until the end of the month but after that we would be on our own.
That Saturday morning our vendors continued to run the shop while we moved our furniture in as theirs was taken out. The day's takings would be theirs and we had yet to pay for what would remain of their stock. Robert observed what went on in the shop and I tried to make a home for us in rooms which seemed large, dark,and inhospitable. After the shop closed at lunchtime we all set about stock-taking, snatching something to eat from the left-overs in the cool cabinet. I was introduced to the routine of cleaning the various machines. A tour of the out-buildings to survey the stock - paraffin, firelighters, turps, crates of bottles, some empty for return, some full - made me realise how complex the whole enterprise was. Figures were agreed, papers signed, hands shaken all round and we were on our own.
We had until Monday morning to get straight indoors. The survey had warned that the place was in need of repair and redecoration. Top priority would be to make the roof watertight. The windows had nearly all been nailed shut. The bare wooden floors were dirty, inclined to splinter. The kitchen was best described as inadequate and I was apprehensive. I had never cooked on an oil-fired range. There was a washing machine in one of the outhouses but the whole place needed cleaning before I could use it.
We established bedrooms, used our few rugs beside each bed, and put our chairs into the sitting room. The range grudgingly yielded us basic meals but no one complained. The children helped or hindered, and explored. Much too soon Monday morning dawned and around 5.30am the daily newspapers arrived. Robert sorted them as he had been shown on Saturday, and before breakfast took off on his first delivery round. We were shop-keepers now. At 8.30am sharp we opened for our first customer who was already waiting at the door, as she was to be every morning thereafter. We speculated that living alone she was desperate for human contact.
Each day brought new things to learn, more mistakes to rectify. We struggled and exhausted each evening, we complained. But hadn't we known this whole adventure would be a challenge? The important thing was to secure a living and provide the children with a settled background It would take time but we would get there. So as a family we settled down to keeping shop in a small village where strangers, in-comers, were politely accepted and watched. Our invaluable assistant took pity on us and stayed on working mornings. She it was who must have told people we were OK because within a couple of weeks the shop was taking about the same amount daily as before our takeover. A relief Post Master trained Robert on the job for the first week. Our assistant advised Robert what to order each week and served in the shop in the morning and Robert and I coped with the afternoon trade.
My daily routine consisted of cleaning, the house and the shop. I cleaned the shop floor, the windows. the steps, the out-the-back area where the dustbins overflowed and the crates accumulated I learned to take in goods on delivery, price them up, stack them in the stock room. We knew it was vital for a village shop to present only really fresh food so I learned to monitor the vegetable rack and the chiller cabinet, to remove each day's left-overs. Rather than throw anything away, we ate the perfectly good rejects ourselves. I devised fail-safe methods of preparing orders. and ensured the shelves were well filled. I did serve customers but I left the post office strictly alone. Never confident with figures, I was afraid of adding by my mistakes to the headache of the weekly reconciliation which Robert had to face on Friday nights. I concentrated on presenting a clean and welcoming shop and trying to run the house.
The reps from the wholesalers who visited regularly took pity on us greenhorns and taught us a lot. One of them showed us how to bone sides of bacon which he said were a much better buy for us than the pre-packed stuff. Better as it turned out for the customers too. They began coming from neighbouring villages to buy their bacon, some even took supplies away on holiday, because 'it tastes like it used to, no water weeping into the frying pan.' We had yet to make friends in the village but our tally of regular customers went up every month. The weekly takings continued to rise and the shop instead of going downhill, which many had predicted, seemed to be modestly thriving.
Our first winter was going to be hard, we knew that. The urgent thing was to repair the roof. It was old, very steep, consisting of two inverted Vees with a gulley between. Originally intended for thatch but now clad in slate, it leaked so badly we had to put buckets out whenever it rained. We were told it was too far gone, the only thing to do was to re-roof the whole place. So we were relieved when just before Christmas builders turned up to tackle the job. They worked fast. To harmonise with the nearby properties pantiles had been chosen, heavy, shapely and a warm red, to replace the old slates. The weather forecast was threatening and the Christmas weekend was upon us. The roofers reckoned pinning the tiles was unnecessary and made an extra effort to finish the job on the Friday evening. After the shop closed on the Saturday we engaged in an orgy of cleaning and that night, in bed early for once, exhausted by the most hectic week of the year, we lay listening to the wind and the rain and rejoiced. No more buckets. We congratulated each other on having had the roof done just in time.
Later that night the sound of the storm woke us up. The house shook, the windows rattled as never before. We got up to reassure the children and suddenly there were crashing noises, things falling. We heard glass shattering. The shop windows were intact so that must have been the old greenhouse. The whole building began seriously to vibrate. Our daughter's bed traveled across her uncarpeted floor. We all met on the landing, faces white in the torchlight since the electricity had failed. With a roar the nightmare came to a climax as the newly laid pantiles cascaded off the roof and smashed into the gulley and in front of the house. In the relative silence that followed we stood clinging to each other. Then Robert declared he must go outside to assess the damage. We were terrified. All those tiles and that glass flying about. He would be hurt. Seizing a torch and with a futile balaclava helmet, which I hastily produced, to protect his head, he went out. Lacking anything better to do I put the kettle on.
The storm passed and in daylight we saw the damage it had done. Not just to us. Fences everywhere were flattened, people had lost tiles, lines were down. It was Christmas Eve so there was no one to call, we would just have to wait till after the holiday for help. Luckily we were insured but did storm damage count as an act of God? There was nothing we could do except worry and cope somehow.
We had underestimated our neighbours. For a couple of hours no one in the village stirred. Then two men, farmers we rarely saw in the shop, arrived carrying big tarpaulins, with which they contrived to cover and secure the two slopes of the roof that had been stripped. A neighbour brought us a jug of hot soup. Another sent over extra blankets in case the children were cold. Someone else brought us a heater, hoping our paraffin stocks out the back were still intact?
People did not say much, most of them had suffered storm damage of some sort, but their actions were eloquent. They valued their shop, approved of our efforts. Our first self-employed Christmas, disastrous as it seemed, cheered us greatly. Independence was only relative, Fate always had a card to play. We were touched that people had been there for us when we needed them. We resolved to see to it theirs was a good village shop.
Video Links
Harry has also provided links to five family video recordings stored on Youtube -
No1.
No2.
No3.
No4.
No5.