The History of the Black Hand Cyder Society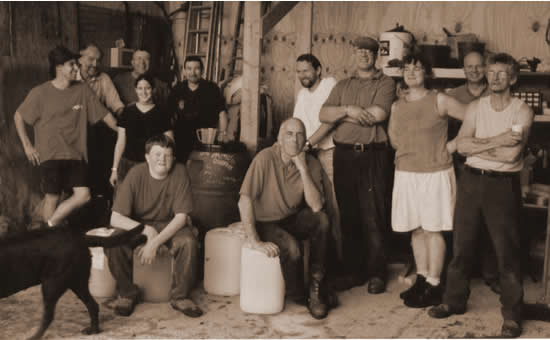 Introduction
The society has gone from strength to strength since its founding in 2001.
In that first year 147 gallons were pressed followed by 195 in 2002; 2003 progressed to two pressing days with 420 gallons pressed and 2004, also two days, with 401 gallons, 100 gallons of this being from true cider apples from Somerset.
January 2003 saw the Society restage the traditional Wassail event, historically held on 15th January, where the apple trees are 'blessed' to ensure a good harvest using traditional song and dance around the tree. Despite a gale and rain a good time was had by all with another hog roast and party. Together with the summer Cyderfest this has now become an annual event.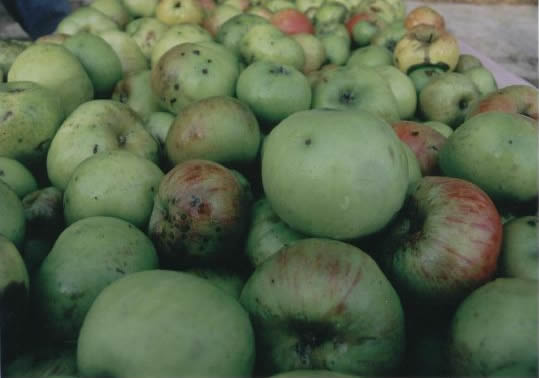 The Beginning
It all started one August night 2001 in the bar at the Village Hall, which opens every Friday night to replace the village's long closed pub. Adrian Hipwell was holding forth on his lament that lots of apples around the village were going to waste and he had the notion to build a cider press and make some cider with them so they would not be wasted. Being of a farming background he was sure he had some bits of hydraulics, etc. from which he could construct a press.
After a few pints a beer the idea of making cider got a general 'that's a good idea' response, even though no one had any idea about cider making. Adrian decided to call a meeting at his house for anyone who was interested in progressing the idea. The usual Denton jungle drums message went around. Adrian expected about half a dozen people to turn up at best. The meeting started with every chair, inch of floor space and standing room taken up by a horde of potential cider makers. By the end of the evening a village cider society was born.
In one of those strange coincidences a few weeks earlier Alan Squirrell had been talking to his future son in law, Andrew, about apple juice while drinking some fresh juice just bought from the farmers market. Andrew had talked about his great uncles who were famous locally for making cider and had used a big old apple mill and press to make the juice. He well remembered the old equipment, which was fascinating to a young boy, and was sad that the last of the great uncles had died in the spring and the house and barns were being demolished for housing development and the old equipment being scrapped as it was too big for anyone to want.
Alan had thought no more about this conversation until the cider meeting when discussions started about how to make a press. He offered to find out if the old equipment was still in existence.
A telephone call to Andrew, who phoned his dad, who phoned granddad. Yes, the equipment was still in the barn but demolition was starting the next week. Rapid arrangements were made for Alan and Adrian to go and see it in a village of Tharston, some 8 miles away. It didn't take long for a deal to be struck with Adrian and Alan as joint owners.
Two nights later and a posse of strong Denton men with landrover and trailer went to bring the prize back to Denton. It was no easy task extracting the mill and press from the barn and over rough ground to the trailer. A few hours later and the equipment was in its new home at Adrian's Barn.
Just click on the small pictures below if you would like a larger image!
The Apple Mill and Press
The exact age of the mill and press are not known. It was in the Brookes brothers' barn at Tharston for 50 years and had come from a local farm before that. From the construction it is clearly something produced by a local smith. It almost certainly dates from the 1800s.
The Brookes brothers Claude and George who owned it before us were well known characters and had TV programmes produced, and newspaper articles written, about them. They made cider not only for themselves but also for people in the surrounding villages. They took no payment except for some apples or juice. The mill and press were last used in 1987 and the brothers kept a special barrel from this pressing to be used at their wakes. We have a sample of this which is now almost like a sherry.
When we found them in the barn at Tharston the mill and press were covered in dust and cobwebs but generally sound. However, after 14 years without working they needed a strip down and some maintenance before they could be used. Most of the wood was good but some had suffered localised rot where juice had lain. We cut out the bad portions and replaced with similar local timber. We were lucky in having a small skilled joinery firm and the Norwich cathedral carpenter in the village who could give us expert restoration assistance.
At the wedding of Alan's daughter to Andrew Brookes, Alan presented him with his half share of the mill and press to renew the family connection hopefully for another 50 years.
We are pleased that a small piece of Norfolk History has been saved and put back to working condition.
The First Pressing
Now the question was how and when do we make cider. The Internet proved to be a wonder source of information and Alan was tasked to sift the information and see what was needed.
It became clear that if we wanted to make cider in 2001 we had to act quickly as the best time was in about four weeks and the old equipment needed an overhaul since it was last used some 14 years earlier.
After the usual Denton team effort everything was ready and a village pressing day was arranged for the 13th October 2001. Straw bail bays were made in the open barn at the farm for people to take down their spare apples in the week before pressing and teams went out collecting apples from anyone who offered. Cooking apples, eaters, crab apples and some pears were kept separated in the bays. By pressing day the bays were bulging with apples of many varieties.
We were a bit nervous as expectations were high among the participants but we were not sure how the old equipment would work or whether we had the skill and ability to produce a drinkable cider.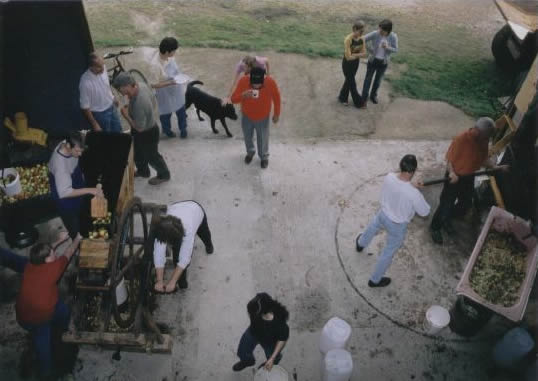 Pressing day dawned fine and we made an early start. Before long willing volunteers, aged from 8 to 80 were loading apples into barrows, washing them, taking them to the mill, turning the huge metal handles on the mill, taking the crushed apples to the bath used as a holding container, loading the crushed apple into 'cheeses' in the press, pushing on the long metal bar to work the press and transferring the juice into the fermentation barrels.
Lunchtime came and a feast was set out on straw bales, everyone had contributed a plate of something and the hungry workers made short work of it. There was even some Devon farm cider to drink, which Malcolm Bardsley had thoughtfully purchased on a trip the week earlier.
By this time our confidence was rising. The old equipment worked marvellously and we could not believe the flood of juice that poured from the press.
Alan was delegated to test the juice and follow the best practice gleaned off the Internet to try and produce a clear, dry, light and easy drinking cider.
At the end of the day we were surprised to find ourselves with 147 gallons of apple juice, some in three 35 gallon barrels we had acquired and the rest in 5 gallon containers.
Some people were keen to try their own skill at making cider form the juice and so some of the 5-gallon containers were 'adopted' and taken away to peoples homes on the condition that the end product was brought back and a record was kept of what was done to the juice.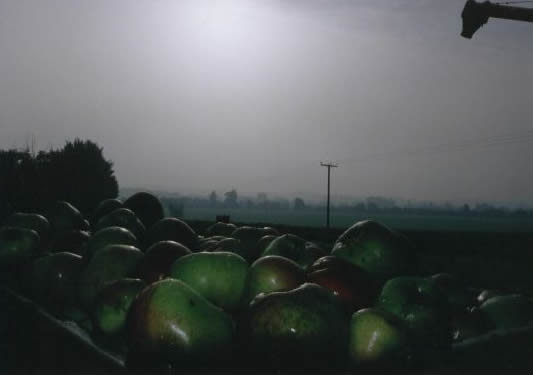 Naming the Society
That night there was a ruby wedding party at the Village Hall to which, in the usual village tradition, we had all been invited. After a quick wash and brush up we all arrived, some in their white summer shirts and it soon became obvious who had been at the apple pressing. The combination of the acidic apple juice and the cast iron handles on the apple mill and press has reacted and left us all with black hands which no amount of washing could clean. Against the white shirts the hands stood out like a beacon. It caused some hilarity and at some stage during the evening someone called us the black hand cyder gang. And so was born the Denton Blackhand Cyder Society.
As the day was a huge success and everyone was keen to keep the activity going a meeting was called on 28th November to formally create the Denton Blackhand Cyder Society with a constitution, committee and officers. On a freezing night 24 people gathered in the barn with the cyder barrels gently bubbling in the background.
While cider is normally spelled with an 'i' we decided to use the old East Anglian spelling with a 'y' as found on the old cyder bottles in Gressenhall Rural Life museum.
Producing the First Years Cyder
In January 2002 we tested the barrels and much to our relief all was well and it was ready for racking off the lees deposit into clean oak ex-rum barrels to hopefully allow a second slow fermentation, which would mellow and finish the cyder.
Come May was the moment of truth when we decided to bottle the cyder. With some relief the end product was very much as we had hoped, a clear, golden not too alcoholic dry cyder.
Cyder Fest 2002
To celebrate it was decided to hold a Ciderfest in August when everyone could taste our bulk cyder and those adopted and produced by people from the 5-gallon containers. What an event it turned out to be, complete with a roasted hog, on Adrian's specially built spit, cooked over a wood fire from 8.00 in the morning till 8.00 in the evening. A host of ciders were tasted from the sublime to the horrible, by the 120 or so members and guests.
It is now an important annual event in the village social calendar.
The 02-03 Season
After the success of the first year everyone was full of enthusiasm for our second year. Production increased from the first year's 147 gallons to 195 gallons.
The 03-04 Season
This year we had to introduce two pressing days as some apples were ready early in September whilst others would be ready in October. This meant that we pressed far more than previously - 420 gallons!
Day 1 - 7th September 2003
Day 2 - 18th October 2003
The 04-05 Season
Again we had 2 days pressing resulting in 401 gallons of juice. For the first time this year (thanks to Liz and Keith collecting them!) we used some cider apples for part of our production. Some pure cider apple juice and some mixed was pressed. Early indications for the cyder produced from this juice look good!
The 05-06 Season
Production this year was based on 373 gallons of juice.
The 06-07 Season
Production this year set a new record. Following very enthusiastic foraging, 614 gallons of juice were pressed.
The 07-08 Season
Pressing this year produced a more normal 400 gallons.
The 08-09 Season
Production this year was up again to 490 gallons of juice.
The 09-10 Season
Pressing this year produced 457 gallons. Reflecting the summer weather, the sugar content was high so an excellent "vintage" was anticipated.
The 2010 Season
The Club's year kicked off with a very successful Wassailing on January 16th.
The first Boule Night took place at Mill Farm, Darrow Green Road on Thursday May 6th and these "First Thursday" events continued throughout the summer months.
The Cyder Fest, held on Saturday 28th August, was as usual a most enjoyable event with an excellent range of cyders on offer.
Cyder Pressing
Foraging weekends were October 16th/17th and October 23rd/24th.
Pressing took place on Friday October 29th and Saturday October 30th. 685 gallons (a record for the Society) of juice were pressed from nearly eight tonnes of apples.
The 2011 Season
The Club's year followed the now well established pattern with Wassailing on January 15th, monthly gatherings for work or play (plus suitable consumption of cyder of course) and the Cyderfest on August 27th. One new feature this year was the sale of BH cyder at the Dentill event with all the proceeds going to charity.
Cyder Pressing
Foraging weekends were October 15th/16th and October 22nd/23rd and produced nearly six tons of apples.
Pressing took place on Friday October 28th and Saturday October 29th. 520 gallons of juice were pressed.
The 2012 Season
Wassailing took place on January 14th, monthly gatherings for work or play (though the summer boules meeting were restricted by rain) and the Cyderfest (also rain-affected) on August 25th.
Cyder Production
Due to the shortage of apples, organised Foraging took place on one day, Saturday October 13th. This produced less than two tons of apples.
Pressing took place Saturday October 29th. Just 135 gallons of juice were pressed. Hopefully, reserves will carry us through the next year.
The 2013 Season
Wassailing took place on January 12th, and the monthly gatherings for work or play continued as before. The Cyderfest, held on 24th August near Lamas Farm on the boundary with Alburgh, included more games this year. The tug-of-war was conducted across the parish boundary. Needless to say, teams on the Denton side were usually victorious.
Cyder Production
The ceremony in January obviously had the right effect and produced a bumper crop of apples! Foraging, 18th/19th October, had to be halted once 8 tons had been gathered in.
Pressing took place on Friday/Saturday October 25th/26th and 637 gallons produced.
The 2014 Season
Wassailing took place on January 18th with Lydia Sida-Page in the role of the maiden.
In what was a generally gorgeous summer, boules nights were very unlucky as far as the weather was concerned but at least it stayed dry for the Open Championship on 7th August.
The CyderFest, held at Walnut Tree Farm, Manor Farm Road by kind permission of Hilary Kemp, also suffered from the weather. However, despite an unfortunately timed shower, which brought the tug-of-war to a rapid halt, a great evening was enjoyed by all who attended. TOW teams were based on foraging teams this year and, as the only team to complete two successful "tugs", Pete's Pirates were victorious.
Pressing took place on Friday/Saturday October 24th/25th and 341 gallons were produced from 4.5 tons of apples. Pete's Pirates won the foraging competition and Young Dave's "found" the the biggest apple.
The 2015 Season
Wassailing took place on January 24th with all the customary celebrations.
Boules nights were rather better treated by the weather this year. The Open Championships were held on 6th August.
It had been decided to alternate the CyderFest with Dentill so, as the latter was held on 13th September (where a considerable volume of our cyder were consumed), there was no CyderFest this year.
Unusually, foraging was restricted in order to reduce the volume of cyder produced. Also for a change, the Foraging Cup was awarded to the team gathering the most crab-apples. After "a stewards inquiry could find no proof of skulduggery", Pete's Pirates triumphed again. The prize for the biggest apple went to Adrian's team.
Pressing took place on Saturday October 24th and 223 gallons were produced from the reduced tonnage. A great lunch was enjoyed by all and washed down with plenty of last year's production.
The 2016 Season
Club evenings, whether working-parties, games evenings or boules nights, were well attended and much enjoyed by members.
This year it was the turn of a CyderFest rather than Dentill. It was again held at held at Walnut Tree Farm on Manor Farm Road - an excellent venue. One innovation this year was Cyder Cocktails much enjoyed by all who sampled them.
As per last year foraging was restricted in order to limit the volume of cyder produced and this time the Foraging Cup was awarded to the team gathering the most crab-apples and pears. It was a close contest but, for the third year running, Pete's Pirates were the winners.
Pressing took place on Saturday October 22nd and 239 gallons were produced with some new, smaller, presses used for the first time. As usual a great lunch was enjoyed by all with plenty of younger attendees.