Chapel History
Denton URC Chapel
LB 225220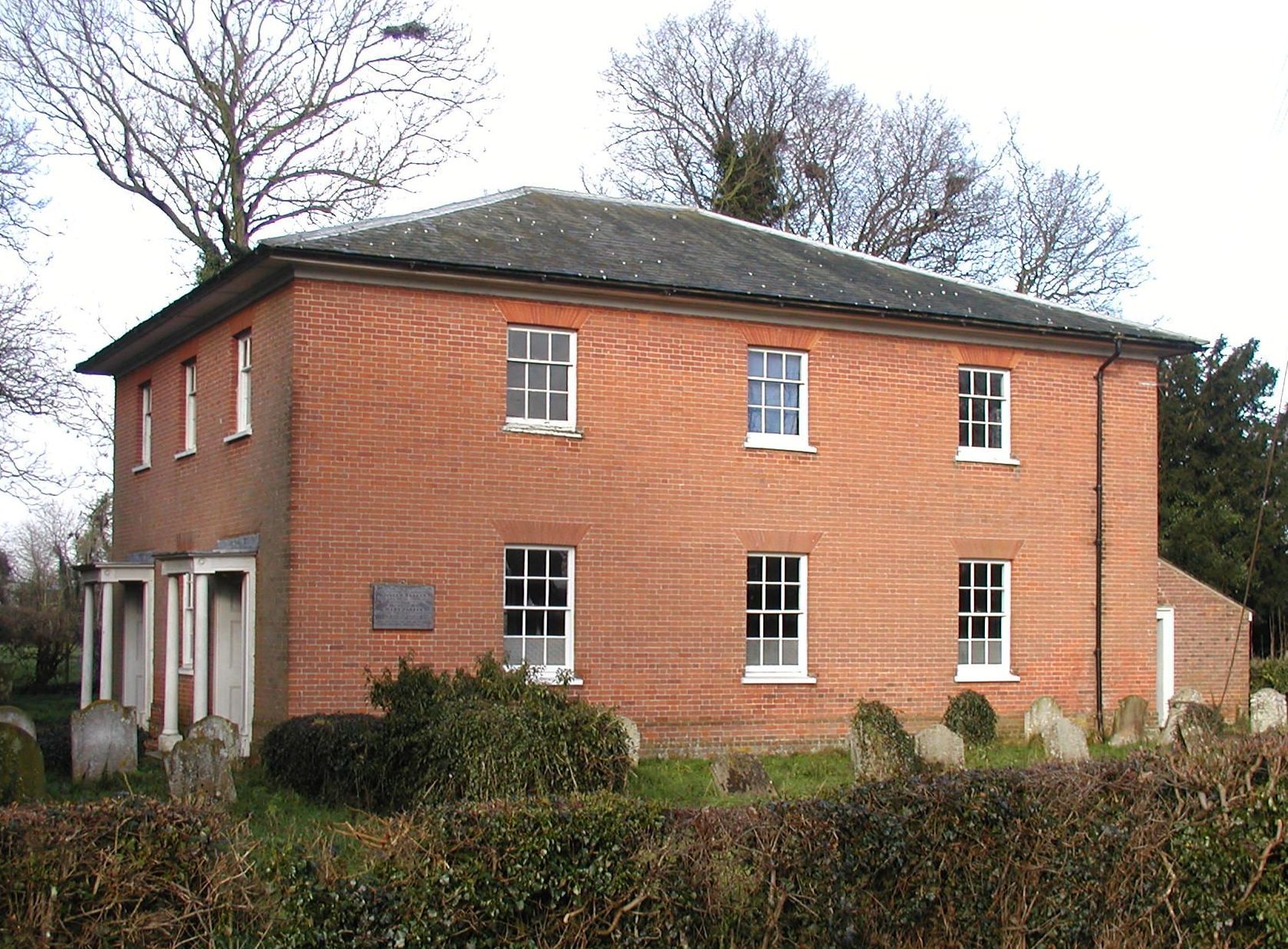 Denton's United Reformed Chapel dates back to 1653 when a "wandering preacher" arrived in the village. It is claimed to be one of the oldest non-conformist chapels in Norfolk. Originally Congregational (The United Reformed Church resulted from a union of the Presbyterian Church of England and the Congregational Church in England and Wales in 1972), it was certainly the first non-conformist establishment in the area and many nearby chapels, including those in Bungay and Harleston were "offspring" of the mother chapel in Denton.
The current building replaces a former structure and dates from 1821. It is described as "very fine" and "of the meeting house type". It takes the form of a red brick rectangular block with a low pitched hipped slate roof. With two storeys, the south front incorporates two doorways with porches supported by slender columns.
Pevsner records "Three by three bays with a pyramid roof. Front with two doors and one window. The doors have primitive porches in front."
The interior still has the original box pews with a gallery on 3 sides supported on slim iron columns.
The main building was re-roofed in 2016. One issue was how to handle the loss of nesting places for the swifts that had used the old roof for many years. As a result three swift-boxes were installed under the eaves on the North side of the building.
Details of the War Memorial, which also covers Alburgh men, can be found elsewhere in the History Section.
Information about the graves that surround the Chapel can be obtained from Mrs Hilda Thomas - 01986 788249.
Ministers
Ministers serving the Chapel used to be housed in a substantial Manse on Trunch Hill. A picture of it appears in the Old Photographs Page. This was demolished in the 1960s when the current buildings on the site were erected. The Chapel now shares a minister with the Emmanuel Church in Bungay.
The list of ministers below is currently incomplete but it is hoped that the gaps will be filled in due course.
1806 - 1841 Edward Hickman
1845? - 1850? James Davis
1854? - 1864? Frederick Sherard Basden
2002 - 2009 Bruce Waldron
2009 - 2015 David Gibson
2015 - 2019 Jaqueline Evans
2019 to date - Bruno Boldrini
Memorials
Compared with St Mary's church the walls of the Chapel are pretty bare. The war memorial is covered above.