Denton Variety Club – 2019
This year it was another "panto" derived, loosely, from a famous story.
Some people were perhaps a little nervous when the names Guy de Maupassant and Benjamin Britten were quoted as sources but our writer, Charlotte Valori, did a great job.
The Poster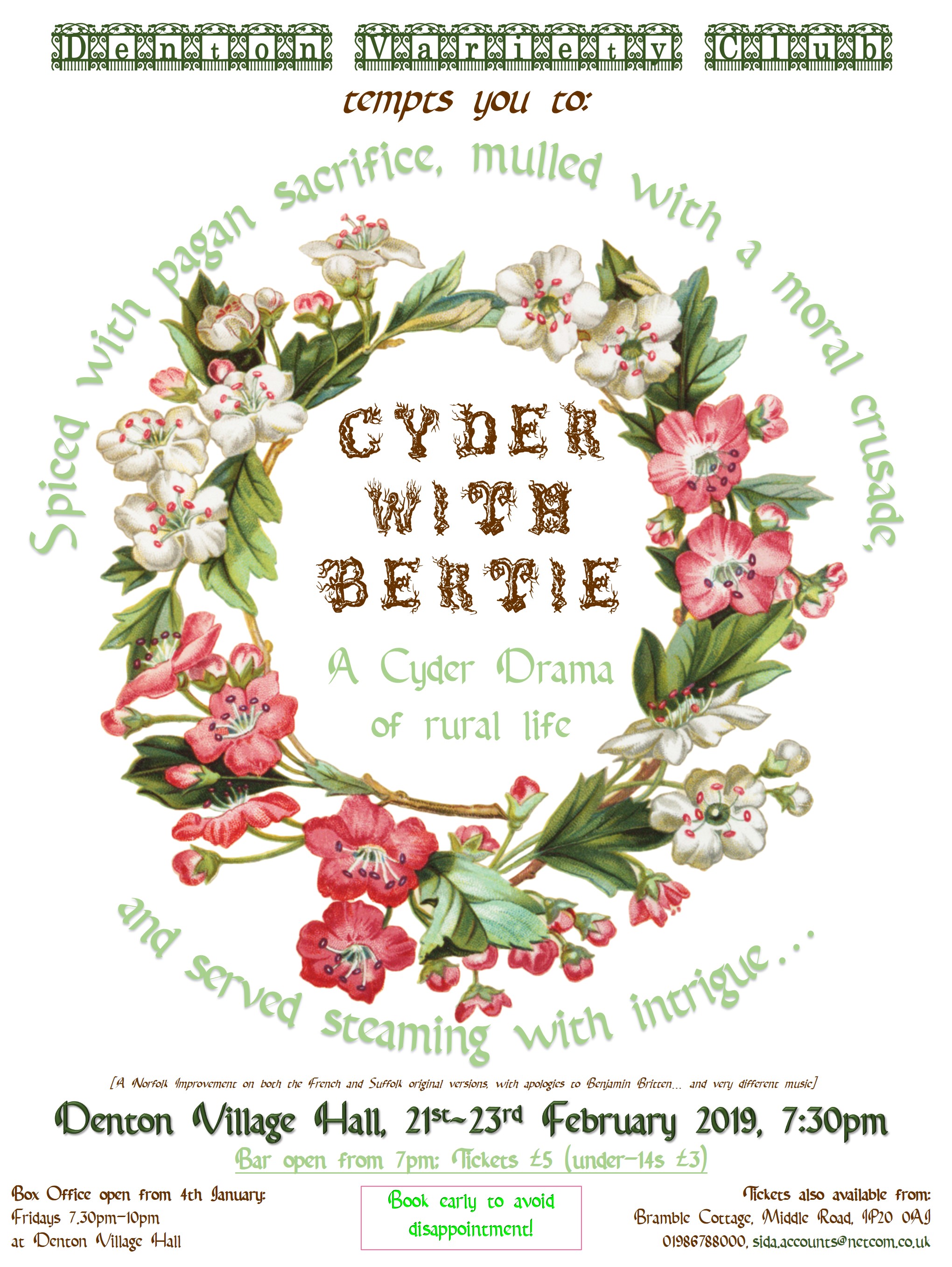 The Programme
This year's programme marked a significant step forward from previous such publications. Expanded from four to eight pages of A5, it provided extra features including: a detailed synopsis, a list of the musical numbers and lots of information about the sources from which it was developed.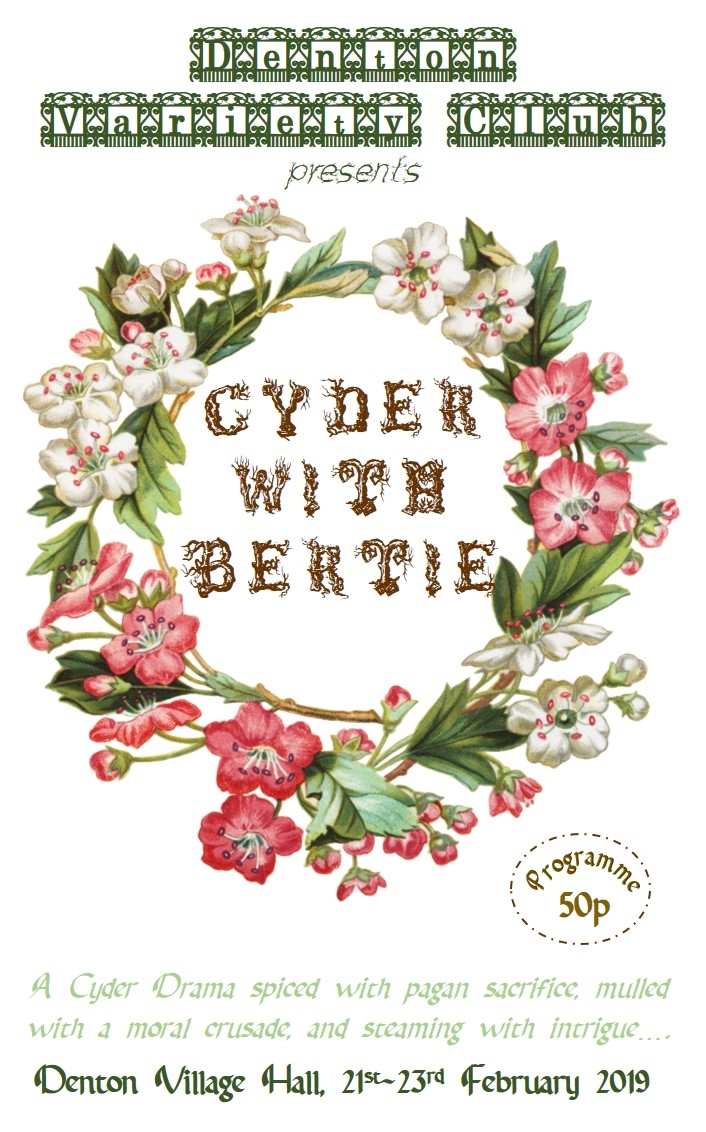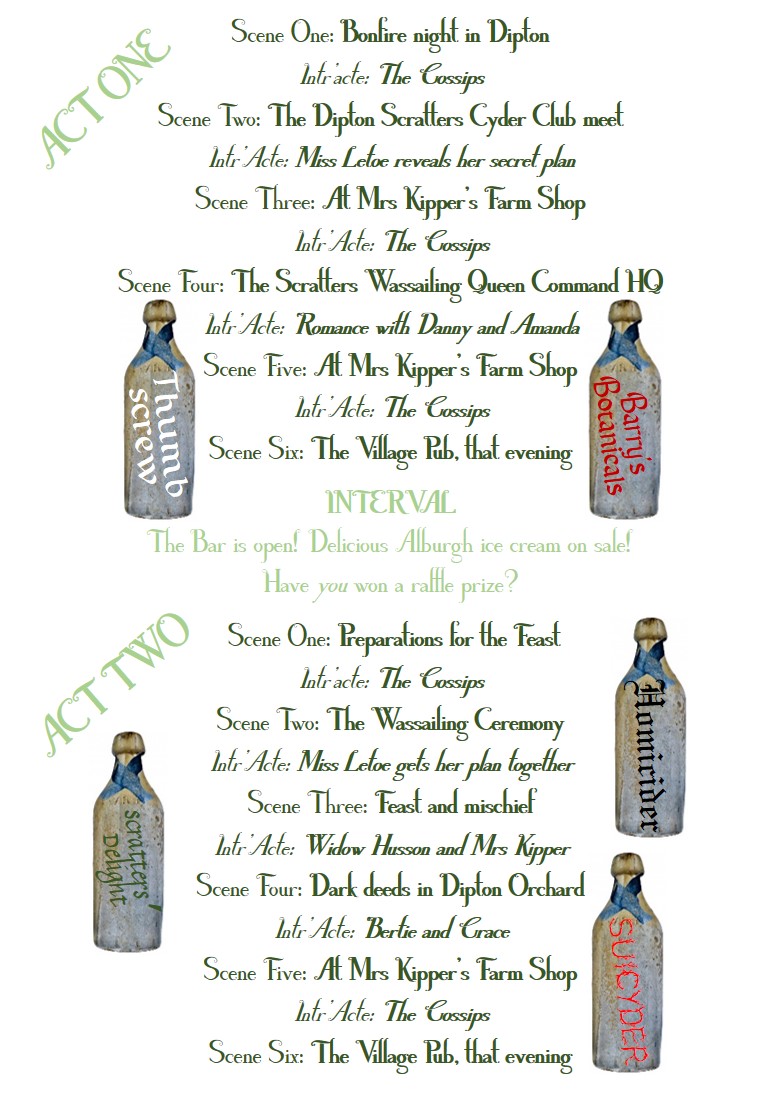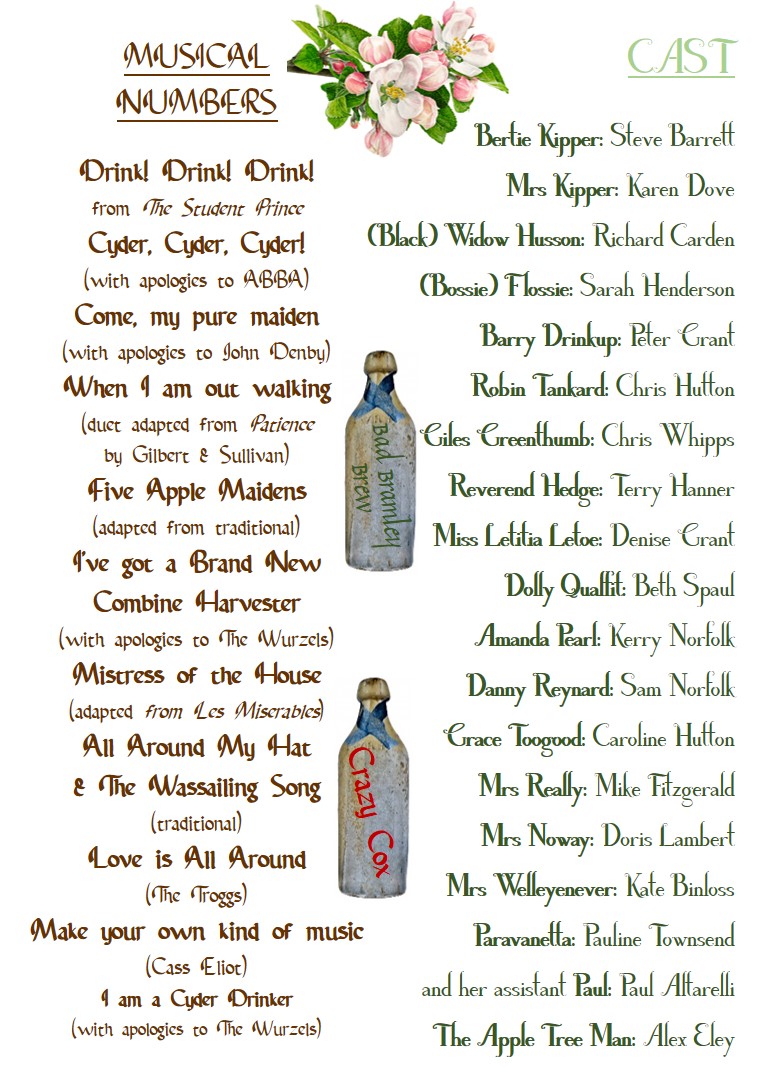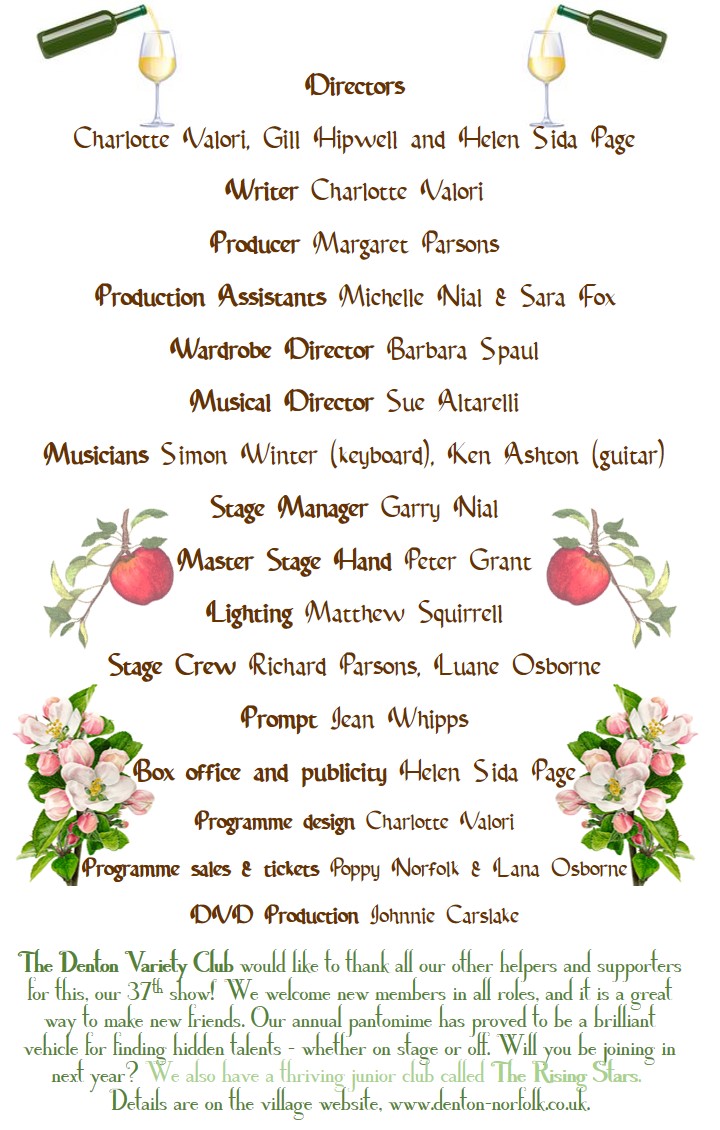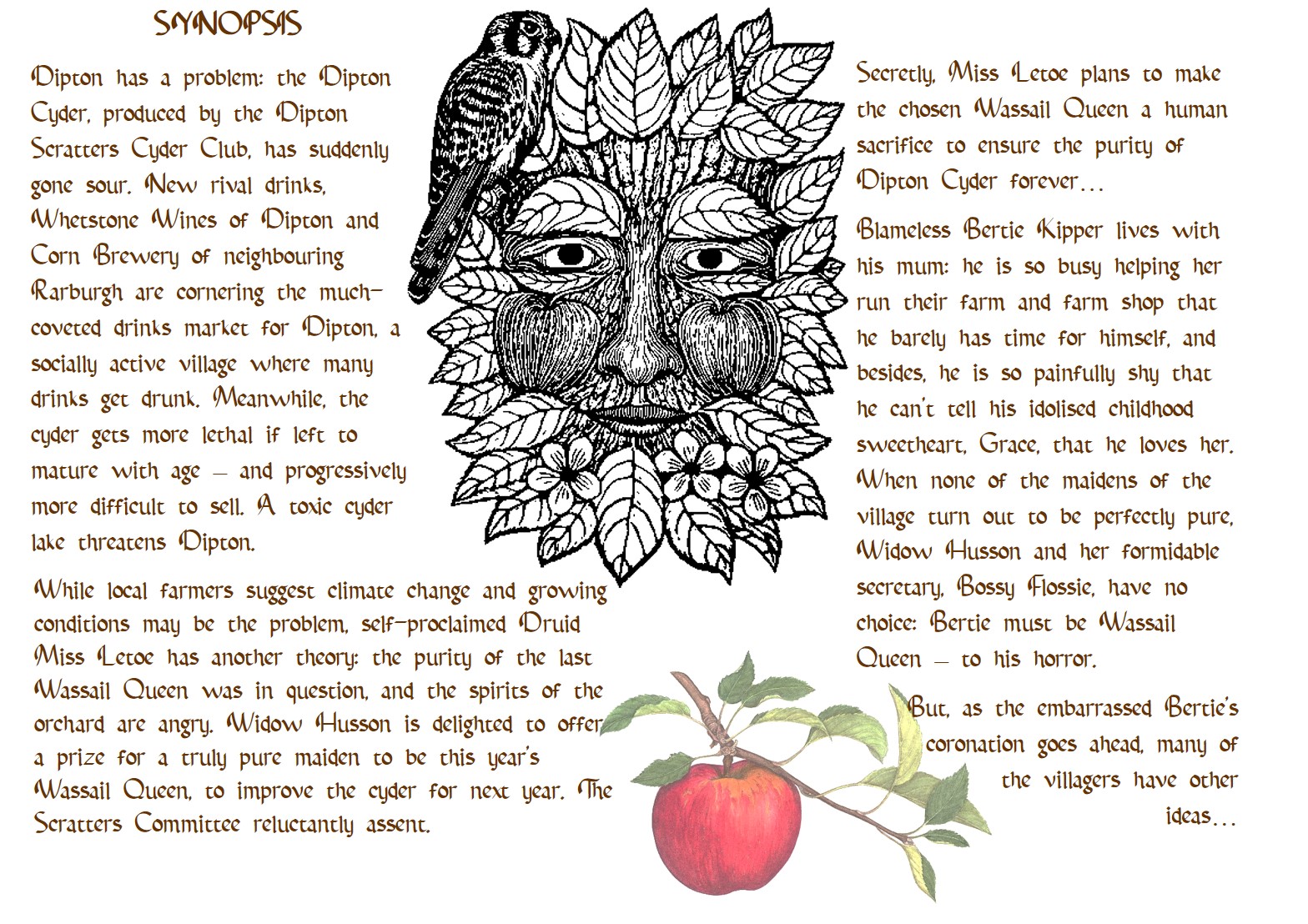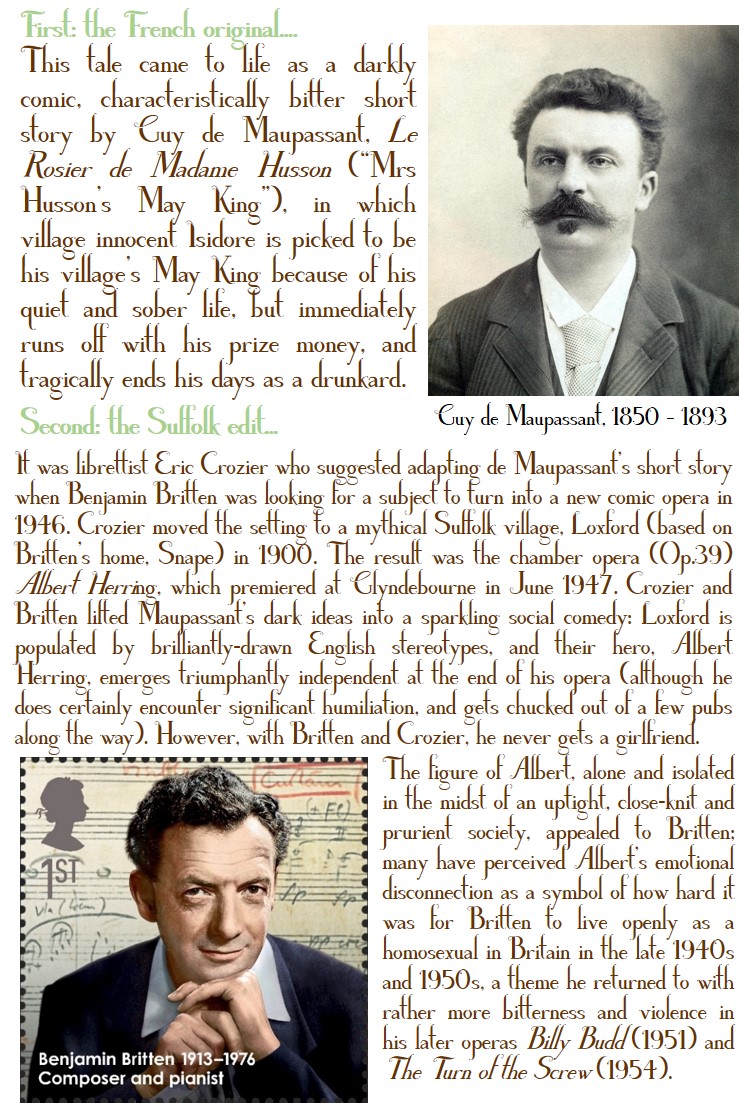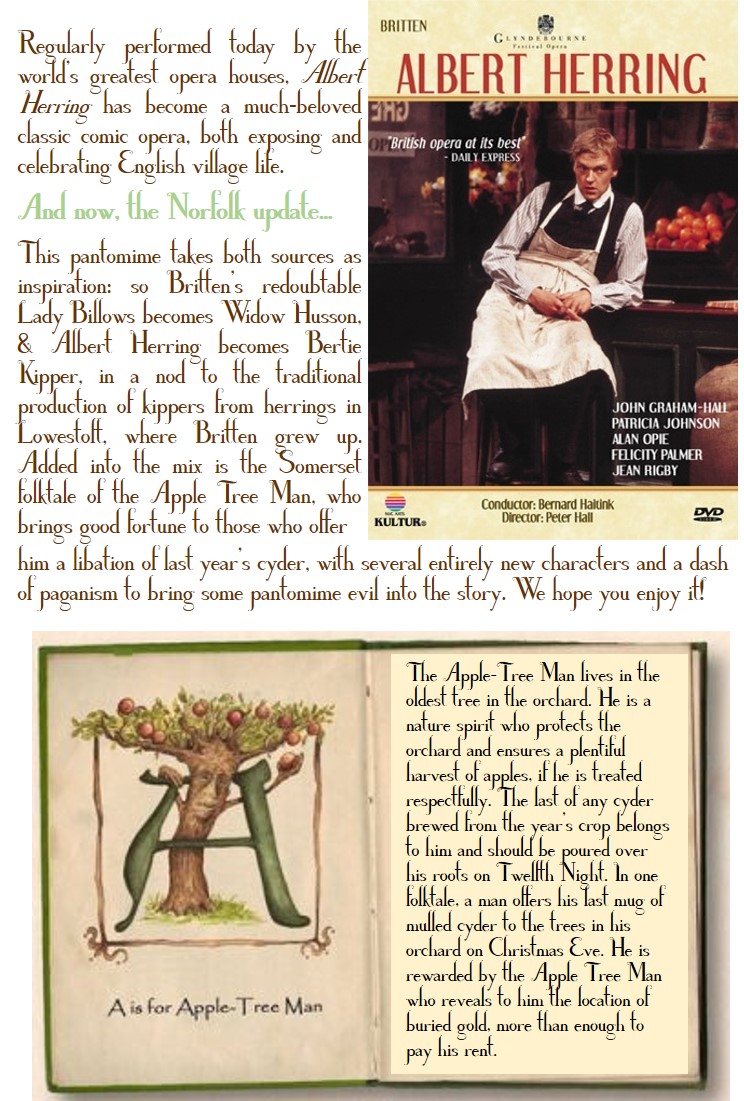 The Review
by Oldstager

I attended a performance of Denton Variety Club's show on Friday, 22nd Feb. (the second of its public showings) along with an excited crowd of fellow-residents and a party of "furreners" from across the "border", all of whom were keen to follow the advice offered to barrack whenever seemed appropriate. Much enjoyment ensued, both for audience and, one felt, for the players as well. Even the many moments of halting delivery of lines were relished by the audience and potential embarrassment of forgetful members of the cast was risen above nobly. All added to the mix of what we have come to expect with keen anticipation each year when we look forward to "The Denton Panto".

But was it a panto? The programme (above this review) calls it, on page 7, a panto, but on the front page it is referred to as a drama. It was an "entertainment" drawn from several sources and centred round some of the activities that could be found in and around our own village, with a good deal of free licence built-in to all aspects.

Goodies and Baddies, Hero and Heroine, Innocence and Skulduggery; these ingredients were all present, and I praise the writer, Charlotte Valori, for all the hard work involved in adapting the sources into the script as presented. I would encourage her to bring her talents to next year's "Panto", still including much to echo with us grown-ups but to add more of interest for the children. "Cyder With Bertie" was a bit too long and wordy to hold attention of young minds, and a group seated near me were presumably taken home in the interval, and only two brave souls were able to join the cast on stage when the opportunity arose in act two for a "sing-along". My advice is to not neglect the power of some visual knock-about comedy, and to give the children somebody with whom they can identify.

I am happy to report that this year's show contained much to praise. I particularly liked the rainbow of colourful costumes which were successfully enhanced by bold, clear lighting, and the scenery artwork (not credited in the programme, sadly)*. Everything that goes into the making of an amateur show is the result of dedicated and loving effort by all concerned, and I, deeply aware of that, am appreciative that the DVC continues to do so with such enthusiasm.

Bertie, the exploited character of the title, was ably played by Steve Barrett, suitably tongue-tied and embarrassed by being forced to become the Cyder Queen for a day. No wonder there were some grey hairs on this hero's head! His overbearing mother, Mrs Kipper (surely an ideal character for the Dame treatment in any repeat production) was given life by Karen Dove and was a great source of amusement to us all, especially when forgotten lines (or props) led Karen to expand on her performance to produce many covering "Ooh's" and "Aah's". Here the talent of Jean Whipps (the worthy prompter) came to great prominence. We loved it !!!

The combined efforts of the Dipton Scratters Cyder Club committee, led by Widow Husson (Richard Carden in drag) and backed up by Messrs Drinkup, Tankard, Greenthumb, and Rev. Hedge (Peter Grant, Chris Hutton, Chris Whipps, and Terry Hanner) were well characterised as being largely ineffectual. Their set-up and behaviour had echoes of PCC meetings in "The Vicar of Dibley". A lot of work went into the writing and portrayal of these various characters and I applaud all the efforts made, especially by Sarah Henderson as (Bossie) Flossie, whose clarity of delivery and technique of performance I well appreciated.

Another confident performance was presented by Beth Spaul as Dolly Quaffit, owner of a pub, whose concern over the poor quality of the local cyder and the need for its improvement were so important to the plot.

Sam and Kerry Norfolk, as possessive boy and girlfriend Danny and Amanda, let us know of their characters' prior separate romantic attachments and the suitability of their future together. We felt they would eventually iron out any disagreements and keep each other secure in marital bliss.

The figure of innocence, Grace Toogood, was ably presented by petite Caroline Hutton, ready to see the ever-continuing goodness in the play's hero, Bertie, and joyous in being able to unite at last with her childhood friend and sweetheart. A touching moment, when Caroline's real husband, Chris, was able to offer his character's blessing to Bertie and Grace's union, was, I thought, a nice Denton touch.

Now I come to the figure of pagan interference, the nearest to a panto's wicked witch, Miss Letitia Letoe. Denise Grant exercised her "wicked" side here with much aplomb, able to withstand all the hisses and boos to achieve her misguided aim of human sacrifice in order to ensure a bumper crop of apples. Of course we all knew her dastardly aim would be frustrated and that goodness and purity would win the day. Alex Eley, as the Green Man spirit of the apple tree was able to work his special magic to ensure that all would be well.

Three stalwart members of DVC (Doris Lambert, Kate Binloss and Mike Fitzgerald) had the task of keeping us informed and amused with their roles as Gossips as scene changes were taking place behind a traverse curtain. This was a task that needed three experienced stand-up comics and our gallant players did the best they could, but I felt they needed more help with rehearsal time, less to say, and more comedy (both verbal and visual). Even though one gossip was Mike in drag all three needed stronger differentiation of character to spark off one another. Perhaps it might have led to more comic opportunities if the roles had been conceived as Dames.

In lieu of a Deus ex Machina to carry our heroes to safety while they sort out their future lives, we were given the novel idea that the local ice-cream seller's van would make an ideal substitute. And why not !! Every so often we were given the opportunity of joining in with the well-known cornetto song, as Pauline Townsend and her assistant Paul Altarelli plied their trade of ice-cream sellers.

To draw a close to my rather long review (assuming you have borne with me thus far) I applaud whole-heartedly the commitment of DVC to provide entertainment for fellow residents of Denton for the enjoyment of all, and I am pleased to say "Well done".

*Most of the credit for the Scenery Painting must go to Michelle Nial.
Photographs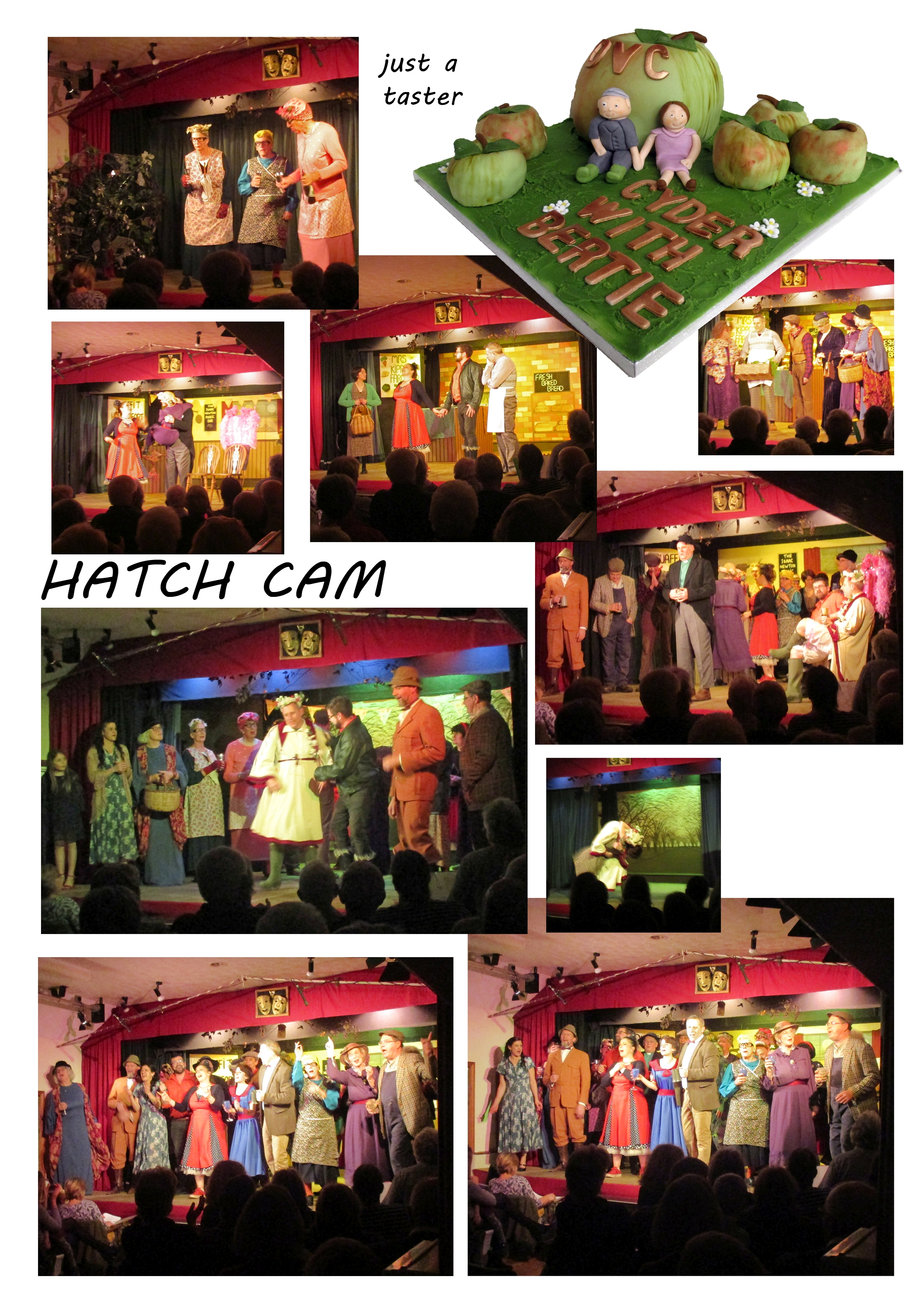 Rising Stars
This year's Rising Stars production was "Snow White, Some Dwarfs & Some Crocodiles" performed on the 3rd November.
The programme can be seen Here.
They also performed a Nativity Play in the Chapel on 15th December.