Festive Cards
Posted
Despite current difficulties, a number of Denton residents followed our traditional practice of sending seasonal greetings to all their friends in the village via the display in the Village Hall. They then donated the money they saved by using this route to charity.
This year, with limited visits to the Hall we thought it would be nice to display the cards here -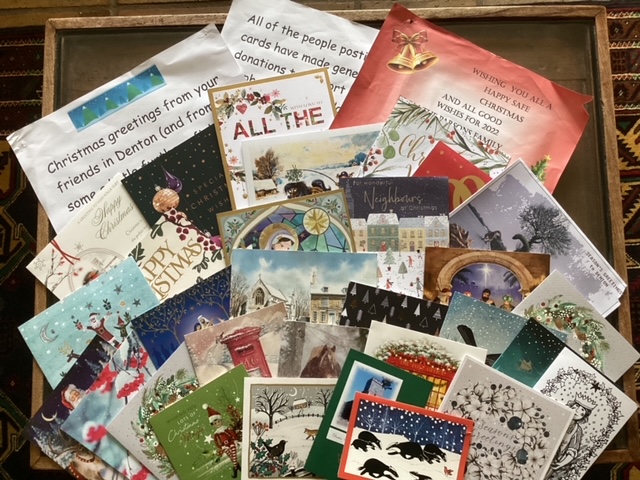 and list those who sent them.
They were: Liz Cargill & Keith Ellis; Anne & Richard Carden; Jennie & John Crohill; Fiona Easton; Andrea & Mike Fitzgerald; Sara & Terry Fox; Rosemary & Roger Gibson; Adele & David Godsmark; Colin & Sandra Gordon; Denise & Peter Grant; Terry, Kath & Lucy Hanner; Allan & Sarah Henderson; Alan & Linda Jenkins; Hilary & David Kemp and family; Jason & Christine Kerr; Doris & David Lambert; Alan, Zoe & Leroy Lawrence; Kathyrn & Phil Luton; The Parsons family including - Margaret, David, Richard, Emma, Oliver, Kate, Noah, Annabelle, Grace, & Harry; Ronnie & Maureen Philips; Kim & Phil Poulton; Maureen & Nigel Seamons; Sheila; Helen, Imogen & Lydia Sida-Page; Barbara Spaul; Alan & Heather Squirrell; Hilda Thomas; Jean & Chris Whipps; Annie & Steve Whiteman; Paul & Karen Wilby; Eddie Winter.
The donations totalled £235 which, together with the £400 raised by the carol singers, will go as usual to the Bwindi Orphanage and Hospital in Uganda.