Feature – Coast to Coast
"The tale of the magnificent nine plus two". Previously eight and a half, then eight and five eighths, then nine.
By our Trekking Correspondent – Denise Grant
Photographs copyright D Lambert.
Day 1 – Sunday 15th August
St Bees to Ennerdale Bridge
Miles today – 14.34
Stopped for – 1 hr 27 mins
Total time walking – 6 hrs 50 mins
Today's average – 2.1 miles per hour
We had to dip our feet in the Irish sea at St Bees at 8.30 am today. We all took a pebble from the beach to deposit into the North Sea in 13 days time. The walk started out a lovely climb along the cliff edge in beautiful clear blue skies and fleeces were soon ditched as the temperature rose. After hugging the edge of the cliff, we passed a stone quarry and a wide selection of wild flowers. Lunch in Moor Row, we decided. No such luck. We headed inland from the quarry and after a while made Cleator. Ken met us for lunch although it was nearly impossible to find shade. Here we met a silver haired lady who had just walked up the hill and back.
"Are you going over Dent?"
"Yes" we answered.
"The hill is relentless going up, but the view from the top is fantastic" she said.
"Over Dent" 8 letters easily spoken.
As I headed up the hill, that word "relentless" kept going through my mind. I had to count up to 50 steps rest, 40 steps rest, 30 steps rest – the numbers kept decreasing as the track got steeper. The sun beat down, the sweat poured off and the lungs hammered in my chest. Peter (I'm embarrassed to say,) carried my pack up the hill as I gasped from my inhaler. Finally we reached the cairn at the top and rested for a while. Another couple caught up and rested too. "Down the other side should be easy", we thought. A sheer drop is not easy when your knees are protesting loudly.
The next part of the walk was lovely, along noisily chattering becks, IN noisy chattering becks on occasion. Eventually we reached the road and followed it down to Ennerdale Bridge. Once again Ken was there to meet us. We had a celebratory drink at the "Fox and Hounds" and then Ken drove us back to Keswick.
Chilli, rice, salsa, sour cream and fried courgettes were our dinner, followed by Bakewell tart and cream all washed down by gin and tonic and lashings of wine.
Day 2 – Monday 16th August
Ennerdale Bridge to Rothwaite
Miles today – 10.05
Miles to date – 24.39
Stopped for – 2 hrs 37 mins
Total time walking – 5 hours 55 mins
Today's average – 1.7 miles per hour
Moving average – 2.5 mph
Ken drove us back to Ennerdale Bridge and off we went. We soon hit the trail around Ennerdale Water. Breathtakingly beautiful, the still water mirrored the trees on the slopes. The walk took us up and down, nearer the water and further away, over easy rocks. Anglers Crag proved a challenge to us as non-climbers but was great fun apart from David L gashed his shin aaaah!
Some discussion took place whether we took the high route or the low route – Julie and Doris were opting for the high one but unfortunately the bridge had been washed away and the low route was the only option.
The contrast of the next part of the journey with the glorious lake walk couldn't be more marked. The road was broad, hot and stony, designed only to dull the brain and hurt the feet. 2 1/2 miles long – it was a challenge. Eventually we reached Black Sail, probably the most remote Youth Hostel in the country, had our lunch and then the climb began. A mile long ascent took us took us to 2000 feet above sea level on rock 'stairs'. A hard climb where we were overtaken by 2 pensioners! From the top, we could see the descent Doris and Julie would have taken from the high route. They were rather pleased the bridge had been destroyed.
From here began the long pleasant descent to the slate mine for coffee and ice cream. From there the trail was a disused tramway which was a rocky staircase with a precipitous gradient. David B caught his laces and tumbled over – another accident. Finally, we made the long slow drop down to Seatoller and then to a welcome pint in Scafell Hotel. It is such a relief to see Ken and Boris ready to take us home.
Day 3 – Tuesday 17th August
Rothswaite to Grasmere
Miles today – 10.14
Miles to date – 34.53
Stopped for – 2 hrs 26 mins
Total time walking – 7 hours 11 mins
Today's average – 1.4 mph
Moving average – 2.1 mph
Well I suppose after 2 beautiful days in the Lake District, we were bound to be disappointed today. The drizzle was wetting but not too uncomfortable as we disembarked at Rothswaite and we were soon climbing out of the valley up a steepish shale path. The waterproofs had to come off from those of us of a certain age who seem to operate at a temperature several degrees above normal. We followed Stonethwaite Beck, obvious in the mist only by the sound of the water falling over the rocks. By the time we were at the top on Greenup Edge the clouds were well down and all the landmarks obscured. We went downhill. We stopped, confused. Julie read the map, David L (henceforward referred to as 'Diamond') tried to use his GPS but couldn't find the right page, then David and Peter (our heroes) went back up to the top to try to work out bearings (in thick fog).
After about half an hour of discussion, the mist cleared and we could see the path in the distance, we were on the right path. Ho hum! So across Grasmere Common and up the other side. Parts were like mountaineering, strange since we thought we were going to take the low path – wrong. Right over the top and on and on. David B climbed a crag and performed the Angel of the North followed by Titanic and Doris fell in a bog. We made a precarious and knee jarring descent down to Grasmere 2 hours later than expected. We met Ken and Boris at the aptly named Travellers Rest for a welcome pint. A discussion then took place since we were still only half way through our walk and it was 3 o'clock, another 81/2 miles over another pass to go!! Although several of the team were raring to go, it was decided that to ensure the safety of all of us, we would defer until another day. Disappointing but home to roast chicken, courtesy of Julie and Doris, and then to the pub.
Day 4 – Wednesday 18th August
Patterdale to Shap
Miles today – 17.03
Miles to date – 51.56
Stopped for – 2 hrs 54 mins
Total time walking – 9 hours 27 mins
Today's average – 1.8 mph
Moving average – 2.6 mph
What a day of contrasts. Cold/hot, wet/dry, flat(ish)/mountainous, rock/lush pasture, peat bog/reservoir.
We started the walk at 8pm first donning waterproofs and rustling off up the road. We were soon climbing the fell path. If you saw the Julia Bradbury series, we went past the very green bench she sat on!! Up and up we went and were soon high up as the rain came in. Luckily the visibility kept fairly clear. Once more the map readers boobed and we headed up over Rest Dodd when we should have skirted round it. I think they just like the difficult climbs. Over bogs and rocks we tramped and the temperature dropped to 10 degrees Celsius. We still were climbing and eventually reached a Roman road which we followed for part of the way. Those centurions must have been hardy. On several occasions was heard the incredulous phrase – "have we got to go up there?" Eventually, after 5 miles of climbing, we reached the highest point on the whole trip Kidsty Pike at a height of 780 m or 2,560 feet. What a spectacular view! Haweswater, our goal, lay before us and Angle Tarn nestled prettily on a high point to our right. All around us green and rocky humps (I'm sure there are better names for the mountains) and you begin to think – OK another hump. David B swore he saw a man in a pink trilby – he was drinking Cumberland Ale the night before. Although this was pooh poohed, later on we ate our words when we saw a woman in pink with a man in a pink trilby. We started the descent, through rocky gorges (little ones), bogs and grassy slopes. For David B the temptation of shiny waterproof trousers and wet grass was too much so he slid down on his bottom. Doris, Denise and Julie followed suit. We ate lunch by a waterfall on a bridge and Peter's sweatshirt blew off into the mud.
Then followed a sunny, hot and dry walk along the reservoir which turned out to be quite boring as we were mostly separated from the water by a fence and then a wall and a wood. The boredom for me was only broken by singing "Cafe et gateau avec Ken" to the tune of the Marseilles until we reached the dam at Naddle Bridge. What a glorious sight, Ken chatting up two young lady walkers who soon scuttled off when we approached. He had brought coffee and cake, it was wonderful. Boris (the half) was so pleased to see us that he weeed over Peter's coat. Guess who washed that one then. The sun shone, we sat on the green and ate and drank. What could be better? Well another 5 miles of walking of course.
On we went, meeting several other coast to coasters on the way, towards Shap Abbey, a pretty ruin and a photo opportunity. One cow stamped its feet, slobbered and threatened. But the sight of the magnificent 7 made it think otherwise. Confusion reigned as to the correct path over the lush meadows and another coast to coaster decided we hadn't taken the "official route". Peter, not to be upstaged by 'a stroppy man from Leeds' stood his ground and pointed out that there was no "official route". Mr Leeds was not to be put down and neither was Peter. A standoff ensued, each trying to score points off the other. We managed to get to Shap without fisticuffs to a well earned pint. Not at the same pub as Leeds man though. Ken and Boris were there to meet us having been to a local beauty spot to take lots of arty photos. The journey home was very quiet so take away pizza was the order of the day. Denise offered to wash the rather ripe socks – ah well there has to be some compensation for losing my sense of smell.
Day 5 – Thursday 19th August
Shap to Kikby Stephen
Miles today – 22.71
Miles to date – 74.27
Stopped for – 2 hrs 12 mins
Total time walking – 9 hours 22 mins
Today's average – 2.2 mph
Moving average – 2.9 mph
The longest walk of the trail – hopefully! Doris is marmite fuelled today! Her first try and she spread so much on I thought it was chocolate spread – a little too much! We started off after saying goodbye to Ken and Boris and in sunshine, left Shap, going between the 2 cement works and over the M6. There was a little footbridge, just for us then down past a stone quarry and through some pasture fields. Up until now we have been walking on granite, but here the rock changes to limestone. One minute we are in the Lake District surrounded by mountains, then suddenly rolling hills covered with heather. Once away from the fields we were on the moors, the only reminders of human interference were the dry stone walls which merge so well they could be part of the natural landscape. Dotted in the moorland were limestone pavements caused by weathering of outcrops. David B, our geology expert, gave us a demonstration of "crikey I've got my foot down a griky". It made total sense at the time.
We found a well positioned farmhouse offering coffee, tea and 8 varieties of lovely cake. Julie insisted we stop even though we really didn't want to. On again, along roads and fields, past a landscape crossed by walls and sheep folds. The last 5 miles into Kirkby Stephen was the longest yet, taking forever. Julie, Denise, Doris and Linda passed the time playing word games. We packed our Tesco trolley with an apple, a banana, some celeriac, some damsons......the full list is available on request.
Joy oh joy when we finally made the High Street. I'm sorry to say Dentonians, it was a very nice place. Doris was entranced. Ken found the Calor plaque for the best village but he didn't have a screwdriver handy. We managed to hobble to the chip shop and sat outside eating our prize. Then the minibus home to watch Peter's videos.
Perhaps I haven't told you enough about the people we have met on the way. One was walking on his own and they often to be avoided as they tend to cling on and follow you for the rest of the walk. Then there were the 2 men and their dog who were raising money for Alzheimer's disease who passed us for the first 3 days and as we sat at the pub I reminded everyone of the shiny headed people who were walking with their dog – just as they were sitting behind us. The couple who were walking to raise money for 'Help for heroes' and there was a man and his wife who gloated that we had taken 'the wrong way' and that they had had prior knowledge of the new route and so got there quicker. Mr Leeds you have already heard about. Then there is Chris, a jolly, talkative lad who has the same map as Peter travelling who is with about 5 others. They may be able to walk but they are rubbish at map reading. We keep catching up with them and Peter has to put them back on the right route. Today we have Billy – no-mates. He is a sole walker who went past when we were eating lunch. He half stopped then carried on. He never arrived the other side of the farm and when we went past he had been waiting behind the wall to jump out on Peter to compare maps. Peter is such a man magnet. This chap took some losing. Linda has renamed them Klingons.
More tomorrow if my feet make it through the night. Photos can be found on Ken's Facebook page.
Day 6 – Friday 20th August
Grasmere to Patterdale
Miles today – 7.47
Miles to date – 81.74
Stopped for – 0 hrs 58 mins
Total time walking – 4 hours 16 mins
Today's average – 1.7 mph
Moving average – 2.3 mph
The keen–eyed amongst you will have spotted that we had a gap in our itinerary, so we went back and filled it in today.
Let me tell you about mountain climbing in the pouring rain. OK Matt, I know it may not technically be mountain climbing but if I have to use 2 hands and 2 feet to get up there it sounds like climbing to me! When you buy the gear you look for the magic words "waterproof" and "breathable". Forget it. They lie. When you walk up mountains in the rain there are 2 types of water: interior water and exterior water. The sweat rolling down your body meets with the rain pouring off your jacket to meet in a brine at your fingertips. You start off picking your way along the path (henceforward called rivers) to keep your feet dry, then give up and slosh through them. The rain poured down and had been all night. It is exhilarating. The noise of the rain on your hood, the wind howling at your back and the noise of the beck charging down really fire you with adrenalin. I startled a sheltering sheep who crashed off down the path narrowly missing Diamond and but for us shouting, would have taken Peter out completely. The water that was chattering and giggling down the mountainside before, was hysterically shrieking today. The pretty white lace of yesterday was a mass of writhing snakes today. Crossing these careering becks needed some care and courage but Diamond was always there true to his name, helping you across if you needed it. The air was so easy to breathe, I had forgotten what it was like. We laughed and sang through it. I ran and bottom slid through bog and long grass. We lost the path but it didn't matter. The rushing water just gave off such energy I could do 10 lots of today for 1 of yesterday.
We met a party of 11 youngsters aged 12 to late teens with a couple of instructors going the wrong way. They had spent all night on the mountain bivvying and were making their way down through the low cloud. They were children with behavioural problems out on a team building exercise. I take my hat off to those instructors. Anyway, map wielding Peter worked his magic again and they all turned back and followed him like the Pied Piper down the mountain. David is talking about reversing his polarity whatever that may mean.
The final bit of the walk was less exciting but just as wet and we ended up at the shop and waited for Ken and Boris who arrived with hot tea and coffee. Never did instant taste so good.
Tonight our reward is to put on proper clothes and go out to eat.
Day 7 – Saturday 21st August
Kirkby Stephen to Keld
Miles today – 12.49
Miles to date – 94.23
Stopped for – 1 hr 51 mins
Total time walking – 6 hours 54 mins
Today's average – 1.8 mph
Moving average – 2.5 mph
A lovely sunny day saw us set off from the pretty town of Kirkby Stephen. David for some reason insisting he had seen a llama! We were soon heading uphill and eventually went past a group of farmers in their 4 wheel drives who didn't want to know that we had found a dead sheep! The area is a watershed for the Pennines and very, very wet. Doris was confused since she thought the watershed was something to do with television programmes. Certain words come to mind, muddy, boggy, marshy, gloopy, spongy, sticky, – get the picture? Across bog and heather we battled. We tried to keep our feet dry but when the boggy ground reaches your ankles, there really isn't much point. The weather, although still sunny got windier as we climbed, which sent your hair whipping round your face; those of us who have hair that is. Eventually we reached the Nine Standards Rigg, a group of dry stone wall obelisks on the highest ridge (2170 feet). They were beautifully made in cylinders with cones on top standing about 10 feet tall. I don't think we really discovered why they were there, but Julie had read they were to keep the Scots out. Easily fooled those Scots. We had a quick snack but it was too windy to stay long. The journey downhill was just as soggy and there was great hilarity as we all tried to find different routes avoiding the bog. Denise fell over and went flat into the mire. Linda actually jumped from one bank to another even though she insisted she didn't do jumping.
We followed Whitsundale Beck down the hill and ended up at a farmhouse in time for afternoon cream teas. (How do we do it?) Yet again Julie twisted our arms and we had to stop – she can be so forceful. We were in the middle of a grouse shoot. The guns and beaters were carried around in 8 wheeled vehicles which slooshed through standing water. Little did we know that we were in the company of the 56 th richest man in the country, (in the world)? There were a couple of dead Landrovers, ripe for spares if anyone is interested. We walked in a beautiful landscape of rolling fells, dry stone walls and stone barns with little holes in their walls and ledges sticking out. Denise thought she had seen similar barns where they kept pigeons for winter food so then everyone thought this was very unlikely and David teased mercilessly about them housing parrots etc. And he was the one who thought he had seen a llama! Finally, we reached the charming village of Keld finishing by walking alongside the peaty brown Swale. We now have reached half way on our journey.
Day 8 – Sunday 22nd August
Keld to Reeth
Miles today – 11.36
Miles to date – 105.59
Stopped for – 1 hr 19 mins
Total time walking – 5 hours 52 mins
Today's average – 1.9 mph
Moving average – 2.5 mph
Once more we were greeted by a beautiful sunny morning as we set off. It took some skilful driving by Ken to get us along the narrow roads safely on a journey from Bedale to Keld. Peter decided to wear his trainers and told Doris she didn't need her walking pole as it was a "leisurely stroll". Never trust a man with a camcorder. We were passed by the shiny headed men with Molly the dog and we caught up with an 87 year old making her way steadily upwards. The track soon turned into a rather narrow ledge along the side of a ravine with Swinner Gill chuckling along at the bottom. The rather narrow ledge turned into a goat track with some parts washed away. It was an almost sheer drop to the valley floor. Good job it wasn't raining. Wild mint was flowering along the path, releasing waves of scent as we brushed by. The track came to an end at a bridge where we met up with other walkers at a disused lead mine who were undecided as to the route and Map man Peter sorted it for them – again.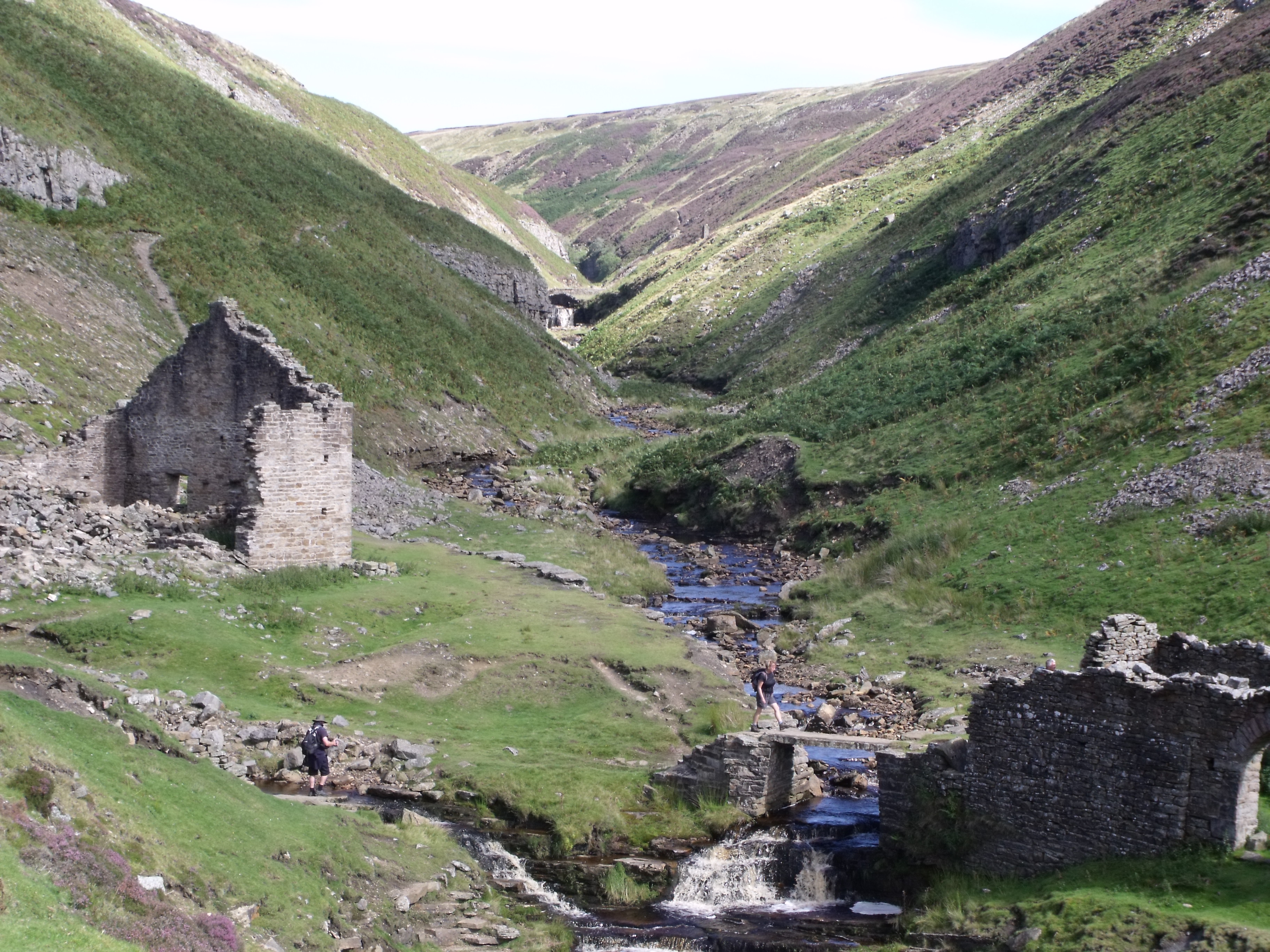 This photograph shows the junction of Swinner Gill and East Grain at the Swinner Gill Mine, just past Crackpot Hall. Linda is crossing the bridge watched from below the ruin by Peter wearing his High Noon hat.

The view from there was stunning. The hills that rose up both sides were alternating patches of purple heather, grey shale, reddish earth and green bracken. All this interspersed with disused stone buildings which merged with the landscape so well they were part of it. Such a tranquil place now that must have been an absolute hive of activity when the mines were working. We carried on up the hill and joined a track which led past several ruins and mine workings, eventually reaching the ruins of Blakethwaite Smelt Mills. Doris and Peter both could detect a residual soot smell as they walked by. Although the muted colour surroundings were still lovely to look at over the other side of the valley, our route took us past spoil heaps which left us walking over a rocky moonscape, desolate looking even though the sun was still shining. We met plenty of other people here and Julie pointed out that since we were around the middle section of the walk, we were meeting those who had started from the other end.
We had our lunch by a pretty bridge and we all had to sing since we had made the 100 mile mark. To bowdlerise The Proclaimers, "We have walked 100 miles and we will walk 92 miles more. To be the ones who get to Robin Hoods Bay and fall down on the floor." (And – No David G, Robin Hoods Bay doesn't have an apostrophe! [Why not? ED] )
A steep climb followed by a steeper descent left us breathing hard, but we were put in our place by a man climbing up with a baby strapped to his back and carrying a 3 year old on his front. Also above us on a narrow, stony track, mountain bikers went by at a rate of knots. And we thought we were brave.
By the time we had made our way down to the lovely little village of Reeth, Sunday afternoon was in full swing. There was a children's funfair on one green and many cars parked on the other side. The ice cream parlour was doing well and we added to the local economy by having cones and lime sorbets. While we recovered there, half a dozen 4WD vehicles drove up having been playing in the hills. Doris thought Denton ought to host one since there were so many Landys in the village. The trails may not be quite such a trial up Trunch Hill though.
Dinner out tonight at the local hostelry, The Green Dragon.
Day 9 – Monday 23rd August
Reeth to Catterick Bridge
Miles today – 17.41
Miles to date – 123.00
Stopped for – 1 hr 37 mins
Total time walking – 7 hours 29 mins
Today's average – 2.3 mph
Moving average – 3.0 mph
I have bowed to pressure and given Boris 1 status. He is now K9! The day was overcast as we headed out of Reeth with Barry's funfair still on the green and the remnants of yesterday's festivities in evidence. We walked down to Arkle Beck and on to the river Swale. After a shortish walk (it's all relative) we climbed through countryside which was slowly changing from the heather and bog moors of the days before. Here the grass gradually altered to be much more lush and by the time we finished this part of the walk to Richmond, the fields were bounded by fences and hedges with only a few stone walls. Half held suckler herds and half held sheep. Even these were different from the scrubby long tailed sheep we had seen on the moors. They were the large Roman nosed, long legged animals with docked tails we are perhaps more used to. Here and there were small arable fields – they were baling silage and the wheat hasn't been cut yet. Soon we saw patches of little woods and we walked through one of these on a flagstoned path called the Nun's steps up from Marrick Priory.
The hedgerows were lined with flowers; in particular we saw pink and blue geraniums (geranium pratense perhaps). I don't know if this is a garden escape or native to this part of the world but they were massed. Along the track, wild marjoram was in flower and we found sweet cicely when Linda detected aniseed. Later, in a fallow field I saw a purple/blue flower which I had never seen before. On we trekked under Applegarth Scar waymarked by a white cairn. Later we saw an obelisk called Hutton's monument which was erected to mark the favourite view of Matthew Hutton who died in 1814 aged 35.
It started to rain as we approached Richmond and we sheltered in a cafe – 20 minutes in the queue for a cappuccino! We ate our sandwiches under the clock tower and we decided to carry on and take 5 miles off tomorrow's walk. The next stage took us up a very civilised path (what else could you expect from Richmondshire?) along the river and straight into the army restricted area. We managed to keep our heads down enough to avoid the AFVs (armoured fighting vehicles) – tanks to you and me. It is not everywhere you see road signs with tanks on them. We carried on through farmland, never straying far from the river until finally we dropped down under the A1, a railway bridge and finally emerged opposite Catterick racecourse. Ken and Boris arrived over the bridge like the cavalry relieving a weary army. Home to Linda's cooked dinner and we are waiting for Kath and Terry to arrive in the near future. Peter, David and Diamond have headed off down the pub for a well deserved drink.
The magnificent 9; soon to be 9+2.
Day 10 – Tuesday 24th August
Catterick Bridge to Ingelby Cross
Miles today – 19.24
Miles to date – 142.24
Stopped for – 1 hr 26 mins
Total time walking – 7 hours 47 mins
Today's average – 2.5 mph
Moving average – 3.0 mph
Today was a red letter day since we were joined by the Sheriff for the walk, Boris for part of it and Ken and Kath for lunch. Our cup runneth over!
It was a Goldilocks day today. Not too much rain, not too much sun, a mixture of fields, woods, roads and tracks. That's it really. Imagine a 20 mile walk around Denton, Earsham and their environs and there you are. It was a mile ticking exercise, nothing over exciting. I think I have been spoiled with all the different terrains we have walked through earlier.
One addition to my botanical bent yesterday, I forgot to mention the ubiquitous Himalayan balsam. The banks of the Swale are covered with it. So pretty but very dominant (anyone come to mind?) and not difficult to get rid of, but it is so successful at exploding its seed cases that it takes over and doesn't allow native plants to grow. There had been some fairly futile attempts to pull some up but it will take an army of volunteers to clear it all.
There is little in the geological vein to report as it was mostly farmland and I am not too clued up on what was beneath (sorry Murray). I can tell you that there was a levee by the side of the Swale to allow for controlled flooding, (detail from David) and that there was sand and gravel extraction so one assumes a glacial melt? See I said it was like Earsham and Denton. The soil has changed from acidic to neutral (?) as the hydrangeas have gone from blue to pink. Tomorrow should be a little more detailed as we are travelling over the Cleveland Hills.
We managed to stop at 2 different pubs, the first in Danby Whiske – very pleasant as the owners had just finished decorating and the second in Ingelby Cross at the end, when anywhere would have been heaven. The beer was "Copper Dragon" and "Farmer's Blonde" brewed in Skipton and Sheffield. Doris gave her Julia Bradbury moment when we found the monument to Henry Jenkins, reputedly 169 years old when he died. She gave a piece to camera with such professionalism, the DVC training stood her in good stead.
Kath has cooked dinner, pies and mash, and we are planning to go to the quiz at the pub later – maybe! How is Denton managing without its stars? We realise it must leave a hole....
Day 11 – Wednesday 25th August
Ingelby Cross to the Lion Inn (Blakey Ridge)
Miles today – 21.10
Miles to date – 163.34
Stopped for – 2 hrs 0 mins
Total time walking – 9 hours 43 mins
Today's average – 2.2 mph
Moving average – 2.7 mph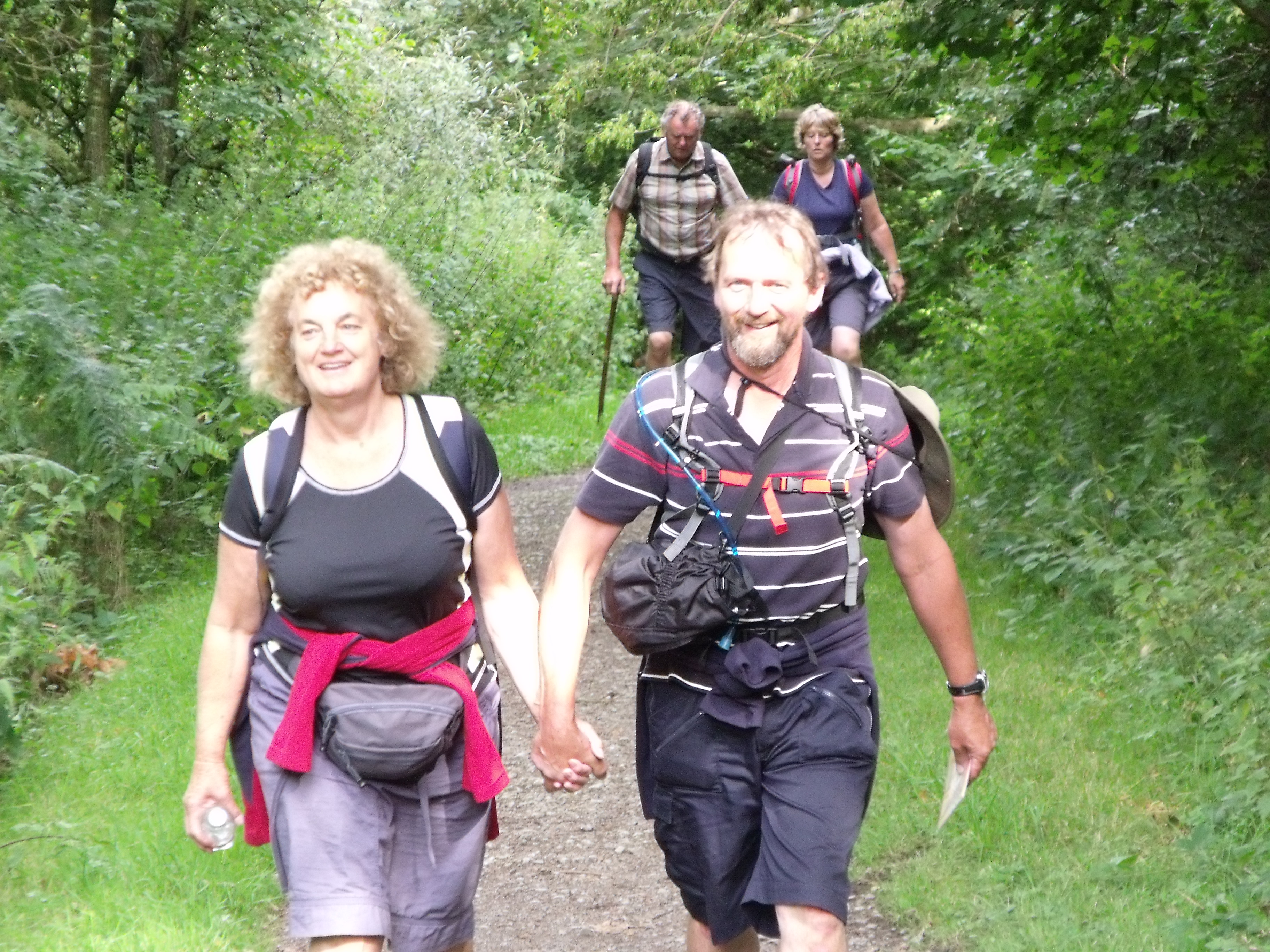 Happy walkers climbing through the woods.
Terry joined us again today so we were 7+1. We walked up through conifer forest past a little cottage selling 5 types of flapjack. We had to avail ourselves since you never know if you are going to hit civilisation again. As we zigzagged our way upwards, the forest changed to deciduous then mixed. This is managed woodland. Here we met "grey haired man" from Kent. Very pleasant. We walked along the ridge of Faceby bank and could see Roseberry Topping – the Yorkshire Matterhorn. We were disappointed that we would not be climbing it. We joined the Cleveland Way which took us up 5 steep, and I mean steep, rises. The interesting thing about this walk over the Cleveland Hills was that the path was laid with flagstones which had been lifted from the floors of redundant mills. There even was evidence of iron and lead from the machinery which had been ground off before being transported. Someone had the joined up thought of using one redundant item for a need somewhere else. Nowadays they would be sold off for gardens and designer kitchens. We found this made for quite easy walking although steep up and down. We found a cafe built into the rock where we simply had to stop for coffee – and maybe cake. Some, mentioning no names, even had chips. It could have been the Sheriff and his new walking Moll but I couldn't possibly say. As we covered this part of the journey, David was able to detect a change in accents as we moved across the county; they had more of a Geordie song to them. This is heartening as it proves we must be getting near the east coast. We actually had our first sighting of the North Sea and ships floating on it.
After another ridge, we met up with Ken and Kath for lunch at Claybank. We decided to carry on for the day and do 9 miles of tomorrow's walking. It seemed a good idea at the time. On and on it went over the moor on a foot crippling "good" path. We passed two chaps with huge packs and left them long behind even when they took the low path and we of course took the high one. The heather lay over the moor, and I saw my first grouse then of course saw loads of them. All the moors we have crossed and today was the first sighting! The rock was a mixture of sandstone and ironstone, and in places, scars in the landscape were henna red. The track we were following was an old railway track that transported the iron ore to the smelters on Teeside but now was just a track for walkers and the odd 4WD. It leaked an oily sheen which was quite thick and gloopy at times. Was this the residue from the railway or seepage from coal seams?
It was the longest day and finally we saw Kath standing like Catherine welcoming Heathcliffe on a grassy knoll in the distance. What a welcome sight, even though our first glimpse of the Lion Inn – our destination, was at least one and a quarter miles away. It seemed to get further away as we headed towards it. Finally a welcome pint at the pub and home to supper and bed. I was so tired after our longest day that I couldn't even write this log.
Day 12 – Thursday 26th August
The Lion Inn (Blakey Ridge) to Grosmont
Miles today – 13.47
Miles to date – 179.81
Stopped for – 2 hrs 9 mins
Total time walking – 6 hours 36 mins
Today's average – 2.0 mph
Moving average – 3.0 mph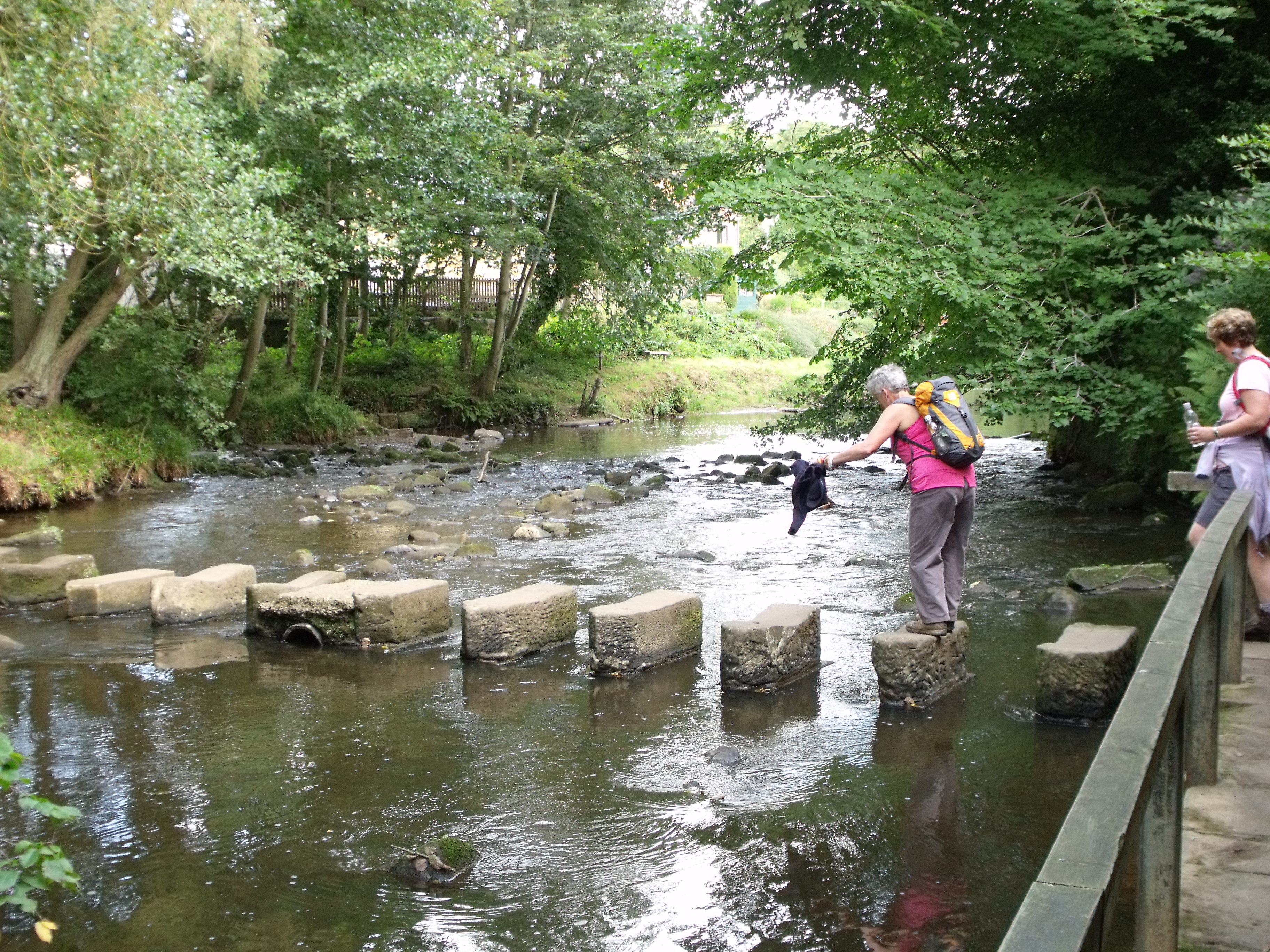 Will she make it? The stepping stones at Glaisdale.
Today Ken was unwell and so the day started by working out how we were going to manage without him and Boris. The Sherriff was detailed to escort Kath on a sight seeing trip so we were only the magnificent 7 again. Peter drove out to the windy and chilly Lion Inn – very bleak set on its own for miles on top of the moor – and Denise had to operate the camcorder which she managed badly. Off we went as we had left off. Painful feet, sore legs and a chill wind took us off to nowhere in particular. We passed a memorial to Margery Bradley and David needed a wee stop or a Bramley moment as they are now called. He hid behind the monument but luckily for her, the wind was so strong it blew away. On again to "Fat Betty", a marker painted white with a face – on which we were supposed to leave a gift. On and on we trudged, sometimes across boggy bits, sometimes on the road, sometimes on a stony track but always with the knowledge that we would soon be off the moor. Eventually we made landfall at Glaisdale and there was a slowish gallop to the pub for the "facilities". What a relief.
After lunch we took off for our next destination, Grosmont. This took us across the river via stepping stones which proved a challenge for those of us who are vertically challenged. Doris had to take fairy steps across but I think she was just going for the sympathy vote. Denise took off past a sign saying "private" and had to be called back by Peter's whistle! As we travelled on, the men found a little friend. A rather nice looking lady who soon revealed herself as Anna from Spain. Us girls were well ahead by then and missed the conversation apart from the phrase, "Are you inviting me then?" and another comment "Well I'm still fresh"!!!!
Grosmont was a railway town with steam and diesel locomotives. And a happy hour was spent by some watching great hulks steaming in and out of the station. Others watched the trains. Peter and Denise were picked up by Terry and Kath and taken back to The Lion Inn to collect the bus. We came back to the cottage to find the fairies, in the guise of Julie's Mum and Dad and Auntie Barbara and Uncle David, had made sausage pie and veg and puddings (ably assisted on the veg front by Kath). A lovely ending to a good day's walking.
Last day tomorrow!
Day 13 – Friday 27th August
Grosmont to Robin Hood's Bay
Miles today – 16.11
Miles to date – 195.96
Stopped for – 1 hr 54 mins
Total time walking – 7 hours 43 mins
Today's average – 2.1 mph
Moving average – 2.8 mph
A glorious sunny day shone down on us this morning and we were very end of termish. It was a long drive out to Grosmont and it was already bustling by the time we got there. The long upward walk out of the town got steeper and steeper but our lungs are well acclimatised now and anyway there was nothing to rush for – we had all day and although we were all looking for ward to the end, somehow we didn't want it to happen. We spotted a group coming up behind us so we diverted off the road, past a sandstone quarry and across a moor. There was "no discernible path" so we invented our own across it. The only "Bramley stop" was a depression in the heather so 3 girls had to stop together. We expected a flood in Grosmont! Crossing the A169 on sore feet was a problem but we managed, then it was across another moor. All this time we had the sea in sight and it was disheartening to be walking parallel to it rather than towards. Eventually, we made landfall and hit the lovely village of Littlebeck. It was a gorgeous place to stop for elevenses.
The road out took us through a mature, mixed wood. The sun was filtering through the trees, May Beck was rushing along below us (sometimes 60 – 80 feet down) and the going was easy on dished foot worn boulders. We could have spent all morning there and very nearly did. Diamond pointed out that our walking average was way down as we sauntered along and it didn't improve when we found a cave made of shale, then The Hermitage, a tiny house carved out of the rock, and the crowning glory, Falling Fosse, a waterfall crashing down 60 feet. All of these needed carefully scripted oohs and aaahs and we took our time over it. What else was needed? A cafe of course. Oh look. There's one over there, the recently restored Midge Hall. It was a pretty building serving teas, coffees and of course cakes. This gave Julie a chance to try out the eco loo and look in the Yurt. You need to see the videos to appreciate the size of Linda's carrot cake and Julie's bacon butty!
So reluctantly we moved on up another hill, made difficult by our recent indulgences. Mapman Peter managed to find us more moor to cross, Sneaton Low Moor. As usual, it never seemed to end and we met two people coming the other way who had only just set out on the C to C in the opposite direction. What an adventure they have in store. Still walking parallel to Whitby, we hit Hawkser and had our last lunch together and in sight of the sea, we descended through farmland, finally to the coast path. We nipped through two caravan parks – neither of which allowed us to use the loo – and along the path. The signpost told us two and a half miles to Robin Hood's bay but our route took us three and a half! It was always "just round the next headland" or "only another mile and a quarter".
Finally, on painful feet and sweating in the heat, we made the descent down into Robin Hood's Bay. The steep road led us through narrow streets crowded with a strange mix of bright, shiny holiday people and grungy walkers. We were met at the bottom by Ken and Boris and Julie's parents and auntie and uncle. We made the last bit down to the beach and threw our pebbles into the North Sea. Back up again to the slipway and we ran into the sea to get our boots wet. We fought our way into The Bay Hotel to sign the C to C book and get congratulations from other C to Cers, several of whom we had met on the way. Mr and Mrs Leeds were there, the grey haired man from Kent had signed before us, and a party from Watton who we met several times and not known they were from Norfolk. After a pint or 3 we went to Whitby for a celebratory chip supper and home to a champagne toast.
Well we did it! We had some sadness at finishing our adventure but a great sense of achievement too.
The End