Denton Charity Cycle Challenge 2009
This is a record of the ambitious project undertaken by two Denton residents, Liz Cargill and Jenny Crohill (see below), in 2009. They visited, by bicycle, many of the other villages in England named Denton and, at the same time, raised funds for two charities.
It was built up progressively as the scheme was launched and the tour completed.
Postscript
Friday 2nd October – Report Back
Liz and Jennie reported back on their exploits with an entertaining presentation at the Village Hall. A map and photographs illustrated their exploits. Coffee and bun breaks clearly played a big part in their daily routine and laundry facilites were another critical requirement!
Afterwards cheques totalling nearly £3,000 were presented to representatives of the two sponsored charites. The winner of the "Guess the distance travelled" competition was announced – one of Jennie's work-colleagues. The correct mileage was 600.36 miles.
Progress Report
Saturday 12th September – Second, the Heroes Return.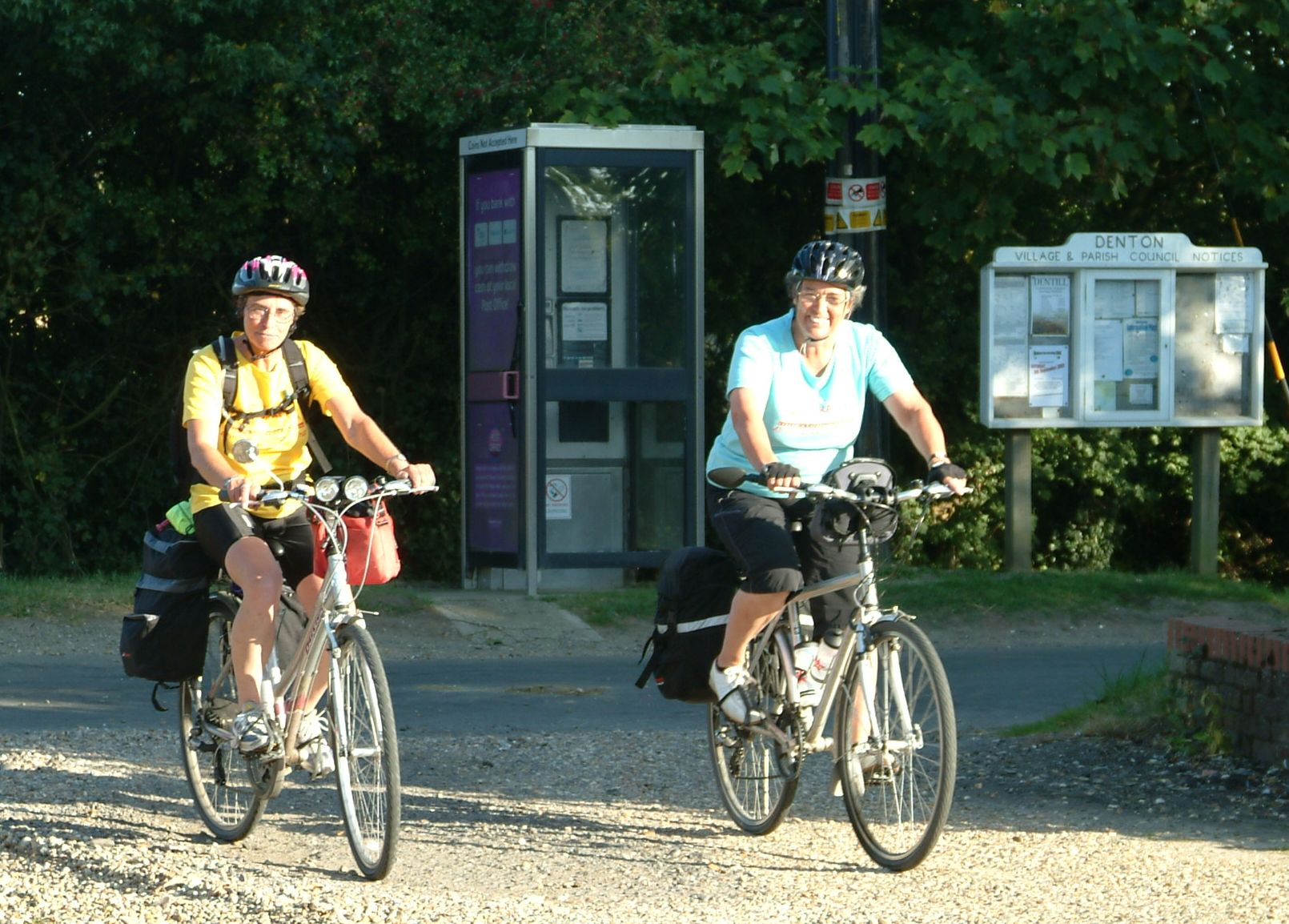 Back in Norfolk, Liz and Jennie took to their bikes again for a very short run to the Village Hall. More than 30 people were there to welcome them home, with tea and cakes of course.
The final total mileage is yet to be confirmed (who guessed right?) and the amount of money raised has also to be calculated. It is not too late to contribute! See below.
The ladies seem to have survived their exertions very well but both must be congratulated for a magnificent achievement.
Saturday 12th September – First, the Final Lap
More hill climbing today but the end is in sight. They crossed the M20 and the railway sidings for the Channel Tunnel on their way north to the final Denton, near the A2 half way between Dover and Canterbury.
In spite over very poor signage Jennie's map reading got them there. The staff of the Jackdaw PH turned up trumps in terms of both a good lunch and a donation to the charities.
They were met at the pub by the recovery team, Keith and John, and, suitably refreshed, drove back to Denton (the most important one) in style.
Friday 11th September – More Hills
The girls faced another stiff cimb over the downs but found the going across the flat lands of Romney Marsh etc. much easier. They made good progress and reached their target to spend the night in Hythe just west of Folkestone.
Thursday 10th September – Along the Coast
Tonight Jenny and Liz are in a seafront hotel in Hastings looking over the channel. They have visted the Denton near Newhaven, which is another little village at the bottom of a hill, and met a couple who told them about the history of the village.
It was a good ride today over the downs, the wind was a bit tricky but it was a beautiful day. Tomorrow's target is Hythe and the final Denton is on track to be reached on Saturday.
Wednesday 9th September – No update!
No update today as Jenny and Liz fell asleep!
Tuesday 8th September – Day Nine and Cakes by the Thames
This morning's riding took Jenny and Liz through Henley where they stopped for coffee and sticky cakes beside the Thames. They then peddled on furiously passing Windsor and Ascot and crossing over both the M4 and M3 motorways.
The total for today was 54.5 miles, even though the terrain is turning hilly once more — but this does provide the added bonus of some spectacular views. Tonight they are staying in a Youth Hostel near Dorking and had a good meal in the local pub where they gained yet more donations. Tomorrow's target is Lewes not far from their next Denton, although they expect to reach ths the folowing morning.
Monday 7th September – Day Eight and Time for a Service
Today was time for a check-up for both of the bikes with Liz's brakes requiring some attention. With that done there was some welcome downhill gradients and another Denton was ticked off the list near Cuddesdon just south of Oxford. A friendly 81 year old gentlemen singed the log and told Liz and Jenny how he had lived there all his life being Denton born and bred.
This evening Liz and Jenny have found a B&B in Wallingford half way between Oxford and Reading. They will be negotiating the very busy area around Reading tomorrow whilst heading for Guildford on the way to their penultimate Denton near Newhaven.
Sunday 6th September – Day Seven
Liz and Jenny have successfully reached their accommodation near Buckingham in Oxfordshire after a good day. They met up with the support team (Keith, John, Ken and Julie) at lunchtime today, which they found very enjoyable.
All is going well and they will be heading for the Denton near Oxford in the morning.
Photos from today to follow soon!
Saturday 5th September – Day Six and Dinner on the House
Better weather today and 53 miles covered with a surprise at the end of the day.
During the morning Liz and Jenny visited Denton Number Four, south-west of Peterborough and close to the A1. This turned out to be very small with a ruined church and a an old school that closed as long ago as 1940. However they managed to find a local resident to sign-off their visit.
After lunching in Kimbolton the wind returned but they made good progress reaching Yardley Hastings near Northampton where they are staying in a B&B. However when they visited the village pub, "The Red Lion", and explained their mission they were promptly awarded "dinner on the house" by the landlord.
They are very close to the next Denton which they will visit first thing tomorrow. Later in the day they plan to meet up with their support team, Keith, John, Ken and Julie, somewhere around Buckingham as they head towards the Denton near Oxford. They are looking forward to some familiar faces and fresh clothes etc.
Friday 4th September – Another Windy Day
Strong winds were again a challenge as the girls proceeded southwards but they still covered 50 miles in the day. They found one way of fortifying themselves was to partake of some particularly nice sticky choclate cake during a break at Bulwick east of Corby.
Finding overnight accomodation then turned out to be a major problem. The Burghley Horse Trials are on at the moment so there are no vacancies anywhere near Stamford. This meant a bit of a diversion but they eventually found a comfortable B&B at Stoke Doyle just south of Oundle.
Tomorrow it's not too far to the next Denton, south of Peterborough, and then on towards Northampton.
Thursday 3rd September – Denton Number Three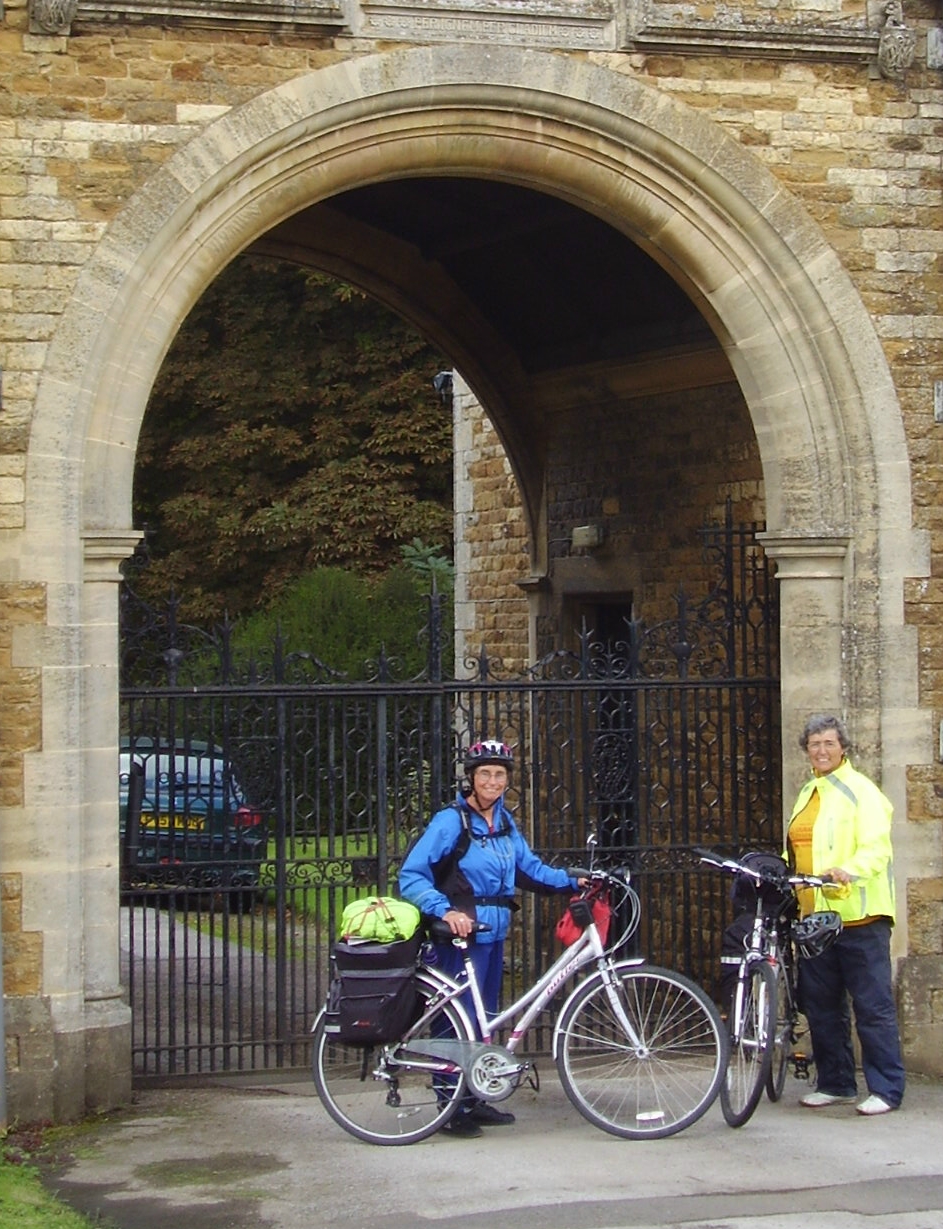 Another good run, 52 miles, in spite of some strong winds. Liz suffered her first puncture but this was soon mended and a visit to a bike shop in Grantham sorted out some other mechanical problems.
Their arrival at the Lincolnshire Denton was greeted by a reception committee made up of no less than six parish councillors and a very welcome cup of tea with cake. The picture (right) shows Jennie and Liz outside the main gateway to the Denton Estate.
Tonight, after a guided tour of the very attractive village, they are staying with the Parish Clerk, Ken Brockway, who lives at Redmile close to Belvoir. (Did you know? The famous Belvoir Castle was first built by William d'Albini the same Norman who is reputed to have built Denton Castle.)
Tomorrow's target is Peterborough on their way to Denton, Cambridgeshire.
Wednesday 2nd September – Day Three, Flat at Last
Today's run was much easier, across the lowlands of south Yorkshire and Lincolnshire. As a result Liz and Jennie completed 56 miles in record time.
They stopped for lunch in Hatfield near Doncaster before pressing on to their objective Gainsborough. Not satisfied they cycled on another six miles and are spending the night in the village of Marton.
Tomorrow it's time for another Denton, the one near Grantham, which they should reach late in the afternoon.
Tuesday 1st September – Number Two
The girls had to face difficult conditions today, a thunderstorm as well as the hills, as they cycled into the wind on their way to the second Denton in North Yorkshire near Ilkley. Calling in at Denton they were "signed-off" by a local resident before setting off again.
Things were rather easier as they headed south-east through Wharfedale. They have a long way to go before they reach their next objective, the Denton in Lincolnshire, but they were cheered by a free meal from the landlord of the pub where they stopped for lunch.
Having started at 9.00 am they kept going until 7.00 pm. This meant they made good progress, covering 53 miles in the day. They are spending the night at the Oddfellows Arms at Sherburn in Elmet south of Tadcaster (home to John & Sam Smiths – for some reason they keep passing through brewery towns?).
Monday 31st August – One Down, Seven to Go!
Today the girls cycled north-west from Darlington to the Denton in Co. Durham. Having met some local residents and obtained a suitably signed entry in their log they then set off towards Denton No.2 in North Yorkshire.
They are now in upland Britain so the hills are proving a bit of a challenge. However they covered 43 miles before stopping for the night at Kirkby Malzeard just south of Masham (of Theakstons and Black Sheep fame). They are in a very comfortable B&B and have enjoyed a good evening meal.
Just as well as they have some serious Pennine Hills to cross tomorrow on their way to the second Denton near Ilkley. Watch this space!
They're Off!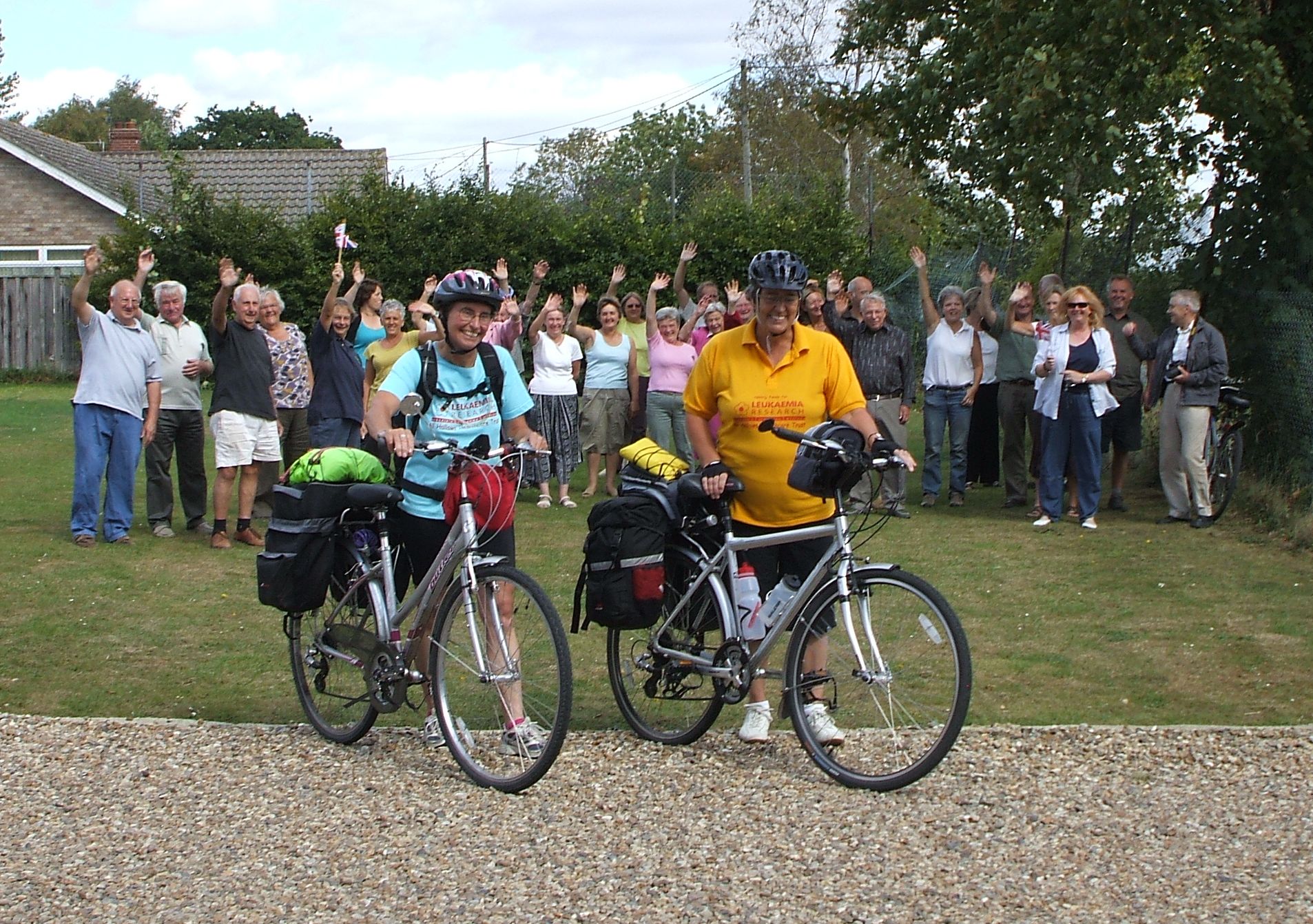 Two Denton residents, Liz Cargill and Jennie Crohill, have set off on their extended cycle ride to raise funds for two charities.
They were seen off from the Village Hall by a group of supporters on Sunday, 30th August, to ride to Norwich Station. From there they are taking the train to Darlington so that the ride proper can start on Monday.
Regular updates on their progress will be posted on this page.
The Background
Starting on Monday , Liz and Jennie plan to visit eight other villages called Denton and pass on our good wishes to the local residents. They will be starting from Denton, Co. Durham and hope to reach Denton, Kent by Saturday 12th September a jouney of between 600 and 700 miles.
Liz commented –
"We have 13 days to accomplish this task which, as far as we can see, will mean cycling an average 50 miles a day and I, personally, have no idea whether I will in fact make it, although with Jenny to 'encourage' me I should have the best chance. We will ride and stay overnight in Bed & Breakfast on route which means we will have to carry 'everything' with us. Challenging enough?
We will keep a log of our journey and 'momentous moments' and intend to send updates for the village website giving details of our progress.
Two Good Causes
Liz and Jennie will split all the money they raise from sponsors between two charities, one national and one local.
Leukaemia Research
All Hallows Hospital and Nursing Home
The Targets
Denton, Co. Durham, near Darlington
Denton, North Yorkshire, near Ilkley
Denton, Lincolnshire, close to Grantham
Denton, Cambridgeshire, in Huntingdon District
Denton, Northamptonshire, south-east of Northampton
Denton, Oxfordshire, a hamlet south-east of Oxford
Denton, East Sussex, near Newhaven
Denton, Kent, near Dover
Further details of these and other Dentons appear on our "Other Dentons" page.
Our Team
Liz Cargill has lived in Denton for 11 years. She claims to be a 'reasonably' fit 50–something year-old. Since the death of her mother last year she has wanted to raise some funds for All Hallows Nursing Home where her mother spent the last two and a half years of her life.
Jennie Crohill, another 50–something, was born and brought-up in Denton and then returned here 19 years ago. Always up for a challenge, Jennie thinks the idea of cycling through the middle of England to visit some of the other Dentons sounds like fun and to raise funds for two such worthwhile causes is extra special.